Main content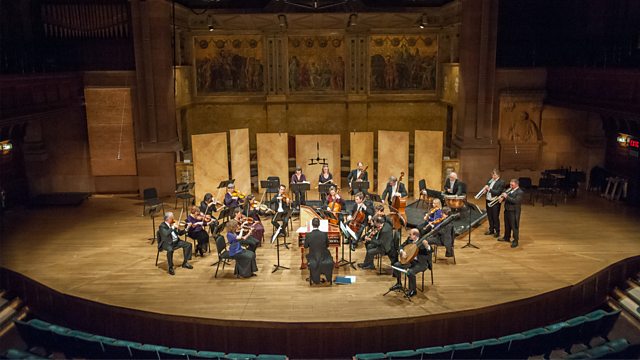 Music fit for a Medici
Harry Bicket directs the The English Concert in repertoire including Handel, Corelli and Vivaldi, written for the music-loving Ferdinando de' Medici, Grand Prince of Tuscany.
Aristocratic music lovers didn't come much more enthusiastic than Ferdinando de' Medici. But as well as the considerable resources at the disposal of a Grand Prince of Tuscany (including an opera theatre in his country pile outside Florence), Ferdinando was himself an accomplished and discerning musician who attracted the finest contemporary musicians to dedicate some of their most important works to him. Tonight's concert, given by one of the UK's leading period instrument groups, features groundbreaking instrumental music by giants of the Italian baroque including Corelli and Vivaldi, and the overture to Handel's Rodrigo, premiered in Florence in 1707.
Recorded earlier this month at Wigmore Hall and introduced by Georgia Mann.
Handel: Overture from Rodrigo, HWV5
Giovanni Legrenzi: La cetra Op. 10: Sonata for four violins
Corelli: Concerto grosso in D, Op. 6, No. 4
Vivaldi: Concerto for two violins and cello in D minor, Op. 3, No. 11 ('L'estro armonico')
8.20pm
Interval Music (from CD)
Music from the 1589 wedding celebrations of Ferdinando I de' Medici and Christina of Lorraine
Giovanni Battista Buonamente: Ballo del Granduca, a 7
Cristofano Malvezzi-Ottavio Rinuccini: Dolcissime sirene, a 6; A voi, reali amanti, a 15; Coppia gentil, a 6
Emilio de' Cavalieri-Laura Lucchesini: O che nuovo miracolo, a 5/a 3
Pygmalion
Raphaël Pichon (director)
8.40pm
Alessandro Scarlatti: Introduction from Cain, overo Il primo omicidio
Benedetto Vinaccesi: Sonata IV
Marcello: Oboe Concerto in D minor
Vivaldi: Concerto for four violins and cello in B minor Op. 3, No. 10 ('L'estro armonico')
Katharina Spreckelsen (oboe)
Nadja Zwiener, Alice Evans, Jacek Kurzydło and Kinga Ujszázsi (violins)
The English Concert
Harry Bicket (director/harpsichord)
Featured in...
We broadcast more live and specially-recorded concerts and opera than any other station.