Main content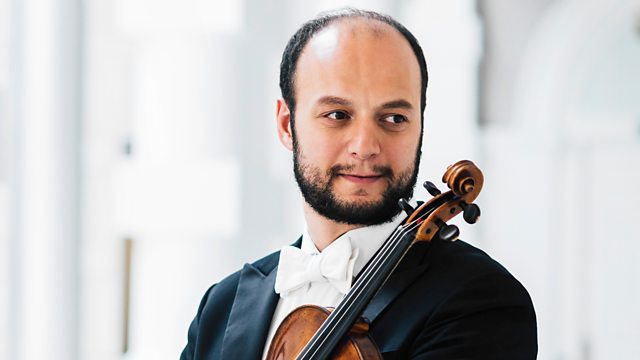 BBC Symphony Orchestra: Stravinsky and Shostakovich
A recently discovered funeral song by Stravinsky opens an all-Russian concert recorded in May at London's Barbican, kickstarting a week of performances by the BBC Symphony Orchestra and BBC Singers.
A recently discovered funeral song by Stravinsky opens this all-Russian concert by the BBC Symphony Orchestra and Chief Conductor Sakari Oramo, recorded last month at London's Barbican Hall. Stravinsky wrote it in tribute to his friend and teacher Rimsky-Korsakov and it's a musical depiction of laying a floral tribute on the grave. The newly-appointed leader of the orchestra, Igor Yuzefovich, is the soloist in Shostakovich's First Violin Concerto and the concerts closes with a thrilling performance of Stravinsky's Rite of Spring.
The BBC Symphony Orchestra's Principal Bassoon Julie Price joins Michael Collins in Richard Strauss's Concertino and we've the first of this week's pieces from the International Rostrum of Composers which, since its foundation in 1955, has launched many of the most important composers of the 20th and 21st centuries from Henri Dutilleux and Hans-Werner Henze to Henryk Górecki and Dobrinka Tabakova. Jenny Hettne is a Swedish composer who places her clearest focus on the exploration of sound and timbre. In her piece Whirli(gigue) she achieves a subtle orchestral sound poetry that channels the world of electroacoustic music.
Presented by Penny Gore.
2pm
Stravinsky: Funeral Song Op. 5
Shostakovich: Violin Concerto No.1
Stravinsky: The Rite of Spring
Igor Yuzefovich (violin)
BBC Symphony Orchestra
Sakari Oramo (conductor)
c.3.30pm
Beethoven: Leonora Overture No. 2 Op. 72a
BBC Symphony Orchestra
Sakari Oramo (conductor)
c.3.45pm
Richard Strauss: Duet Concertino
Michael Collins (clarinet)
Julie Price (bassoon)
Strings of the BBC Symphony Orchestra
c.4.00pm
Jenny Hettne: Whirli(gigue)
Malmö Symphony Orchestra
Leif Segerstam (conductor)
c.4.10pm
Szymanowski: Harnasie
Rob Murray (tenor)
BBC Symphony Chorus
BBC Symphony Orchestra
Edward Gardner (conductor)