Main content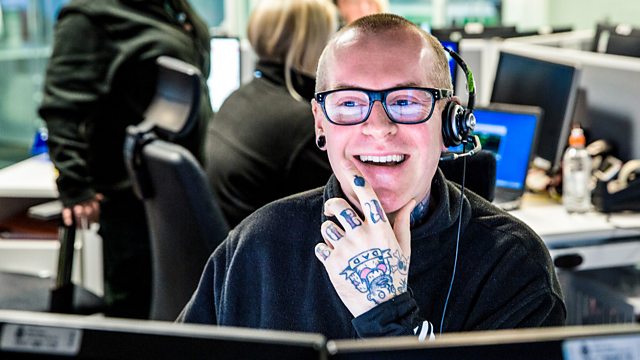 North West Ambulance Service faces the pressure of the busiest day of the winter so far with an overwhelming volume of calls and severe delays handing over patients in hospital.
Emergency doctor Ian and paramedic Rob are on the night shift where they are the only doctor-led resource caring for the entire of the north west. They are immediately dispatched to an urgent 999 call following a motorcycle accident. When they arrive they find the patient has suffered a potentially life-threatening head injury and they must treat the patient on the roadside as his family looks on.
Meanwhile, call handler Joe takes a 999 call from a frustrated patient who says he has a hand grenade which he is threatening to use. The call comes from near the vicinity of ambulance control. As a result they quickly decide to put the building on lockdown to ensure the safety of staff. Ambulance crew Damien and Tom are the nearest available crew, and they are dispatched to the patient threatening an attack. It quickly becomes clear that the patient is suffering from a mental health episode.
As Monday morning breaks, an urgent 999 call is in progress for a 20-year-old patient who has just given birth. She reveals to call handler Megan that she hadn't even known she was pregnant.
Two hours into the shift, the ambulance service have already received over 300 emergency calls, forcing the team to implement an 'emergency disconnect', which is only put in place when more than ten calls are waiting to be answered. It means that call handlers must clear their lines if not dealing with a life-threatening emergency.
Five hours later, the number of calls received reaches 2000. Across the northwest there are 275 patients being treated and 292 still waiting for help, a situation which triggers further emergency protocols. Jordan and Amanda offer to treat another patient even though their shift should be over. They are dispatched to treat a one-year-old with a fever. Her parents had called for a GP appointment earlier that day but couldn't get one so have had to wait for an ambulance.
This episode demonstrates the humanity of the staff and crews of the ambulance service as they face head-on the strain put on the entire NHS from the growing number of emergency calls - bringing to life the real human stories behind the sirens.
Credits
| Role | Contributor |
| --- | --- |
| Narrator | Christopher Eccleston |
| Executive Producer | Simon Ford |
| Executive Producer | Tom Currie |
| Series Producer | Sarah Veevers |
| Series Producer | Peter Wallis-Tayler |
| Production Company | Dragonfly Film and Television |