Main content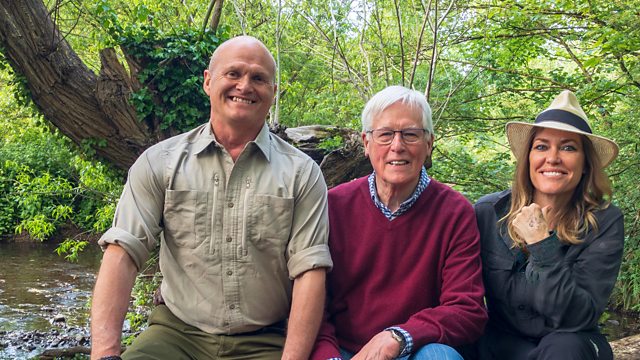 West Yorkshire
Matt Baker visits the beautiful Hardcastle Crags near Hebden Bridge, and John Craven launches this year's photographic competition.
This week Matt Baker is in West Yorkshire at the beautiful Hardcastle Crags near Hebden Bridge. It's 50 years since protesters saved this beauty spot from being turned into a reservoir. These days it's a different kind of watery enemy that threatens - floodwater - so Matt joins volunteers working on various ways to prevent future flooding. He also spends an afternoon exploring the special habitat and diverse wildlife that thrives in this natural gorge, and whose existence depends very much on preventing floods.
Meanwhile, Anita Rani meets a woman looking to change our laundry habits with tiny sheep-shaped tumble dryer balls. Anita also meets the dairy farmers whose Pontefract cake flavoured ice cream helped them bounce back after lean times in the farming industry. John Craven is joined by fellow judges Simon King and Cerys Matthews to launch this year's photographic competition, Adam meets the Devon shepherd who's taking on the best sheep shearers in the world and beating them hands down, and Joe is on the trail of the smugglers targeting one of our most endangered creatures - glass eels.
Flood Remedy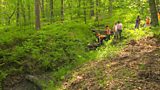 Matt is in west Yorkshire - famed for its wild moors and it's often wilder weather. When it rains here, it really rains.
Calderdale was hit hard by flooding back in 2015 but today the community has rallied around and is fighting back.
Matt's here to find out more about "Slow the Flow Calderdale", a dedicated group of volunteers led by Stuart Bradshaw.
He discovers how the group has built 400 'leaky dams' to help control flooding in the future.
Eel Smuggling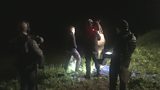 Joe is on the trail of the global gangsters behind a £3bn smuggling network targeting the UK's critically-endangered baby - or 'glass' - eels.
The numbers of European eel have plummeted in the past 40 years yet there is a huge demand for their meat as a delicacy in Asia.
Since 2010, exporting them out of the EU has been banned but that hasn't stopped criminal gangs from cashing in.
After meeting the licensed elvermen on the banks of the River Severn in Gloucestershire, Joe poses online as a fisherman with baby eels to sell.
He's soon approached by dealers from China and Russia, looking to illegally export eels out of the EU.
Yorkshire Ice Cream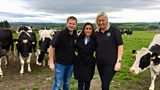 Thirteen years ago, Jeremy and Louise Holmes thought they'd have to sell the dairy farm at Denby Dale that had been in Jeremy's family for three generations. 
They had surplus milk and, with fewer people having bottles delivered, their days were numbered. 
But a love of ice cream inspired them to change tack and they used their milk to create a small range of ice creams which they sold in a parlour.
That's expanded with a range of flavours that today celebrate all things Yorkshire - and Anita's lucky enough to join them for a taste-test challenge..
Countryfile Photographic Competition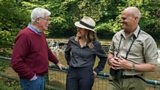 John is joined by fellow judges Simon King and Cerys Matthews to launch this year's photographic competition.
The theme is 'Beauty and the Beasts' and we're looking for photographs that capture the beauty of our countryside and the wildlife, working animals and people within it.
The judges visit Eastville Park on the edge of Bristol to share some tips on how to take that perfect countryside shot.
Champion Shearer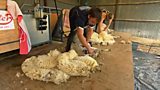 The sheep-shearing season is fully under way and Adam heads to Dorset to meet a young shearer who is a cut above the rest. 
Twenty-year-old Henry Mayo recently made history Down Under by being the first Englishman in more than 30 years to win one of the biggest shearing events in the world – the New Zealand shears. 
But on home turf, will he have what it takes to win at one of our own top events at the Royal Bath and West show?
Tumbledryer Sheep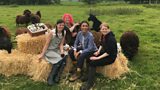 The lush pasture of west Yorkshire's hills has become a sanctuary for a herd of Hebridean sheep. 
Anita meets Nina Baptiste who has a maternal approach to her 80 strong flock. She was so keen to provide them with a calm peaceful environment that she uses blade shearer Naomi Reynolds, who quietly takes off their woolly fleeces without noisy clippers. 
The fleeces are put to good use - local craftswoman Sarah Turner creates woolly tumble dryer balls using Nina's wool. 
Anita helps Nina prepare the sheep for the summer before attempting to put a face on one of Sarah's woolly balls with a traditional felt pick.
Credits
| Role | Contributor |
| --- | --- |
| Presenter | Matt Baker |
| Presenter | Anita Rani |
| Presenter | John Craven |
| Presenter | Adam Henson |
| Presenter | Joe Crowley |
| Executive Producer | William Lyons |
| Series Producer | Joanna Brame |