Main content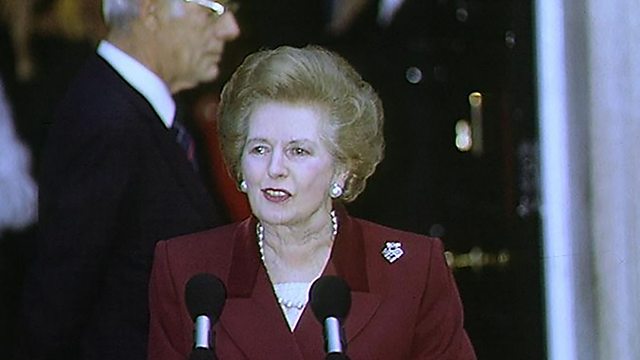 Mrs Thatcher's leadership style and judgement on Europe and the poll tax create splits in her cabinet and public anger, leading to the challenge that ends in her dramatic downfall.
In episode five of the series covers the period after the 1987 election when Mrs Thatcher secured a third term as prime minister.
She sets out to play a full part in international affairs, partnering with American Presidents Reagan and Bush to engage with the Soviet Union and play a pivotal role in the journey to the end of the Cold War.
Her international prominence augments her dominant role in British politics where her long period in office of nearly a decade is unprecedented in the 20th century. Within Downing Street, she has a loyal coterie of advisors who project her influence and protect her position but some feel she has become over dependent on loyalists and detached from opinion with the country and the party.
She continues to push hard for the introduction of a radical reform of local government finance, the community charge. The policy is known as the poll tax and is widely disliked. Despite warnings that the tax will negatively affect her constituency in the country, Mrs Thatcher refuses to compromise. Protests against the tax explode in violence in central London but more damagingly, there is widespread disenchantment in Tory strongholds across the country.
Fractures emerge with senior cabinet colleagues over European policy that will jeopardise her authority. Her preference for the counsel of a part time advisor over the views of her chancellor on how to position sterling against other European currencies leads to Nigel Lawson's resignation.
Her prototypical scepticism about Brussels' ambitions for the EU lead to a growing tension with long-term ally Geoffrey Howe. A bravado performance in the House of Commons where she denounces the EU tips Howe into resignation.
Howe's departure provokes a leadership challenge from Michael Heseltine who had left the cabinet some years before in protest at Mrs Thatcher's leadership style. Mrs Thatcher is plunged into a leadership contest. In contrast to the contest that propelled her to the party leadership in the 70s, her campaign is poorly organised and she has been weakened by the resignation of senior colleagues and the reverberations of the poll tax.
To her shock she does not defeat Mr Heseltine in the first ballot and is forced into a second ballot. Over a dramatic few days, she consults senior colleagues about whether she can depend on their support in a second ballot. Cabinet members tell her they believe she could lose and that she has lost control of the political momentum. Faced with this, she decides to resign.
In a highly-dramatic cabinet meeting, she offers a tearful resignation and prepares to leave Downing Street. In the country, emotions run high as supporters lament and opponents celebrate her departure.
The episode features interviews with Charles Powell, senior advisor, Bernard Ingham, press secretary, Caroline Slocock, private secretary, senior political figures Michael Heseltine, Nigel Lawson, Norman Tebbit, Ken Clarke, Ken Baker, Chris Patten, Peter Lilley and Malcolm Rifkind, and journalist Simon Jenkins.
More episodes
Next
You are at the last episode
Music Played
Timings (where shown) are from the start of the programme in hours and minutes
Credits
| Role | Contributor |
| --- | --- |
| Executive Producer | Steve Condie |
| Director | Pamela Gordon |