Main content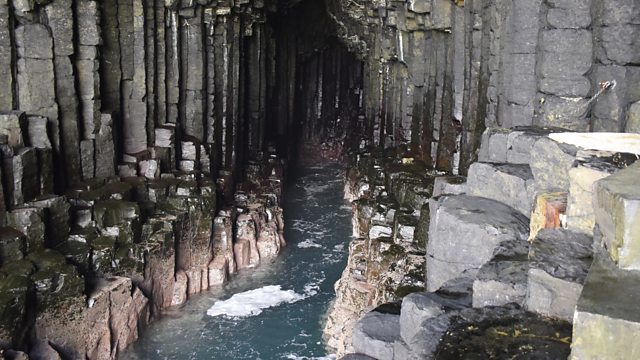 The Virtually Melodic Cave
For the first time a virtual reality radio documentary will bring to life the ethereal magic of Fingal's Cave.
To view the VR experience in 360 on your smartphone paste the following link into your search browser:
https://youtu.be/RHt6QIJI9cU
For the first time, a virtual reality experience and radio documentary will bring to life the ethereal magic of Fingal's Cave - the awesome natural structure on the uninhabited island of Staffa, in the Inner Hebrides of Scotland. Using cutting-edge technology, which captures not only the acoustics of the melodic cave, but its awe-inspiring visual scale and beauty, this Between the Ears takes you to a site of natural beauty that has inspired Felix Mendelssohn, Jules Verne, John Keats, August Strindberg and countless others.
Featuring a rich cinematic sound experience, we follow the work of Dr Stuart Jeffrey from The Glasgow School of Art's School of Simulation and Visualisation, and sound designer and composer, Aaron May, as they both – in their own ways - explore the remarkable Fingal's Cave. A few years ago, Stuart and a team of archaeologists from the National Trust for Scotland discovered Bronze Age remains close to the cave and near a 19th-century building that was used by early tourists as a shelter from the elements. We join Stuart on location as he continues the dig and unearths further evidence of a Bronze Age site, and we accompany him into the heart of the cave during different sea states.
At certain times, the cave actually sounds musical, and this is the reason why local people named it the 'musical cave'. Stuart explains that inside the cave there is a natural cognitive dissonance that can be very unsettling, indeed some visitors are left feeling on edge. This is because the resonant sounds of blowing and popping, together with booming waves; create a soundscape that does not match the movement of the waves.
During the Romantic period, Fingal's Cave attracted much attention and inspired many musicians, artists and literary figures and poets. Felix Mendelssohn made it ashore in 1829 and was so moved by the unearthly sounds that fill the cave he created the remarkable Hebrides Overture in response. Jules Verne said, "the vast cavern with its mysterious, dark, weed-covered chambers and marvellous basaltic pillars produced upon me a most striking impression and was the origin of my book, Le Rayon Vert". During the 19th-century era of romanticism and the sublime, the Germans were particularly enthralled by Fingal's Cave. Not only did they visit, but quirky plays and stories were even set there (including Bride of the Isles about vampires living inside Fingal's Cave).
The location's rich mythology, including that of mermaids and giants, highlights the sublime aspect of the place. Stuart's wider research, a collaboration with Professor Sian Jones at the University of Stirling, is trying to fill in the gap between how the Romantics viewed it - a site of awe - and how we see it today. "We have become dull souls, seeing it only as a nature reserve," he says. Stuart hopes to change that perception by investigating whether cutting-edge technology can capture a place's very essence.
And this is where composer Aaron May comes into this story. Whereas Stuart has spent many hours within the magnificent natural structure, Aaron has never set foot in Fingal's Cave. But for this documentary he has created a new musical composition based upon his experience of entering a phenomenally exact virtual reality reconstruction, made by Stuart and his team at Glasgow School of Art. The VR version, features laser scans, photogrammetry and acoustic sound maps. You are able to tour the entire length of the cave and even hear how a piece of music would sound if played within it. A version of this virtual reality experience, complete with Aaron's composition, will be made available for listeners to explore on their smart phones. And of course, Aaron's remarkable and evocative soundtrack will feature in the radio documentary.
Listeners will be able to access a version of the VR experience using their smart phones and a high-end version, running on an HTC Vive, will showcase at the Edinburgh Festivals in August 2019. For those unable to make the trip to Staffa, it's the nearest you will get to experiencing the full majesty of the location.
To view the VR experience in 360 on your smartphone paste the following link into your search browser: https://youtu.be/RHt6QIJI9cU
Producer: Kate Bissell
With thanks to:
Composer Aaron May
Dr Stuart Jeffrey from the School of Simulation and Visualisation at The Glasgow School of Art
Derek Alexander from The National Trust for Scotland
Professor Sian Jones from the University of Stirling
Shona Noble
Aura Bockute
Singing in Aaron's composition by Heloise Werner and David Ridley
Last on
Broadcast

Enjoy a VR experience of Fingal's Cave