Main content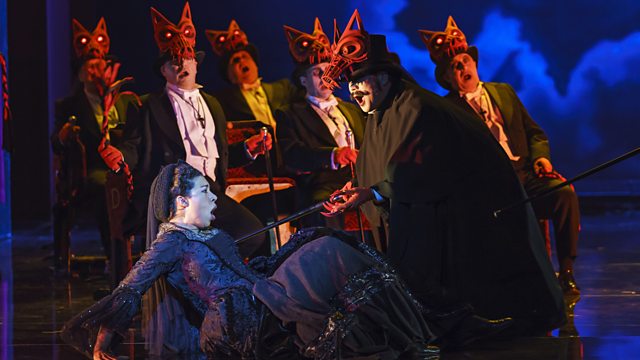 Verdi's Un ballo in maschera
Verdi's Un ballo in maschera in a darkly comic new production from Welsh National Opera starring Gwyn Hughes Jones. Presented by Andrew McGregor with Sarah Lenton.
It's murder on the dance floor in Verdi's darkly comic tale of love, betrayal and revenge, recorded last February at Wales Millennium Centre in Cardiff. Loosely based on a fictional account of the death, at a masked ball of the King of Sweden in 1792, Welsh National Opera's Artistic Director David Pountney's new production playfully references the King's theatrical links with its blacks and reds and Gothic references.
Centring around a love triangle, Verdi's music portrays a very human drama. Making his role debut as Riccardo, tenor Gwyn Hughes Jones is secretly in love with his best friend's wife, Amelia, sung by soprano Mary Elizabeth Williams. When they're discovered at what appears to be a secret tryst, a prophecy is set in motion with tragic consequences.
Presented by Andrew McGregor with opera expert Sarah Lenton.
Riccardo ....... Gwyn Hughes Jones (tenor)
Amelia ..... Mary Elizabeth Williams (soprano)
Renato ..... Roland Wood (baritone)
Oscar ..... Julie Martin du Theil (soprano)
Ulrica ..... Sara Fulgoni (contralto)
Judge ..... Gareth Dafydd Morris (tenor)
Silvano ..... Jason Howard (baritone)
Servant of Amelia ...... Andrew Irwin (tenor)
Samuel ..... Jihoon Kim (bass)
Tom ..... Tristan Hambleton (bass baritone)
Politicians, conspirators, guests at the ball .... Chorus of Welsh National Opera
Orchestra of Welsh National Opera
Carlo Rizzi (conductor)
Image (c) WNO 2019. Photographer: Bill Cooper
Synopsis
The opera is based on the true story of the assassination of King Gustav lll of Sweden who was shot while attending a masked ball at the Royal Opera House in Stockholm. A risky choice of libretto for Verdi as Italy was in rebellion, he was requested to change the subject of his work. The text was preserved, but eager to get the work performed he changed the setting and names of the characters. Far-away Boston set the scene, and the main character was downgraded to Riccardo, the city's governor.
We join the action as Riccardo reviews the list of guests who will attend a forthcoming masked ball and he is delighted to see Amelia, his true love, on the list. Unfortunately she is already married to his friend and advisor Renato. Renato warns Riccardo of a plot against him, but he fails to heed the warning. Riccardo is then tasked with investigating a fortune teller, Ulrica, who is accused of witchcraft. While secretly watching Ulrica, Riccardo sees Amelia arrive. He overhears her telling of her love for him and asking how she can find peace. Ulrica advises her to gather a specific herb with magical powers and Amelia leaves. A disguised Riccardo presents himself to Ulrica and asks to have his fortune told. Ulrica predicts that he will be killed by the next man to shake his hand. He dismisses this, offering his hand to surrounding courtiers, but all refuse it. Renato arrives and shakes Riccardo's hand, making the prophecy seem unlikely to be fulfilled, given the men's friendship.

Amelia is on the outskirts of the town at midnight, to pick the herb. She is surprised to find Riccardo there, but the two finally declare their love. Renato suddenly arrives and Amelia hides her face before she can be discovered. Renato tells Riccardo he is in danger from conspirators and Riccardo flees, insisting Renato escorts the woman back to town. The conspirators arrive and confront Renato – there is a struggle and Amelia's identity is revealed. Renato assumes that his wife and his friend are lovers and asks the conspirators to meet him the next day. 
Renato plans to kill Amelia for the dishonour she has brought on him. She protests her innocence and begs to see her son. Renato relents and decides it is actually Riccardo who should die. Renato and the conspirators draw lots to see who will kill Riccardo. Amelia is forced to draw the name and it's Renato. They decide that the murder will take place at the masked ball.
Riccardo, meanwhile, has vowed to renounce his love for Amelia and send her and Renato back to England. However, Renato identifies what costume his rival is wearing and, just as Riccardo is telling Amelia his decision and saying goodbye, Renato stabs him. The dying Riccardo confirms that, although he was in love with Amelia, she never broke her marriage vows.
supplied by WNO