Main content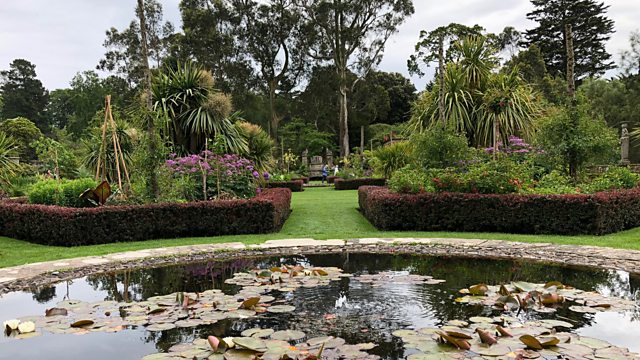 Summer Garden Party at Mount Stewart: Part Two
Peter Gibbs hosts the second of two specials from the annual GQT Summer Garden Party.
Peter Gibbs hosts the second of two specials from the annual GQT Summer Garden Party. Matt Biggs, Pippa Greenwood, James Wong and Anne Swithinbank answer horticultural questions from the audience at National Trust Mount Stewart in County Down, Northern Ireland.
This week the panellists are quizzed about a mysterious fungal growth on a plum tree, pruning herbaceous geraniums and encouraging a Clivia to flower. They also offer suggestions for a windy balcony and a ruby plant to celebrate a ruby wedding anniversary, alongside some advice for gardening in damp soil.
Away from the questions, Neil Porteous takes Matthew Pottage around the Italian Garden at Mount Stewart to find out about it's mythical inspiration.
Produced by Laurence Bassett
Assistant Producer: Jemima Rathbone
A Somethin' Else production for BBC Radio 4
Last on
Fact Sheet
Q1 – Two balconies, 5ft long (152cm) 1.5ft deep (45cm), second floor, by the sea so all my plants end up horizontal or blown over. Could the panel suggest some plants that will survive, look good from inside and out, and ideally smell lovely.
James: Jasminium sambac – Maid of Orleans, or scented geraniums.
Matt: Oregano, lavender, sage, Pennisetum grasses.
Anne: Araujia sericifera.
Pippa: Twine something around the railings like Variegated ivies.
Q2 – Could the panel suggest a ruby flowering pot-plant for our balcony to celebrate our ruby wedding anniversary.
Matt: Sedum – ruby glow.
Anne: Astrantia – abbey road.
Pippa: Ruby armerias or hebe ruby mounds.
James: Lotus berthelotii.
Q3 – I'm gardening in a very damp soil, and attempting to garden organically – how can I defeat the mould?
Pippa: Improve drainage and aeration in soil – add as much organic matter as you can find (and maybe some grit). To improve air circulation, don't plant too densely. Don't feed too much nitrogen, (including avoiding high nitrogen manure). Keep a close watch and if you see an infection developing, pick off the leaf immediately. Finally get some sulphated potash, which will encourage flowering and toughen up individual cells.
Q4 – We have a 50m2 (164 ft2) garden, want to plant trees so not to see my neighbours – could the panel suggest some good trees?
Anne – Crataegus pinnatifida Big Golden Star, or birches.
Matt – Thuja hedge as a background and shelter, then low growing acers, for instance Acer davidii, 'Snakebark maple, White tigress, Acer griseum (Paperbark maple).
James: Bamboo.
Feature – Italian garden
Yucca rostrate, Cycadopsida, Hosta, Schefflera, Berberis hedge, Potentilla fruticose, Prostanthera
Q5 – My garden has lost all its colour since May, could the panel suggest some plants to bring back some colour?
Pippa: Geranium madarense and Allium – herbaceous geraniums.
Anna: Sweet rocket (Hesperis matronalis), Red campion (Silene dioica) and lupins.
Matt: Euphorbia – polychroma and schillingii and Golden hop.
Q6 – Can you cut back herbaceous geraniums are flowering, and will it then re-flower?
Pippa: Definitely yes – I would also give them a feed whilst doing so.
Q7 – I have a two-year-old Clivia which has only recently bloomed; how can I encourage it to repeat the flowering?
James: It needs a recreation of winter – lower temperature and lower watering at certain times of year.
Anne: Keep dry in the winter and water in the summer. It should flower in March and possibly again in August. They like to be kept shaded.
Q8 – Plum tree was strimmed a few years ago; the stump regrew, and last year produced a few small sweet yellow plums, but this year something strange happened… Could the panel identify what has happened?
Pippa: Taphrina pruni – attacks young fruit to make pocket plum, which gets covered in spores. It won't necessarily be back next year but to reduce the chances of it returning, simply snip off which scissors anything that looks odd before it goes white. Very common, appears every few years then goes away.
Q9 – Has any member of the panel got a plant named after you, and if not, what plant would you like named after you?
James: Yes – a tall yellow Sarracenia.
Pippa: No – but if I had one, it would have to be a disease trap!
Anne: No – but I'd like a runner bean named after me.
Broadcasts