Main content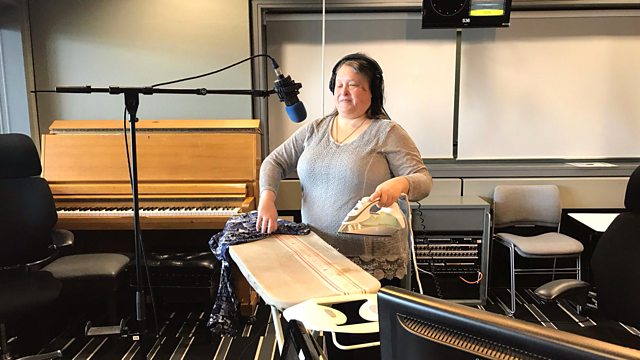 Saving lives and smoothing creases
An ironing lesson and tips for getting it right from two blind enthusiasts. And why is becoming a qualified first aider so complicated if you are visually impaired?
Should blind people bother with the ironing? Blind mum Emma Williams and blind dad Allan Tweddle explain why and when you should bother and give our presenter Lee Kumatat a lesson and tips for getting it right.
While some visually impaired people need a first aid certificate to move forward with education or work, some have found it hard to gain the necessary accreditation. Johny Cassidy meets Alan North, a partially sighted trainer who's helping them to qualify.
Presenter: Lee Kumutat
Producer: Emma Tracey
In Touch Transcript: 18-06-19
Downloaded from www.bbc.co.uk/radio4
THE ATTACHED TRANSCRIPT WAS TYPED FROM A RECORDING AND NOT COPIED FROM AN ORIGINAL SCRIPT.  BECAUSE OF THE RISK OF MISHEARING AND THE DIFFICULTY IN SOME CASES OF IDENTIFYING INDIVIDUAL SPEAKERS, THE BBC CANNOT VOUCH FOR ITS COMPLETE ACCURACY.
IN TOUCH – Saving lives and smoothing creases
TX:  18.06.2019  2140-2200
PRESENTER:           LEE KUMUTAT
PRODUCER:             EMMA TRACEY
Kumutat
Hello.  Are you a steamer, a hanger or a conscientious objector?  Or maybe you actively like to do your ironing.  I'm a conscientious objector myself.  But later in the programme I'll be getting a lesson from a couple of visually impaired people on how they tackle this chore.  And hopefully, afterwards, I won't be needing one of these – a qualified first aider.  That's the topic of our first item tonight. 
Knowing what to do in an emergency is always a skill worth having.  Visually impaired people come to this information just like anyone else – we pick it up along the way.  But just how easy is it for us to get a formal qualification from the main bodies which hand them out?  And do visually impaired people need to be taught differently in any case, seeing as we can't rely on visual cues like the pallor of the skin or dilation of pupils?
When Clare Potter from Hull decided she wanted to learn first aid, as a way to complement her college course, she soon found out that it wasn't going to be as easy as she thought.
Our reporter, Johny Cassidy, spoke to Clare to find out what happened.
Potter
When I was at college, so I was around 16-17 at the time, I was studying health and social care and I had the intention of becoming a holistic therapist.  And I wanted to go on a first aid course, a bit like other people would, and it proved to be more of a challenge than what I thought it would be.
Cassidy
So, what happened, who did you approach?
Potter
So, I approached mainly St John's Ambulance and the British Red Cross.  When I approached both companies, I basically got the impression that unless I had a support worker with me they wouldn't really be willing to give me the support that I needed, in order for me to get the most out of the course.  And what I also found with the Red Cross when I spoke to them about it they also said that they would quite happily get me on to a course that was with less students, that I had more attention from the tutor but that would be a course where I wouldn't really get a certificate or a diploma or anything like that, to help me any further with prospects or anything like that, so it would just be just a general knowledge course.
Cassidy
The point was then that although they were willing to teach you how to do first aid the big thing that you wanted from it, i.e. the accreditation and the certificate, which would have helped you in your course, they weren't willing to give you?
Potter
That's right.
Cassidy
And so, what was your next step then?
Potter
I spoke to somebody from the RNIB Connect Team and I basically said that I was looking for a first aid course, I'd not had much luck before and I received an email from my local RNIB Connector saying that she knew someone who was visually impaired who is actually a first aid trainer.
Cassidy
That trainer was Alan North.  Now Alan has been training people for years and as Clare explained he is himself visually impaired.  I wanted to find out what techniques Alan employs to teach those of us who are visually impaired and what better way than a practical demonstration.
North
So, if I stand out in front of you Johny,
Cassidy
Right, okay, let me have a go.
North
You put your hands over, on top of mine.  So, that's my hands here…
Cassidy
Right, okay, so, we're putting it on the top of the forehead.
North
Yeah, two fingers under the jaw, you're tilting back and lifting up.  Now…
Cassidy
So, what I'm doing here – we have got this dummy, what do we call the dummy, is there a name?
North
A resus mannequin.
Cassidy
Resus mannequin, right, well she's got no name I don't think. 
North
Well in actual fact they're all called Annies.
Cassidy
Right, okay, so Annie, this is resus Annie, how are you doing Annie?  I hope I can save your life at some point.
North
What do you think would happen if you've opened the airway and then you take your hands off?
Cassidy
Well she's going to fall back…
North
Yeah, so, the airway's going to close.  So, if you open the airway you need to keep your hands in that position while you do the next bit of the sequence, which is to assess whether the casualty is breathing.
Cassidy
Right, okay.
North
Now this one is partly one that you will be able to do and partly one that you'll have to think of another way of doing it.  I'll tell you what the normal way is, which is you look down their chest to see if you can see the chest rising or falling…
Cassidy
Okay, yeah, obviously I can't do that.
North
So, the other two ways are that if you put your head down over her face and look towards her chest you will either feel air coming out of her mouth and nose on to your cheek or you might even hear breathing sounds.
Cassidy
Got you, yeah.
North
So, those are the two senses that you're going to use in that particular case.
Cassidy
With the training that you do, obviously you have been – you're placing my hands or telling me where to put it on to the mannequin, you've showed me physically how to put my hands on the forehead and underneath the chin.  From your point of view, then, is there any reason why blind or visually impaired people can't be accredited to do first aid?
North
I cannot see why not.  In certain circumstances.  It may well be that if they're wanting a first aid at work qualification to go work in a factory then maybe it might well be that that factory's not laid out in a way that would be safe for the visually impaired person to actually operate in that area.  But, for example, the people that I've trained are people that are maybe doing one-on-one sessions like massage sessions on people, things like that, where they're in one room with one person, they're used to that room because they know how it's laid out because it's their room, so I cannot see any reason why they can't do most of the things that we do within first aid.  And certainly, they would fulfil the criteria of things like the emergency first aid at work qualification for being competent, so if they're competent then my awarding body and a number of other ones I know as well, would say if they're competent then they pass and they should get the certificate.
Kumutat
Alan North there talking to Johny Cassidy and Johny joins me now.
It seems that there are ways around the accreditation process and there are awarding bodies who will accredit visually impaired people but it's still a bit confusing, isn't it?
Cassidy
It is.  The accreditation body that Alan uses is called Safety Training Awards or STA.  Now the award that Clare got accredited for is called Emergency First Aid at Work and that is level two.  When you have that qualification that gives you enough knowledge of first aid to be able to do something in an ordinary everyday environment but if you wanted to do something that's another level up, say level three, for working in high risk environments like on a building site or in heavy manufacturing, now you'll do this level three, but for everybody the level two, the EFAW – Emergency First Aid at Work – is enough.
Kumutat
St John's Ambulance and the Red Cross – will they accredit a visually impaired person to level two?
Cassidy
This is where it gets quite confusing.  Now the British Red Cross and St John's Ambulance are two of the most well-known first aid organisations in the UK.  I spoke to them to find out about blind people getting accredited and it's not very straightforward.
Kumutat
This is what the British Red Cross told us:
British Red Cross statement
If someone with a visual impairment or disability would like to learn first aid on one of our courses, we'll make adjustments to support their learning.  This includes providing accessible resources in a range of formats, for example, larger print copies for people who are partially sighted.  And by inviting the person to bring along their support worker on the day.
Cassidy
It's very important here to point out, Clare Potter, who we did hear from, she was offered this when she got in touch with the British Red Cross and St John's Ambulance but, as she explained to me, not everybody has got access to a support worker.  It's not that St John's or British Red Cross supply support workers, you have to bring your own.  So, you either have to employ those or have an employer who is willing to let somebody come along with you or you have to have a really understanding friend.
Kumutat
And St John's Ambulance said:
St John's Ambulance statement
The Health and Safety Executive, a UK government agency responsible for the regulation of workplace health and safety, state that although reasonable adjustment can be used when delivering learning no reasonable adjustment should be applied when doing assessment on our suite of first aid at work courses.
They go on to say:
We inform customers of this fact and do look to offer an alternative course, so everyone can have access to learn first aid.
Cassidy
I think it's very important here to note that they've said that no reasonable adjustment can be made, and that's a recommendation by the HSE, the Health and Safety Executive.  Now I got in touch with the HSE as well who informed me that they no longer are responsible for the level of accreditation or level of competency that people need and that indeed it's now the responsibility of employers.  So, as you can see, things not very, very clear at all.
Kumutat
But what about people who aren't in work and who are self-employed, who will train them up?
Cassidy
I spoke to a woman from London who had started her own massage therapy business.  Now to start trading she needed to get business insurance, she found out that without having a first aid certificate she wouldn't be able to get this.  So, Alan North actually ended up training her.  She went, she did the course and got accredited, got her certificate and applied for business insurance and is now trading.
Kumutat
So, that was good enough for her to obtain her business insurance and get it up and running?
Cassidy
Yes, the STA, the qualifying body that Alan North uses, the Safety Training Awards, it is a recognised body, an awarding body.  Anybody who gets a certificate of first aid from them, it's just exactly the same as British Red Cross or St John's and people then are able to use that to go on ahead and get business insurance or whatever it is they need.
Kumutat
So, maybe other bodies need to look at employing some visually impaired trainers.  Johny Cassidy, thank you very much.
Cassidy
Thanks very much Lee.
Kumutat
Now hands up if you don't bother anymore with the ironing?  Me neither.  It wasn't for the lack of trying on my mum's part when I was a teenager.  Her methods were – well very practical and logical.  My aptitude for it was zero.  And with today's textiles and materials who really needs to?
Well two blind people who do iron are here to convince me that I should add this skill to my armoury.  Emma Williams is a mum, who also runs activities for blind teens at New College Worcester and is blind herself.  So, Emma, you and I are friends, we have to be upfront about that, and have chatted on the phone while you've been ironing.  Why do you do it?
Williams
Why do I do it?  Well because some things come out creased, well to me they seem creased, so I will iron them.
Kumutat
But why does it matter to you that they're creased?  Do people say to you – oh my gosh that woman she looks so creased, I bet that's because she can't iron?  Does that worry you?
Williams
I suppose it does a bit.  I'm quite conscious about my clothes and how I present myself, so I will iron things that I think need ironing.
Kumutat
We'll be hearing more about how you actually go about it in a minute.  But also joining us is Allan Tweddle, blind dad of two and the man of the house who does most of the chores.  Do you iron Allan?
Tweddle
I should iron, I think is what I would say, and I iron occasionally when I absolutely have to.  And as a special treat, because I knew we were talking about this today, I actually ironed my trousers this morning.  For my children I buy their schools shirts, always I buy non-iron, and it seems to be that if I get them out the washing machine and hang them up to dry and brush them down every time I walk past, they don't need ironing, so I never iron them.
Kumutat
So, we've established that both of you do iron, although Allan only when he has to, Emma you're a little bit more regular.  So, I'm jumping in the deep end here and you guys are going to give me a lesson on how to iron.  So, I'm standing up, the ironing board is here, where do I stand when I'm ironing?
Williams
I would stand halfway along the side of the ironing board with the iron to your left.
Kumutat
With the iron to my left because I'm left handed, right.  How do I lay out the clothes?  So, this is just to give you and the listeners a bit of an idea, is the most rumpled thing I've ever seen, just quietly, producer Emma, and it's a shirt, it's quite thin material, it's – I would say three-quarter sleeves, it would be three-quarters on me, and it almost feels almost like a cotton.  And it's got cuffs that are buttoned up.
Tweddle
The way I always think about it is putting the shirt on the ironing board, dressing the ironing board, so the collar goes at the far end.  The front of the boat.  The ironing board's like a boat shape isn't it.
Kumutat
So, I do undo it or do I leave it done up?
Williams
I personally would undo it.
Tweddle
Me too.
Kumutat
Right, okay.
Tweddle
But I've never thought of doing it done up though.
Williams
No, and generally I start with the arms.
Kumutat
Ooh controversial.
Tweddle
Ooh do you, I always start with the body, ooh, ooh.
Williams
I do, oh okay.
Kumutat
Okay, I'm going to lie it down on the ironing board now and I'm going with the arm first, sorry Allan.
Tweddle
No, that's alright.
Kumutat
Only because, you know, you don't do it as frequently as Emma does.
Williams
The arm wins.
Kumutat
And do I unbutton the cuff?
Williams
Yes, I would say so, yes.
Kumutat
Okay, unbuttoning cuff as quickly as I can.
Williams
And then I would say if you feel the seam that goes along the underside of your arm, you want to make sure that that is nearest to you and then if that's kind of at the bottom of the sleeve you can sort of lay it out along the ironing board in front of you then.  Yeah, so you probably don't want it right at the bottom of the ironing board closest to you…
Kumutat
No, it's halfway along.
Williams
Yeah, perfect.
Kumutat
And it's halfway in.  Whoo – I'm doing alright.  Okay, so the next thing is the scariest bit – is the iron – so how do I hold it, what do I do?
Williams
Because I'm left handed I would say hold it in your left hand with your fingers curled round the handle and your index finger sort of pointing along the handle towards the pointed end of the iron.
Kumutat
Okay, where the buttons are – there are buttons on this iron.
Williams
Yeah, okay.  I imagine they're things like water and steam and things.
Kumutat
How do I tell if it's on?
Williams
You see mine comes straight on when you turn it on at the wall.  Some of them have a dial underneath the handle.
Kumutat
Should I check if this one's on at the wall?  I think I probably should.  Hang on a minute.  It's not plugged in! [Laughter]
Tweddle
Yeah, if the iron's cold that's usually an indication it's not on, I would say.
Kumutat
Are we going to plug this iron in producer?
Williams
Or you're doing cold ironing today.
Kumutat
Are we doing cold ironing?  Okay, so the iron's on, I can feel there's a bit of warmth coming from it and my finger is pointing along it and there seems to be buttons.  What do they do?  I really have forgotten all my ironing.
Tweddle
I wouldn't worry about the buttons, to be honest, they're for the advanced users.
Kumutat
Which I'm clearly not.  Okay, I've got an iron and a garment.
Williams
Okay, so is your sleeve flat?
Kumutat
Well as flat as a creased sleeve can get, I think, yes.
Williams
Okay.  I would start ironing at the cuff end and work your way towards the armpit and the shoulder end and I would start at the seam that's going to be under your arm and work your way away from you, sort of pushing backwards and forwards in lines.
Kumutat
What I'm doing is I'm feeling along the garment and so I've found that seam, do I put the iron there and move it outwards, is that what you're saying to me?
Tweddle
You're just sliding it along.
Kumutat
I am.
Tweddle
You're just sliding it along…
Kumutat
I'm being very careful and very gentle.
Tweddle
I always move it slightly from side to side, it pushes out the creases.
Williams
Oh, it sounds like there might be some steam going on.
Kumutat
It's quite fun.
Tweddle
I always take the iron off and then run my hand along the surface and if it feels flat I think it's done.
Kumutat
Why is it beeping, is it reversing?  I'm slightly suspicious of this iron.  Okay.  How do I know when it's done?
Tweddle
It's a problem.  A couple of years back I bought two shirts that were essentially ribbed material and my wife used to say – they're creased, you need to iron them – and I used to iron them and you just could not feel the difference.  Which is part of the problem, I think, with ironing for blind people generally is it's one of those pointless exercises sometimes that you just think – have I made a difference, was that a useful hour well spent?
Kumutat
So, isn't that a bit thankless Emma?
Williams
Umm, I think that ironing – it's – for me it's a practised thing, I've been doing it for a long time.  And I think I do quite well at ironing, to be honest.  And I don't – I can't feel many creases left in the things that I iron.
Kumutat
It's funny how you do things naturally because what I was going to do is find the cord and then move your hand up to the iron.  Is that a good thing to do?
Tweddle
Probably is, yeah.
Williams
I think in practice it's probably a good thing to do.  I think once you know your own ironing board and you know where the iron is you probably could automatically put your hand to it.  I think to start with is probably a very good idea.
Kumutat
Okay, other safety tips then.  I am ironing, as I talk.
Tweddle
Don't iron near the guide dog.
Kumutat
Why?  What's happened? [Laughter]
Tweddle
Particularly if you have one that bounces round near the ironing board.  I've had a few, it would only take one knock.  Now one knock on the edge – ironing boards            are very frail things, aren't they, you know when you look at them one knock against the legs…
Kumutat
They're unstable, aren't they?
Tweddle
Yeah, that's the word unstable.
Kumutat
Emma, what about you, any other safety tips?
Williams
Sometimes your iron can throw out a bit of scum or like sort of lime type stuff, which can show up as white marks on your clothes and sometimes you just don't know.  So, ironing things inside out is probably a really good idea.
Kumutat
Do you think you iron as well as a sighted person, Allan?
Tweddle
No.
Kumutat
Right, there's a definitive answer.  Emma?
Williams
I would hope so.
Kumutat
I'm going to stick with drip dry, I think.  Thank you very much to you both – Emma Williams and Allan Tweddle for joining me.
Williams
Thank you.
Tweddle
Thank you.
Kumutat
So, help please – everyone your best tricks for turning yourselves ship shape and crease free.  You can phone the In Touch message service on 0161 8361338 or email intouch@bbc.co.uk where you can also find this episode and about a decade's worth of others.  Peter White reckons ironing's never been done on the programme before but if you beg to differ feel free – Peter's back next week.  From me, Lee Kumutat, today's producer Emma Tracey and the team, goodbye.