Main content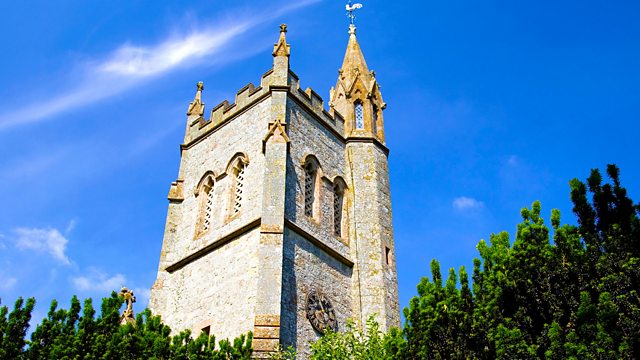 Trinity Sunday and Father's Day
Marking Trinity Sunday and Father's Day from Glasgow University Chapel with Rev Dr Doug Gay and Prof Alison Phipps. Chapel Choir directed by Katy Cooper. Organist: Kevin Bowyer.
Marking Trinity Sunday and Father's Day from the Memorial Chapel of
Glasgow University, with Rev Dr Doug Gay and Professor Alison Phipps.
Readings: Proverbs 8 / John 16
Hymns: Holy, holy, holy (Nicaea)
(Psalm 8) O Lord, our Lord throughout the earth (Tramps & Hawkers)
All creatures of our God and King (Lasst uns erfreuen)
Alta Trinità (Medieval Italian)
My Father (Hutchings)
Benediction: God keep you with a mother's strength
Chapel Choir directed by Katy Lavinia Cooper.
Organist: Kevin Bowyer
Producer: Mo McCullough
Last on
Script
Script 
CHOIR  ALTA TRINITÀ BEATA
DOUG
Alta Trinità Beata – 
High and Blessed Trinity, adored, glorious , marvellous in unity! 
You are sweet tasting manna – you are all we desire!
Good morning and welcome.
Trinity Sunday marks the culmination of the church's liturgical year – today we sum up the great story which has unfolded from Advent, through Easter and just last week in Pentecost – as we reflect on God the Eternal Creator, God the Incarnate Word, God the life-giving Spirit – divine revelation and human experience are drawn together in the mysterious maths of three in one and one in three.
We celebrate that mystery as we sing: Holy, Holy, Holy – Lord God Almighty.
Hymn:  HOLY, HOLY, HOLY  (Tune: Nicaea) CH4 111
ALISON  Prayer of Confession
Now we pray:
We come to praise you now - 'Threeperson'd God'
And gathering the stories of these weeks gone by,
We worship you - the Maker and Sustainer of all that is,
We worship you Lord Jesus Christ, as true God and as truly human.
We worship you, life-giving Spirit;
Your thoughts and ways are higher than our own
So that we wrestle and rejoice – to meet this poetry and paradox
We do the holy reckoning in which we find that you cohere as only one
And yet still open out to be all three
We celebrate the mystery of all you are
The dance of love,
Revealed as holy fusion not confusion
As glorious fission without separation
High and holy Trinity
You stretch us into adoration
You focus us in praise
You are too much for us – will be eternally too much.
And yet you come as one great simple love
Known in three-personed grace.
We praise you the all merciful and the almighty,
You love us with a mother's strength and with a father's tenderness
And so that we may know more of your love and life,
We pray that by your Word and by your Spirit
You would come and meet us now,
through Jesus Christ our Lord,
ALL:  AMEN.
DOUG
It's an unforgettable line – scripted by the great Aaron Sorkin – Jack Nicholson – as Colonel Nathan Jessup – rages against Tom Cruise's cross examination in the film A Few Good Men: "You want the truth" he roars – "you can't handle the truth!"
You don't always want Jack Nicholson's voice in your head when you are reading the Bible – but this week I welcomed the interruption, because our readings focus on truth and wisdom.

Our first lesson comes from the book of Proverbs in the Hebrew Scriptures - from the 8th chapter we hear words celebrating the wisdom of God in Creation.
READER
Does not wisdom call,
and does not understanding raise her voice?
On the heights, beside the way,
at the crossroads she takes her stand;
beside the gates in front of the town,
at the entrance of the portals she cries out:
"To you, O people, I call,
and my cry is to all that live.
…
The Lord created me at the beginning of his work,
the first of his acts of long ago.
Ages ago I was set up,
at the first, before the beginning of the earth.
When there were no depths I was brought forth,
when there were no springs abounding with water.
Before the mountains had been shaped,
before the hills, I was brought forth—
when he had not yet made earth and fields,
or the world's first bits of soil.
When he established the heavens, I was there,
when he drew a circle on the face of the deep,
when he made firm the skies above,
when he established the fountains of the deep,
when he assigned to the sea its limit,
so that the waters might not transgress his command,
when he marked out the foundations of the earth, then I was beside him, like a master worker;
and I was daily his delight,
rejoicing before him always,
rejoicing in his inhabited world
and delighting in the human race.

ALISON
God of Life - forgive our violence, forgive our neglect of the earth
God of Wisdom - forgive our foolish ways, forgive our wasted opportunities
God of Love - forgive our failure to love you and to love our own neighbours

On this day, when we remember Fathers, 
we celebrate the tender love and guidance of fathers,
and give thanks for their steadfast care;
but we acknowledge too the sins of Fathers 
and the damage they have done to their children throughout the earth
And we come to you, the Good Father of all people,
and pray for the coming of your kingdom:

ALL:  Our Father in heaven,
hallowed be your name,
your kingdom come,
your will be done,
on earth as in heaven.
Give us today our daily bread.
Forgive us our sins
as we forgive those who sin against us.
Save us from the time of trial
and deliver us from evil.
For the kingdom, the power, and the glory are yours
now and for ever. Amen.
Hymn:  O LORD, OUR LORD THROUGHOUT THE EARTH
Psalm 8  (Tune: Tramps & Hawkers)  CH4 5
DOUG
A reading from the Gospel of John:
READER
'I still have many things to say to you, but you cannot bear them now. When the Spirit of truth comes, he will guide you into all the truth; for he will not speak on his own, but will speak whatever he hears, and he will declare to you the things that are to come. He will glorify me, because he will take what is mine and declare it to you. All that the Father has is mine. For this reason I said that he will take what is mine and declare it to you.
DOUG
The Gospel Reading for Trinity Sunday this year – which we've just heard - is very brief. Jesus' words in John 16 combine elements of both simplicity and mystery.  They offer a striking cameo of the Trinity, weaving together images of giving, sharing and mutuality, to express the relationships between Jesus, the God he calls Father and the coming Spirit of Truth.
In this miniature portrait, it is the Spirit who is to the fore – Jesus says:
When the Spirit of Truth comes, He will guide you into all the truth.
The King James Bible is even more compressed – he will guide you into all truth. I'm getting used to hearing teenagers talk about 'all the feels' – when something moves them powerfully. But when our gospel reading talks of "all the truth" – how are we to take that?
Which bits of the truth do we want or think we can handle?
Today is the day many of us in the Church confess and celebrate the paradoxical truth of the Trinity. It's a core doctrine of Christian orthodoxy and although some find it baffling and obscure, for others it offers a compelling and even beautiful symbol of the truth about who God is. Rowan Williams has a lovely line in which he suggests doctrine is not about producing perfect formulas, so much as searching for the least stupid thing you can say about God. I echo that, but I also find the ancient trinitarian formulas, if not perfect, to have a wonderfully poetic quality – what others have seen as a musicality to them – the three persons are co-equal, co-eternal – their personhood unconfounded, their essence undivided – each uncreated and unlimited – none before, none after, none greater, none less – the tensive quality of the creeds holds these affirmations in a perfect symmetry – both balancing and aligning them.
There is also a simpler narrative and experiential route towards the Trinity – the first Christians were convinced by the truth that the great Creator, the man Jesus and the Spirit who descended at Pentecost – were convinced that for all their difference, to know these all separately was also in some crucial sense to know them as one and the same. The language of Trinity was developed to reflect this – this Same difference, this different sameness.
Some Christian thinkers have also found powerful social and political inspiration in the formulas of open mutuality and radical equality which are found in the ancient creeds. If such equality and community is found within God – then should it not characterise human societies when they reflect the image of God?
If Trinity is one kind of truth about God, on this Father's Day, we can pause to consider what kind of truth is expressed by talk of God as Our Father. God is not male, but this metaphor is. One powerful insight here has been very simply expressed – that the tradition says you may call God Father, not that you must. The riches of the 'father' metaphor – its focus on life-giving, on responsibility, on intimacy and care – these are only increased and expanded when we move beyond a male monopoly and embrace the metaphor of mother with its distinctive witness to life-giving, responsibility, intimacy and care. God loves us with a mother's strength and with a father's tenderness…
So far then, we have thought that 'all the truth' might include both the paradoxical truth of God as Trinity and the inclusive truth of both parental metaphors.
But all truth surely means not only truth about God, but truth about all of life. When Christians founded and reformed universities like this one, it was because they believed the Spirit was leading them into truth about the universe as a whole. We know of course the Church has sometimes struggled with the truths of science – reacting defensively to a Galileo or a Darwin. The shame of that is balanced by the enormous contribution made by people of faith, past and present, to the pursuit of scientific truth. Today, mainstream churches across the world are science-affirming churches, sensing the leading of the Spirit, for example in the work of climate scientists, as they confront us with what Al Gore famously described as 'inconvenient truth'. The Spirit of truth is an educating Spirit, a scientific Spirit – for me as a theologian there is no contradiction between science and faith – every scientific discovery bears witness to the Spirit's leading.
In John's Gospel, the Spirit also works to convince us of sin. And there are truths which are not only inconvenient, but are actually incriminating. A Church led by the Spirit will deal honestly and penitently with its own failures, past and present, whether failures of racism, or of sexism, whether failures of homophobia or of safeguarding.
The Spirit who takes the things of Jesus and declares them to the church, will also insist we are open to the needs of the poorest and most vulnerable. I was in Sicily a few weeks ago, one of a group of theologians and churchpeople from across Europe . Thousands of men, women and children have died these past years attempting the perilous crossing from North Africa to Sicily and Lampedusa. That such deaths are still continuing while our governments argue about protocols for humanitarian rescue – that too is an incriminating truth for all of us within Europe.
So it's true – Jack's voice has been with me alongside John's voice this week –
'do I want the truth? can I handle the truth?'
 It's healthy, I think, and very necessary for us to admit that we do not know or possess the whole truth. But to such humility our Gospel reading today also brings hope – 'the Spirit of Truth will lead you into all the truth' – the triune God calls us towards truth and our work is to move in response to that leading – towards the truth, whether it is beautifully poetic or economically inconvenient or even ethically incriminating – we follow after the truth in hope - because as Jesus also said – the truth will set us free.
ALISON
The choir will sing 'My Father' - a setting by the Scottish composer Chris Hutchings of poignant words gathered together by writer Aine McAllister from Kurdish women she worked with in a refugee camp in France:

"I remember my father, he
puts his arms out and says, come here.
My father is good and beautiful.
Now I'm happy when I
help my child write his name."


CHOIR     MY FATHER (Hutchings)

DOUG   Does not wisdom call,
and does not understanding raise her voice?
ALISON  Wise and wonderful God,
We thank you for the invitation to call you Father,
Today we remember our fathers
You know for some of us to do that is a 'good and beautiful' thing
But for others it is painful and traumatic – 
We give thanks today for every good gift we have received from our fathers
And we bring to your justice and your healing love, 
ways in which we were let down or abused. 

We pray today:
for children separated from their fathers, including the women whose words we heard sung
for fathers separated from their children – by war or conflict, by circumstance or estrangement
We pray for those who miss their dad today
we pray for those who will become fathers this day, this month, this year
that they and all fathers may learn to be good and nurturing, wise and empowering
God of wisdom and power, 
ALL:  Hear our prayer
__________________________________________________________
PART OF 'MY FATHER' AS RESPONSE
___________________________________________________________
DOUG   Does not wisdom call,
and does not understanding raise her voice?
ALISON
Lord Jesus Christ, you are the loving wisdom of God,
You welcome those who look for refuge and for rest
We pray for all who decide the fate of refugees. 
That our immigration systems be built with your grace, mercy and compassion
We give thanks for stories of strength, solidarity and kindness that sustain seekers of sanctuary throughout their struggle.
Be with those who suffer great torment and torture in prison
Watch over those who risk their lives crossing the sea in search of safety and opportunity
Sit with separated families and children in border camps:
Wait with those who are held in detention, where folk are tempted to despair and some to suicide.
Come to turn our hearts of stone to hearts of flesh
Help us to value the hopes and dreams of others
and to seek for their children the same freedom we cherish for ours
God of wisdom and power, 
ALL:  Hear our prayer
__________________________________________________________
PART OF 'MY FATHER' AS RESPONSE
___________________________________________________________
DOUG    Does not wisdom call,
and does not understanding raise her voice?
ALISON
Spirit of Truth,
lead us into all truth
We bring to you those who seek truth and those who forsake it. 
May your wisdom call out to our politicians and all in authority,
That they would speak honestly and with integrity; that the truth may guide them to work towards a society that tends the poor, the sick and the lonely.
We pray for journalists and artists, editors and academics, 
May their work serve the truth.
We pray for all who work in our universities, colleges and schools
May the call of wisdom be heard in their voices
That by their work, many would be led into truth, 
truth that will set them and others free
God of wisdom and power, 
ALL:  Hear our prayer
__________________________________________________________
PART OF 'MY FATHER' AS RESPONSE
__________________________________________________________
ALISON
Hear these and all our prayers,
For all who are in our hearts today and for all that lies ahead this week,
through Jesus Christ our Lord,    ALL: AMEN.
Hymn:  ALL CREATURES OF OUR GOD AND KING
(Tune: Lasst uns erfreuen)  CH4 147

DOUG Benediction
Now - Go in peace to live in God and serve the truth
And the blessing of God, the Holy Trinity, rest upon you and remain with you, this day and for evermore
ALL:  AMEN
CHOIR
God keep you with a Mother's strength
And with a Father's gentleness
God keep you with a Mother's fire
And with a Father's tenderness
God stay with you, God go with you
Words & Music: Doug Gay
ORGAN VOLUNTARY   SARABANDE  from A Little Suite by Anthony Baldwin (b. 1957)
                                         Published by Banks
Broadcast