Main content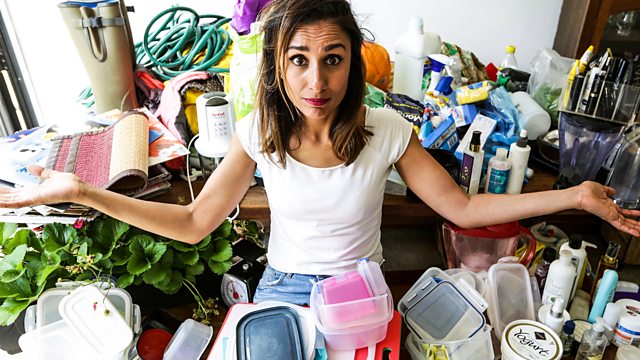 Every minute, the equivalent of a truck full of plastic is emptied into the world's oceans. In this episode Hugh and Anita look at where the problem is coming from and how to solve it.
Every minute of every day, the equivalent of a garbage truck full of plastic is emptied into the world's oceans. Thanks to other BBC series like Blue Planet and Drowning in Plastic, we've all seen the devastating effect this is having on our world's wildlife.
In this three-part series, Hugh Fearnley-Whittingstall and Anita Rani explore where this gigantic problem is coming from, and what we can all do to solve it. They challenge big businesses to do more to reduce the plastic in their products and question the government about what they are doing to address recycling and plastic production. They also challenge an entire street in Bristol to try and significantly reduce the amount of single-use plastic in their homes in four months to discover how easy or difficult it is to make such changes.
Working with the street in Bristol, Anita quickly identifies where most single-use plastics are coming from. Over a third of all the plastic packaging in the country comes from our ten leading supermarket chains, more than 800,000 tonnes a year. When our street's residents try to buy food without unnecessary packaging, they're shocked to discover that both Sainsbury's and Tesco seem to charge less for fruit and veg wrapped in plastic. Anita heads to Tesco's HQ to ask why.
Meanwhile, Hugh is on the trail of the ubiquitous plastic water bottle. With each bottle taking 450 years to decompose, they are the most common litter on our beaches. So why do we buy eight million every year? Does the water taste better? Is it healthier? Or is it just more convenient? Hugh dons a disguise to try and find out, launching a new brand of Tapineau (or bottled tap water) to an unsuspecting public. It turns out no one can tell the difference in taste. Further lab analysis reveals that bottled water is no better for us either. Hugh is astounded to discover that bottled water is about 500 times more expensive than tap. The equivalent of paying £2,000 for a pint!
Forty-seven percent of people admit to arguing about what is and isn't recyclable at home. Perhaps that's why less than half of all the plastics we produce in this country actually end up in the correct bin. The confusion is laid bare when Hugh sets up a street side recycling game. It quickly becomes clear that no-one really knows which bin to use, and with different councils having different rules across the country, it's a wonder any of it makes it to the right place at all.
Hugh goes on the trail of the plastic that does get recycled and discovers that since China stopped accepting rubbish from around the world, Malaysia has become one of the biggest importers of British waste plastics.
He travels to Malaysia to try and find out what is happening to it all, and what he sees shocks him to the core. Great piles of unsorted British plastics have been left to rot on illegal dumpsites, with much of it sat near split UK council recycling bags. When Hugh speaks to local residents, they tell of illegal plastic fires being lit to help get rid of it all, which emit clouds of noxious black smoke. They blame the smoke for affecting their young children's health. Hugh is determined to get to the bottom of what has obviously become a plastic recycling scandal.
More episodes
Previous
You are at the first episode
Clips

Music Played
Timings (where shown) are from the start of the programme in hours and minutes
00:07

Gary Royant

Electro Charisma
Credits
| Role | Contributor |
| --- | --- |
| Presenter | Hugh Fearnley-Whittingstall |
| Presenter | Anita Rani |
| Director | Tom Beard |
| Series Producer | Jacky Sloane |
| Executive Producer | Will Anderson |
Broadcasts
BBC One

except Northern Ireland, Northern Ireland HD, Wales & Wales HD

BBC One

Northern Ireland & Northern Ireland HD only

BBC One

except Northern Ireland, Northern Ireland HD, Scotland, Scotland HD, Wales & 1 more

BBC One

Northern Ireland HD & Northern Ireland only