Main content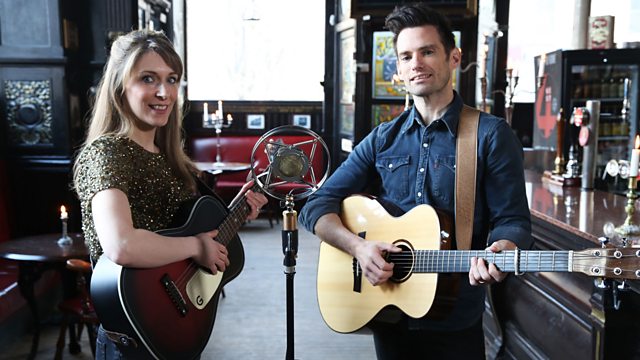 Featuring Allan Henderson, who pays tribute to some of his musical heroes, and the duo Smith and McClennan, with songs that reveal a gentle influence of Nashville.
Air a lìbhrigeadh le Màiri Anna NicUalraig agus Dòmhnall Eòghainn MacFhionghain. Chaidh Seirm a chlàradh aig àm fèis Celtic Connections anns an Fhaoilleach, 2019. Anns a' phrògram seo chithear an sgrìobhaiche ciùil tàlantach Ailean MacEanraig a' dèanamh moladh air cuid de na gaisgich ciùil aige, agus e a' toirt luchd-amhairc air ais gu freumhan a shlighe ciùil fhèin. Ann an cuideachd sgioba iomraiteach, tha e a' tadhail às ùr air a' cheòl a thug brosnachadh dha agus a chomharraich a bheatha nuair a dh'ionnsaich e a chiùird na chluicheadair òg.
Tha an seinneadair folk Albannach Emily Smith agus a cèile ciùil Jamie McClennan air dithis cho beothail 's a tha ri chluinntinn ann an saoghal ceòl folk aig an àm seo. Am measg na bhios iad a' seinn anns a' phrògram, tha 'Firefly' agus 'The Sweetest Girl'; òrain a tha gu socair a' foillseachadh buaidh Nashville.
Presented by Mary Ann Kennedy and Dòl Eòghainn MacKinnon, Seirm was recorded during Celtic Connections in January 2019 and features some of the best musicians from the festival. In this episode, Allan Henderson pays homage to some musical heroes, taking viewers on a journey to his musical beginnings. Joined by a stellar group, he revisits the music that provided inspiration for his life during his formative years as a musician.
Scottish folk singer Emily Smith and musical partner Jamie McClennan are amongst the most vibrant duos on the folk scene today. Performing original songs by McClennan, the couple showcase a new sound owing as much to America as it does to Scotland. Their session in this episode includes warm performances of the personal and moving songs Firefly and The Sweetest Girl, and Emily's love of transatlantic sounds takes on a gentle Nashville influence.
In Gaelic with English subtitles