Main content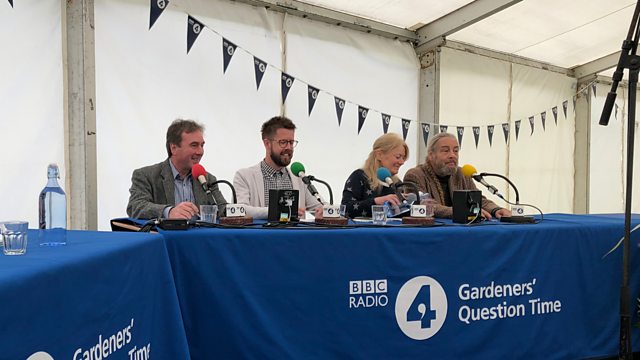 Summer Garden Party at Mount Stewart: Part One
Kathy Clugston hosts a special edition at the annual Summer Garden Party.
Kathy Clugston hosts a special edition at the annual Summer Garden Party. Bob Flowerdew, Matthew Pottage, Bunny Guinness and Neil Porteus are answering the horticultural questions at National Trust Mount Stewart in County Down, Northern Ireland.
This week, the panellists discuss improving a beetroot crop, the time to deadhead your Hydrangea and the best variety of Witch-hazel.
They also give advice on saving an over-watered Rhododendron, helping a Scots Pine thrive against the sea salt exposure, and how long it takes for an Allium to flower.
Away form the questions, David Maxwell from BBC Ulster roams around the Garden looking at some of the highlights.
Produced by Hannah Newton
Assistant Producer: Jemima Rathbone
A Somethin' Else production for BBC Radio 4
Fact Sheet
Q – My foxgloves have come back but they are 8ft (2.4m) tall – is this normal?
Bunny – They do vary in height a lot and more rain will help.
Neil – The overcast skies with warm conditions and showers encourage them to grow.
Matthew – Perennial ones such as Digitalis Grandiflora (Yellow Foxglove) and Digitalis Ferruginea (Rusty Foxglove) are not as tall or blousy but can live year on year quite successfully. If you do just want white foxgloves then if you look at the rosette of the foliage and look closely at the veins you can see darker veins on the ones that are going to be pink/purple flowered, and so you can get them out a bit earlier.
Q – How can I improve my beetroot crop in regard to size and quality?
Bob – They are a seaside vegetable they like a lot of minerals. Put some lime in your soil as your soil may be too acidic. Try the 'Burpees Golden' variety.
Bunny – Beetroot is traditionally a vegetable that bolts which is partly to do with sowing time and variety. Put them further apart and use a good bolt hardy variety and sow slightly later.
Q – When is the best time to deadhead your hydrangea? Mine is 3-4ft (0.9-1.2m) high in clay soil and blue flowering.
Matthew –. Late February – March time take them back to the buds and do any regenerative pruning, taking out any old wood to thin the stem. Even take the whole thing back to the ground periodically as they will respond well to that. Follow this with a good feed.
Bunny – Hydrangea Arborescens (Annabelle) can be cut down to the ground and produce massive flowers and leaves. But with some of them if you cut them down you would lose the flowers, so just take a third out.
Q – My late mother was a big believer in Witch Hazel (Hamamelis). I would like to honour her memory by planting 2 or 3. Can you recommend some varieties and when best to plant them?
Matthew – I think one of the best is Pallida. It will flower for 2-3 weeks.
Neil – Arnold Promise which has a gorgeous clear yellow flower. It also colours up in the autumn.
Plants in Mount Stewart:
Bunny – Lady Edith planted a Laurelia Sempervirens (Peruvian Nutmeg). Like a bay leaf but more lemon scented.
Q – I have a Rhododendron and have over-watered it in a planter. I had to replant it but half the branches are brown and half are white. There are still some buds but no flowers– how can I rescue it?
Neil – Apply Epsom salts. Take a 2-gallon (9 litre) watering can and 2 tablespoons of Epsom salts, mix with warm water to dissolve and let cool down, and water into the root system.
Bunny – Take 30g of sugar and dissolve in a litre of water and water it on and put it in a freer draining mixture to start with to encourage root development. It works for trees and shrubs.
Q – I am really into Alliums at the minute and I have a 'Purple Sensation' which has self-seeded – what do I do next and how long until it flowers?
Bunny – Have good ground-cover.
Matthew – There is a really good hybrid of 'Purple Sensation' crossed with Allium Cristophii 'Purple Rain'.  You can put Asters around them and they are tall enough to cover those grotty leaves. If they are undisturbed, they will start flowering after 3 years or so.
Q – How can I help my young Scots Pine (Pinus Sylvestris) thrive and survive with the sea salt exposure they are experiencing?
Neil – Certain pines take it better. You could work in the Monterey Pine (Pinus Radiata) and the Japanese Red Pine (Pinus Densiflora)
Bob – Scots pine respond well to rich organic soil full of material. Water them with a fresh extract of garden compost. Increase the mulching and get the organic material up.
Bunny – Go smaller as it will be easier – 0.30x0.45m (1– 1.6ft). You can get shelter guards which will filter the wind and protect it and put a mulch on the top.
Q – I have a Meconopsis (Himalayan Blue Poppy) under a Fir tree flowering in stony compost with a bit of horse manure. How do I ensure it comes back next year or do I need to move it?
Matthew – Meconopsis prefer acidic conditions – so the Fir tree will help if it has suitable moisture. Give it some leaf mould and make sure it has space around it. One variety is Meconopsis Betonicifolia. Keep it hydrated and make sure the fir tree doesn't take away too much light.
Neil – We have lovely Meconopsis Sheldonii '(Slieve Donard). In early March it will start regenerating its leaves so when the leaves are no bigger than a mouse's ear take a fork and lift up out the ground and with your fingers prize the roots apart. Try and get bits about the size of your fist and replant them at 18 inches (0.45m) apart. We do this every year and they get bigger and bigger. Top dress with pine bark and the soil underneath the pine bark will be more acidic which will keep the humidity.
Bunny – If you really love them and have rubbish soil treat them as annuals.