Main content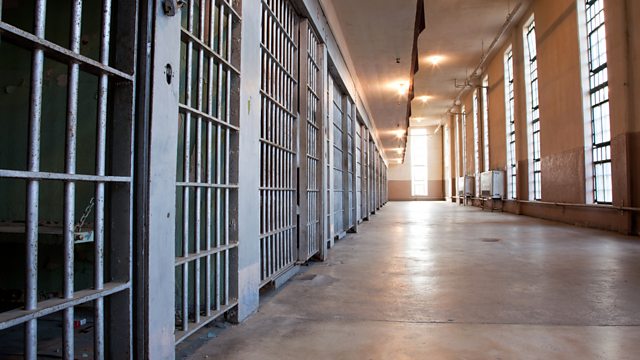 Blind prisoners compensated for discrimination
Prisoners forced to give money and perform sex acts to get access to information and help in US prisons.
Blind and visually impaired prisoners in the US state of Maryland have been awarded $1.4 million by the correctional service for discrimination. They successfully claimed they were not given access to information, jobs and courses to give them equality within the prison or during rehabilitation.
Eve Hill, representing the group, says some have had to pay for sighted guide assistance, and others to perform sex acts to have information read to them.
Tyrell lost his sight through a gunshot wound and says life was lonely and tough for him as a visually impaired prisoner.
Benjamin Burrows, from Leigh Day solicitors, says he has represented visually impaired people in a number of cases here in the UK, and the picture is similar.
Presenter: Peter White
Producer: Lee Kumutat
In Touch Transcript: 11-06-19
Downloaded from www.bbc.co.uk/radio4
THE ATTACHED TRANSCRIPT WAS TYPED FROM A RECORDING AND NOT COPIED FROM AN ORIGINAL SCRIPT.  BECAUSE OF THE RISK OF MISHEARING AND THE DIFFICULTY IN SOME CASES OF IDENTIFYING INDIVIDUAL SPEAKERS, THE BBC CANNOT VOUCH FOR ITS COMPLETE ACCURACY.
IN TOUCH – Blind prisoners compensated for discrimination
TX:  11.06.2019  2040-2100
PRESENTER:           PETER WHITE
PRODUCER:             LEE KUMUTAT
White
Good evening.  Prison is meant to be tough but it shouldn't be any tougher because you're blind.  That's the principle behind a series of cases brought both here and in the United States which have successfully argued that visually impaired prisoners are discriminated against.  Just last week a group of nine visually impaired current and ex-prisoners won a compensation settlement of $1.4 million from the US state of Maryland.  According to the US Department of Justice about 7% of state and federal prisoners have vision disabilities, that's significantly higher than the 2% of people not in prison.  And as people age in prison that number increases to 15%.
Here in the UK the Ministry of Justice said they don't keep records of incidence of visual impairment in prison.  There have been cases of discrimination brought here – we'll come to that in a moment.
Eve Hill is the attorney from Brown Goldstein Levy who represented the claimants in the Maryland case.  She joins us from Baltimore.
Eve, as I say, you represented the nine people who won compensation, what kinds of offences had they been convicted of?
Hill
Everything from physical assaults, to drug offences, to robbery, a variety of different convictions.
White
And what examples of discrimination did they tell you about?
Hill
Well everything, they were all housed in one facility, despite the Maryland prison system having 20 something facilities.  It's a medium security facility, so regardless of what their security level was, whether they were supposed to be in minimum or pre-release or anything else, they were all put in this one facility.  So, they couldn't get access to the programs that would have been useful for them.  And then even in that facility they had very little to help blind inmates.  So, blind inmates had to rely on other inmates to walk them around, for a period they wouldn't even let them have white canes to navigate for themselves.  And then there was no accommodation made for the blind guys to be able to read or write and almost everything in prison is done in print.  So, they were unable to read the inmate handbook to know what the rules were, they were unable to read their mail, they were unable to fill out medical slips or other kinds of requests for services.  They had to pay other inmates to do those things for them, often putting themselves at huge risk from those other inmates.
White
And so, these were things which there should have been – even under the existing rules – there should have been provision for, for visually impaired people?
Hill
Well that's right, the Americans with Disabilities Act requires government entities like prison systems to provide effective communication for anybody who participates in their programs, including prison programs.  So, they were supposed to make sure that the reading and writing was available, that they provided print materials in accessible formats like large print or braille or electronic formats that could be read with speech to text software, and they just didn't do any of that.
White
What was the impact on the prisoners who were experiencing this?
Hill
The impact was terrible, they spent hundreds of dollars – not in cash because you can't have cash in prison – but in commissary items and in doing services, that's a polite way of talking about really sometimes awful things, that the other inmates who would read and write for them made them do.  So, they had to pay, they had to perform sex acts in some cases, they had to do a lot of terrible things in order to get any access at all to the written materials used in prison.
White
And you're saying that they actually were effectively blackmailed by their prison mates, as it were?
Hill
They – they and their families were extorted, threatened and harassed – yes.
White
Why did this come down to a legal case?
Hill
One of the inmates had in 2012 filed a grievance within the prison system and won and they implemented fixes for a very brief period of time and then the computer that they were allowed to use with assistive technology broke back in 2016, so again they had nothing.  And that's what led to this – the inmates got together, got someone else to write a complaint to the court directly and they court then appointed lawyers to help them.  That was three years ago and now we're settling this case.
White
Was nothing being done about this within the prison itself?
Hill
They were really not dealing with this.  They didn't believe it was happening, they thought everything was fine.
White
When people drew attention to this, because presumably they were trying to tell people from outside, literally nothing happened about this?
Hill
Well it was incredibly hard for them to try to reach anyone outside.  If you wanted to complain, for example about your inmate walker abusing you, or another inmate or another inmate who was reading and writing for you, you had to get that person to write the complaint for you.  That was unlikely to happen.
White
Well also with you in Baltimore is Tyrell who is an ex-offender, now out of prison, and we're just using his first name.  Tyrell, can you tell us why were you in prison?
Tyrell
I was actually there for a probation violation, so I was classified as minimum security.
White
And can you tell us your visual impairment, what's that caused by?
Tyrell
I was shot seven years ago with a shotgun and I lost my sight [indistinct word]..
White
So, you were totally blind?
Tyrell
Yes sir.
White
When you went in prison?
Tyrell
Yes.
White
What was life like in prison for you as a blind person?
Tyrell
It was scary, lonely, if you had the knowledge yourself, I guess, to navigate around being blind, like I was newly blind being incarcerated, so I had to ask a lot of questions and sometimes I didn't get answers.  The first two weeks I was actually there I was alone, so I ended up actually hitting my head on the stairs, that's when an officer actually tried to attempt to get me a white cane but I was just floating around and just touching walls and if I bumped into somebody I asked them where I was or which way I needed to go.
White
And was anybody supposed to be helping you?
Tyrell
I was told that I would be assigned a walker, at first, but like I said, two weeks of being on the compound I was just alone, so I was basically dependent on anybody I could hear around me, or whatever.
White
And was that, when you say, a walker – was that going to be somebody who was another inmate or was it somebody with some kind of professional training?
Tyrell
No sir, other inmates, convicted felons, murderers, rapists, everything, that's a job that they give them guys and the prison pay them $2 a day.
White
Had you had help with your visual impairment before you went into prison?
Tyrell
Just as far as coming out of the hospital when I went to [indistinct name] we had rehabilitation as far as identifying my items and stuff like that.  I never actually went to the school for the blind or nothing.
White
We've heard about the medium security prison, which most visually impaired people went to, did you go to that?
Tyrell
Yes sir.
White
So, what was that like, what – how did you feel about being in that prison with all other visually impaired people?
Tyrell
I was comfortable once I found out there was other blind people but then once I'd seen what was going on, how nobody really was reaching out to assist I'd say it was scary, it was nerve-wracking, I felt lonely all the time, so I was missing showers because I didn't know the rules, I didn't know when my cell door opened up when I first got there, it just kept opening and closing every day at the time and I didn't know what was going on, I was supposed to be taking a shower but nobody ever came to tell me, like it was my shower time or this was when I was supposed to come out and then the one time I got in the shower at the wrong time I was actually screamed at by an officer and he told me I was supposed to reading my handbook and I told him I couldn't see.
White
Were there other things that you couldn't do that you would have wanted to do if you'd known that they were happening or where they were happening?
Tyrell
I would have loved to go to work in the kitchen or just another area besides sanitation inside the building.  They had a lot of jobs, like ground keepers and stuff like that, I would have loved to do all them things but we were denied because of blindness.
Hill
One of the big issues in this case was that blind people were excluded from jobs in the kitchen and jobs in the Maryland correctional enterprises that trained you to do more skills that were available out in the real world and gave you the opportunity to earn point days off your sentence.  And the blind people were flatly just excluded from those jobs.
Tyrell
The only thing I was allowed to do was sanitation jobs and I was like I could wipe the tables on the bottom floor in the day room, that was it.
White
Tyrell, thanks very much for talking to us and explaining all that.
I want to bring in Curt Decker, who's Executive Director of the National Disability Rights Network, who is joining us on the phone.  Curt, how typical is what we've heard and what Tyrell's been describing elsewhere, not just in Maryland?
Decker
Well unfortunately, it's a very common problem.  My organisation has affiliates in every state and territory and we represent the full range of people with disabilities and we spend a great deal of our time in jails and prisons looking at the conditions and the lack of services for people with disabilities in prisons.  Safety always trumps any kind of access or services.  Just like this lawsuit we've also brought many lawsuits that hopefully have ended up with trying to provide the services that these people are entitled to under our laws. 
White
Do they work?
Decker
Well we win, then of course there's the problem of implementation and as you heard, even though there was some earlier positive things they suddenly fall apart when there's no longer any monitoring or vigilance.  And then also, I think, it was very brave for these plaintiffs to come forward.  There's an incredible amount of retaliation for speaking out and for taking a strong stand and it's a problem that we encounter, often we'll hear from inmates saying yes we are being seriously abused but don't say anything because you can't be here to protect us after you leave or after we've filed a complaint.
White
Are there examples of good practice?
Decker
I think it's a very patchwork effect and where you might get a sympathetic Department of Correction but whether they can bring that down to the level of every guard, every facility, every warden, it's very difficult and probably doesn't happen very often.
White
Curt Decker, thanks very much for joining us on the programme.
So, what about here in the UK?  Well Benjamin Burrows has represented a number of visually impaired prisoners in similar cases here in the UK.  Just give us an impression of the kind of cases that you've been bringing and what has been alleged in those cases.
Burrows
Well it sounds very similar to what's happening in America.  Essentially acting for visually impaired prisoners who say they're being discriminated against by not being able to engage fully in prison life.  So, not able to access the prison regime, not able to participate in day to day prison life because reasonable adjustments aren't made to meet their needs.  For example, not being able to work, not being to attend education, not going to the gym or the library.  And that – in many ways that's because the adjustments they're asking for, like a buddy or a carer to be able to take them to and from those, they're either not provided or they are provided but only a sort of piecemeal or ad hoc basis.
White
So, are there guidelines for these kinds of things that should be implemented?
Burrows
The prison service has a policy which basically confirms their obligations under the Equality Act and sets out how those obligations should be met.  So, they have a law and there is a policy, the problem really that we're finding in our cases is they're not actually applying those in practice.
White
Some of your cases have resulted in compensation, like the one that we've just been describing in the States.  But admission of liability has not been made.  So, what does this actually achieve?
Burrows
Well it's difficult.  You're essentially asking for compensation for the injury to feelings that those visually impaired prisoners have suffered and in that individual case if there is some sort of ongoing discrimination you can ask for the defendant to take steps to rectify that.  But what normally happens you'll resolve it in that case and then either that prisoner will then be transferred on to another prison and he'll experience pretty much the same problems again and then you have to start up another case pretty much on the same factual grounds seeking compensation again.  So, it doesn't seem to have any long-term impact in relation to that individual.  And then in terms of wider impact it doesn't seem to either because the prison service just doesn't seem to be learning lessons.
White
So, I mean are you suggesting that the government's happy to accept compensation because that means that they haven't necessarily accepted responsibility?
Burrows
It's quite astonishing really the amount of compensation that's awarded in the US case and I think that's quite a good comparison as to what's happening here because under the Equality Act the amount of compensation that can be awarded is actually relatively modest and certainly very modest in comparison to the US.  So, the cynical part of me would say yes, actually it's cheaper for the prison service to settle on a one-off basis these cases and not actually tackle the fundamental problem which is making sure they're applying their policy.
White
I just want to go back to Eve, very quickly, before we lose her in Baltimore to say that that was a big compensation claim but is it your worry that that won't actually necessarily change things?
Hill
Well we require in our agreement that it does actually change things.  So, the prison is going to implement both housing people in the types of security levels that they're entitled to, that they're classified for.  Making sure they have access to the programs that are offered in other facilities.  Providing the technology that will allow them to access print materials and write independently.  Providing them blindness skills training so they can navigate independently.  Access to the jobs, they will no longer be excluded from the best skill and best compensated jobs.  So, we really did require that in the agreement and we can enforce that if we need to.  In addition, I would say those things are really inexpensive and so it was important to be able to say – look, for every blind inmate that you continue to discriminate against in this way, you're going to be on the hook for cash for that, you should spend the $500 it costs to put assistive technology on the computer and maintain it because then you can avoid the multi-thousand dollar payment to someone who's been discriminated against.
White
And Tyrell, how long have you been out now?
Tyrell
Since October 2016.
White
And how are you coping and what effect did all of that have on you?
Tyrell
Well it was kind of hard coming back home and having to basically adjust to my regular living, I guess because I went through a lot being in there so as far as my depression, my stress level, I got into a fight, it was my nerve level and everything, getting my nerves and stuff back down and coming off of psych medication and stuff like that, so it just took a toll on me mentally.
White
How much is the compensation that you have got as a result of this case going to help, I know that it's for a lot of other things, including the legal costs and all that sort of thing, is that going to help you at all?
Tyrell
It's going to help me tremendously.  I have children, I haven't been able to find a job, stuff like that.  I don't really have too many ways of like transportation to get around, so I don't have like ways to get back and forth to different training that I would like to go to and stuff like that.  So, it's definitely going to help out a lot in a lot of different ways.
White
But presumably you would like to feel that it did a bit more than just compensate, you'd like to see the system changed?
Tyrell
Yes sir, yes sir, that was one of the first things I asked when they told me the case was settled, is if they took care of the things inside the prison as far as the technology supports that the guys needed.  If they were willing to give them mobility training because like Miss Eve said, rain, sleet, hail or snow some of them guys didn't want to walk you outside but it was like they had to but then again they didn't have to, so they wouldn't sometimes.  So, it's like those guys need mobility training to learn to be independent with their walking sticks and things like that and all the technology that they need to protect their privacy with their families, as far as corresponding with them through the mail and stuff like that and pictures and things like that.
White
Benjamin Burrows, what needs to happen here, do you think, in order to put some of these things right?
Tyrell
I think greater awareness of the problem.  I think we need to keep on bringing these claims if the problems keep on going.  But I think there also needs to be solutions through non-legal means, pressure on the government, pressure on the prison service to actually commit to applying their policies correctly.
White
We went looking for one and couldn't find it, is there a group or an organisation who are acting as advocates for visually impaired prisoners in the UK?
Burrows
Not that I'm aware of specifically.  There's obviously prison reform charities who would advocate for disabled prisoners generally but not in respect of visually impaired specifically, that I'm aware of.
White
Benjamin Burrows in London, Eve Hill and Tyrell in Baltimore, thank you all very much indeed.
Well the Ministry of Justice did give us a statement, they say: "We make every effort to ensure prisoners with visual impairments have access to the necessary services and equipment to aid their social interactions and rehabilitation."  They go on: "Prisoners needs are assessed when they enter custody and they're eligible for extra health and social care, specialist workshops and provisions such as audio books and braille."
Well that's it for today, you can call us directly on 0161 8361338.  You can email intouch@bbc.co.uk and subscribe to our podcast by visiting bbc.co.uk/intouch.
From me, Peter White, producer Lee Kumutat and the team, goodbye.