Main content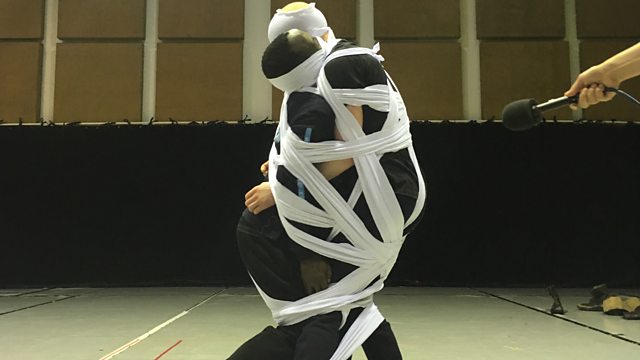 A Cape Sound Story
Andile Vellem has been deaf since the age of five, but he hasn't stopped dancing yet. Nathaniel Mann travels to Cape Town for a vibrational adventure.
Music and dance are so tied together; it is hard to imagine how a profoundly deaf dancer can become an International star in the contemporary dance world, but South African Andile Vellem has done it. Vellum lost his hearing at the age of five, but that hasn't stopped him from dancing, or becoming the artistic director of one of South Africa's leading integrated dance Companies - Unmute.
To find out how, Nathaniel Mann, a British singer and musician, travels to the beautiful and troubled city of Cape Town for a close encounter with the talented dancer, as he embarks on a new production - Trapped Man – in which he and another dancer are bound tightly together, struggling for release.
The plan is to perform the dance out in the street but it's a risky business. Adrienne Sichel, South African dance critic, recalls how a previous site specific dance attracted violence - a truck driven at dancers by an enraged white driver.
Andile grew up in a house full of dance. His parents were famous ballroom dancers - one of the few professional dance genres open to non-whites - and as a small child he remembers his sister holding his hand to a speaker so he could feel the vibrations created by the music. As he grew older, inspired first by Michael Jackson, and later by the rich musical history of the Cape, he learned to sense music through vibration - creating his own style of dance, including sign dance.
Now with his life partner, Mpotseng Shuping, he travels the world, performing at international festivals, and it was in Berlin that he first met UK singer and musician Nathaniel Mann. Mann follows two parallel stories; what it is to move to music which you can't hear, and how Vellum has interpreted a century of South African music, from the colonial era, through apartheid, and out the other side, through dance.
As a musical legacy, it's complex and politically weighty, but it is these sounds that Andile Vellem asked UK composers, Dom Coyote and Nathaniel Mann, and musicologist Noel Lobley, to work with as a sound track for one of this productions.
We hear his feelings about this music, his personal journey, and the recordings themselves - a powerful way in to the history of recorded South African music.
Producer: Sara Jane Hall
With thanks to Unmute Dance Company members -
Mpotseng Shuping
Andile Vellem
Siphenathi Mayekiso
Themba Mbuli
Nadine McKenzie
and Siemon Allen archivist - Flat International
All Alone - Irving Berlin - Piano Roll 9676
Marching on Pretoria - Ian Calquhoun - 1901
Wa Q'Um Udalimede - Reuben Caluza's Double Quartet 1930
Zulu Piano Medley - Thomas Mabilesta 1948
African Market Abdullah Ibrahim -1988
Slow-Moving (Trapped Man) · Orson Hentschel 2016
Last on
Broadcasts