Main content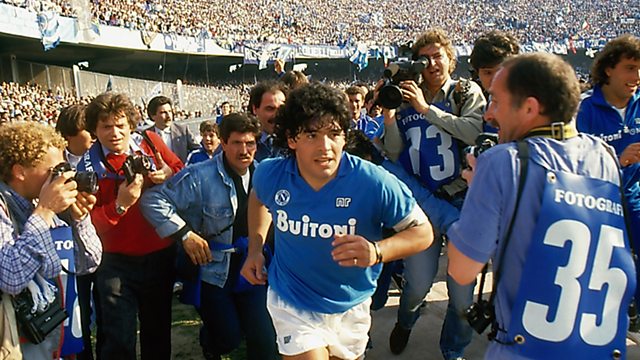 Beyond the headlines
Chris King, Hussein Kesvani, Nicole Rousmaniere and Shahidha Bari discuss Maradona, online worlds, Japanese manga and the secret life of clothes with Kirsty Wark.
Diego Maradona was a footballer of unrivalled talent, but off the pitch his story is one of despair and betrayal. Chris King, the editor of a feature documentary on the player, tells Kirsty Wark that the film reveals the life of this flawed icon through his own words and personal archive.
Hussein Kesvani also aims to tell a story that goes beyond the usual headlines, exploring the unexpected online worlds of British Muslims. He reveals a new generation of young media-savvy Muslims creating their own diverse cultural identities online.
More secrets are unveiled in Shahidha Bari's book, Dressed, which looks at the hidden power of clothes in our culture and daily lives. She explores the link between what we wear and who we are.
The latest exhibition at the British Museum offers visitors the chance to enter a graphic world where art and storytelling collide in its display of Japanese manga. The curator Nicole Rousmaniere argues that manga has long been a way to tell the stories of those whose history is not recorded.
Correction: the programme wrongly states that Adolf Eichmann's trial took place at Nuremberg. He was tried in Jerusalem in 1961.
Producer: Katy Hickman
Last on
Chris King
Chris King is a documentary editor whose works include Exit Through the Gift Shop (2011), Senna (2012) and Amy (2015)
Diego Maradona is in cinemas from 14th June
Hussein Kesvani
Hussein Kesvani is a journalist, editor and producer.
Follow Me Akhi: The Online World of British Muslims is published by Hurst
Shahidha Bari
Shahidha Bari is a writer, academic and broadcaster. She features frequently on BBC Radio 4, and presents BBC Radio 3's arts and ideas programme Free Thinking.
 Dressed: The Secret Life of Clothes is published by Jonathan Cape
Nicole Rousmaniere
Nicole Rousmaniere is IFAC Handa Curator of Japanese Art at the Department of Asia, British Museum. She is also the founding Director of the Sainsbury Institute for the Study of Japanese Arts and Cultures and Professor of Japanese Art and Culture at the University of East Anglia. 
Manga is at the British Museum until 26th August

Broadcasts