Main content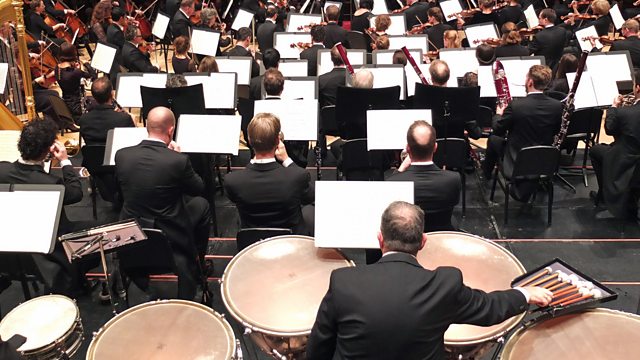 Royal Concertgebouw at the Proms
Amsterdam's mighty Royal Concertgebouw Orchestra at the 2017 BBC Proms, pairing Bruckner's Symphony No 9 in D minor with Wolfgang Rihm's In-Schrift.
Amsterdam's mighty Royal Concertgebouw Orchestra is regularly named as one of the world's finest orchestras. In 2017 it returned to the BBC Proms for the first time in almost a decade. The main work on their programme was Bruckner's Ninth Symphony – the composer's great, unfinished farewell to the form, and his final testament of faith.
Written in 1995 for St Mark's Basilica in Venice, Rihm's In-Schrift is an exploration of space and its sonic possibilities. With no high strings and additional low brass, Rihm creates a sound-world of striking darkness, illuminated only by the piercing brilliance of percussion. Catriona Young presents.
12:31 AM
Wolfgang Rihm (b.1952)
In-Schrift
Royal Concertgebouw Orchestra, Daniele Gatti (conductor)
12:51 AM
Anton Bruckner (1824-1896)
Symphony no 9 in D minor
Royal Concertgebouw Orchestra, Daniele Gatti (conductor)
01:57 AM
George Frideric Handel (1685-1759)
Suite for keyboard in G minor - 1733 no.6 (HWV.439)
Jautrite Putnina (piano)
02:12 AM
Johann Nepomuk Hummel (1778-1837)
Concerto for Trumpet and Orchestra in E major (original version of E flat major)
Geoffrey Payne (trumpet), Melbourne Symphony Orchestra, Michael Halasz (conductor)
02:31 AM
Ernest Chausson (1855-1899)
Poeme de l'amour et de la mer Op.19 vers. for voice and orchestra
Iwona Socha (soprano), Polish Radio Symphony Orchestra, Marcin Nalecz-Niesiolowski (conductor)
02:58 AM
Louis Vierne (1870-1937)
Cello Sonata in B minor (Op.27)
Elizabeth Dolin (cello), Carmen Picard (piano)
03:21 AM
Stanisław Moniuszko (1819-1872), Stanislaw Wiechowicz (arranger), Piotr Mazynski (arranger)
4 Choral Songs (excerpts)
Polish Radio Choir, Marek Kluza (director)
03:29 AM
Wolfgang Amadeus Mozart (1756-1791)
Fantasy in C minor (K.396)
Valdis Jancis (piano)
03:40 AM
Jānis Mediņš (1890-1966)
Flower Waltz - from the ballet 'Victory of Love'
Liepaja Symphony Orchestra, Imants Resnis (conductor)
03:45 AM
Andrew York (b.1958)
Sanzen-in
Tornado Guitar Duo (duo)
03:51 AM
Antonio Vivaldi (1678-1741)
Concerto VIII in A minor for 2 violins, strings and continuo, RV 522
Paul Wright (violin), Sayuri Yamagata (violin), Australian Brandenburg Orchestra, Paul Dyer (conductor)
04:02 AM
Ludwig van Beethoven (1770-1827)
Five Scottish and Irish songs
Stephen Powell (tenor), Lorraine Reinhardt (soprano), Linda Lee Thomas (piano), Gwen Thompson (violin), Eugene Osadchy (cello), Vancouver Chamber Choir, Jon Washburn (conductor)
04:16 AM
Fryderyk Chopin (1810-1849)
Nocturne in C minor, Op 48, No 1
Llŷr Williams (piano)
04:23 AM
Edvard Grieg (1843-1907)
Norwegian Dance (Allegro marcato) (Op.35 No.1)
Bergen Philharmonic Orchestra, Andrew Litton (conductor)
04:31 AM
Johann Friedrich Fasch (1688-1758)
Quartet in F major for horn, oboe d'amore, violin and basso continuo, FWV N:F3
Les Ambassadeurs
04:38 AM
Enrique Granados (1867-1916), Chris Paul Harman (arranger)
La Maja y el Ruiseñor from Goyescas
Isabel Bayrakdarian (soprano), Bryan Epperson (cello), Maurizio Baccante (cello), Roman Borys (cello), Simon Fryer (cello), David Hetherington (cello), Roberta Jansen (cello), Paul Widner (cello), Thomas Wiebe (cello), Winona Zelenka (cello)
04:45 AM
Camille Saint-Saëns (1835-1921)
Sonata for bassoon and piano (Op.168) in G major
Jens-Christoph Lemke (bassoon), Mårten Landström (piano)
04:57 AM
Johannes Brahms (1833-1897)
Variations on a theme by Haydn (Op.56a) vers. for orchestra
Bergen Philharmonic Orchestra, Simone Young (conductor)
05:17 AM
Johann Sebastian Bach (1684-1750)
Suite for solo cello, No 1 in G major, (BWV 1007)
Guy Fouquet (cello)
05:37 AM
Wilhelm Peterson-Berger (1867-1942)
Frosoblomster for Piano, Book 2 (1900)
Johan Ullén (piano)
06:02 AM
Ottorino Respighi (1879-1936)
Impressioni Brasiliane for orchestra (1928)
West Australian Symphony Orchestra, Jorge Mester (conductor)
06:22 AM
Abbe Joseph Bovet (1879-1951)
Le vieux chalet
Zurich Boys' Choir, Alphons von Aarburg (conductor)
06:26 AM
Ferdinand Fürchtegott Huber (1791-1863), André Scheurer (arranger)
Lueget vo Bergen und Tal (Look at the Mountains)
Zurich Boys' Choir, Mathias Kopfel (horn), Alphons von Aarburg (conductor)