Main content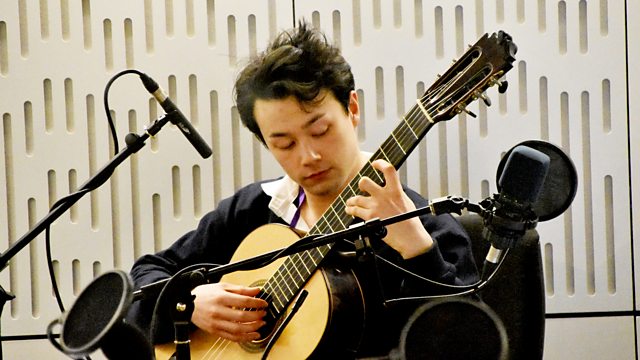 Past and Future Sounds
Classical guitarist Sean Shibe reveals the secrets of his world, exploring the rich sounds of the guitar and its relatives in music from seven centuries.
In this second episode Sean delves into some of the many ways of playing Bach on the lute and guitar, finds a singing oboe line interpreted beautifully by two masters of the guitar from the 1960s, discovers connections between Debussy, Villa Lobos and the bossa nova and shows how to get an otherworldly effect using a guitar and a spoon.
Sean Shibe is a young, award-winning musician who's changing the way people listen to the guitar. In this six-part series he presents a personal choice of vibrant and varied pieces by composers from Spanish Renaissance masters to Steve Reich and Django Reinhardt, with performers including Julian Bream, Andres Segovia, John Williams, Rolf Lislevand, Dolores Costoyas and the Romeros. Sean will be discovering the characters of the extended guitar family, from the oud, lute and vihuela to the Brahms guitar, decachord and electric guitar, and he'll express straight-talking views on players of the past and present who have helped shape his own unique approach to the art of guitar playing. With his guitar on his knee he'll also have the opportunity to show us what to listen for and what's physically possible on the instrument.
Over the weeks we'll hear Sean's philosophical, intellectual and above all emotional take on the music he knows so well. He opens a door into a world that's full of subtlety and contrast in its expression of culture and style. It's a world that invites us with all sorts of mesmeric and surprising sounds.
A Tandem Production for BBC Radio 3