Main content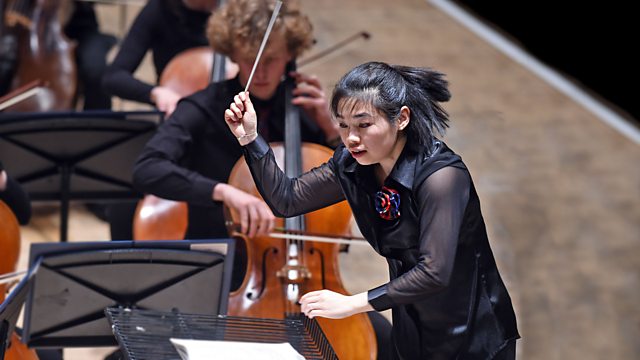 National Youth Orchestra of Scotland
NYOS Symphony Orchestra 40th anniversary concert of NYOS performing Rachmaninov, Tarrodi and Mussorgsky conducted by Elim Chan with special guest soloist Steven Osborne (piano).
Donald Macleod presents the 40th anniversary concert given by NYOS Symphony Orchestra at the Glasgow Royal Concert Hall.
40 years ago, the United Nations proclaimed 1979 the International Year of the Child and, in the same year, Scotland took steps to enrich the lives and develop the talents of young people with the formation of the National Youth Orchestra of Scotland. Now 40 years on there are multiple orchestras and training ensembles enabling young people to follow a pathway in classical and/or jazz performance from the age of 8 through to 25.
In this celebratory concert, the young players of the NYOS Symphony Orchestra are joined by internationally acclaimed Scottish pianist Steven Osborne and the Royal Scottish National Orchestra's Principal Guest Conductor, Elim Chan, in a concert filled with high drama, atmosphere and virtuosity.
The concert starts with Rachmaninov's expansive Piano Concerto No 3. In Liguria, by Swedish composer Andrea Tarrodi, NYOS take us on a musical walking tour with five evocative depictions of coastal villages in the north-west of Italy. After the interval we'll hear the Mussorgsky's brilliant orchestral show-piece, Pictures at an Exhibition, in the orchestration by Maurice Ravel.
Programme
Sergei Rachmaninov: Piano Concerto No.3
Andrea Tarrodi: Liguria
Interval at 8.35pm
Donald Macleod speaks to some of the players of the NYOS Symphony Orchestra and introduces a recording by tonight's soloist of Steve Reich's 'Proverb' featuring the Colin Currie Group and Synergy Vocals.
Modest Mussorgsky (orch. Maurice Ravel): Pictures at an Exhibition
NYOS Symphony Orchestra
Steven Osborne (piano)
Elim Chan (conductor)
Featured in...
We broadcast more live and specially-recorded concerts and opera than any other station.