Main content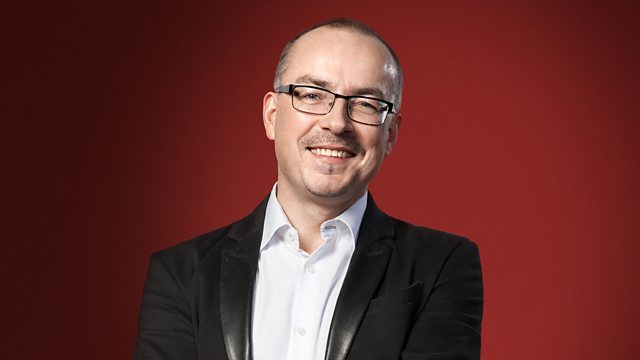 Andrew McGregor with Elin Manahan Thomas and Katy Hamilton
The best new classical releases, plus in Building a Library Elin Manahan Thomas compares recordings of Janáček's Glagolitic Mass.
with Andrew McGregor.
09.30
Building a Library: Elin Manahan Thomas compares recordings of Leoš Janáček's Glagolitic Mass and picks a favourite.
There is nothing quite like Janáček's Glagolitic Mass, the crowning glory of the extraordinary creative final decade of his life. With its elemental energy and power - wild organ solos, flashing brass fanfares and powerful speech-based rhythms - it's easy to imagine not only the storm that Janacek said had inspired him but also his vision of a Mass being celebrated in nature within a forest cathedral with star-capped treetops as candles. The text is based on Old Church Slavonic (with its Glagolitic script) rather than the traditional Latin, reflecting Janáček's Pan-Slavism sympathies and, as well as chorus, large orchestra and organ, the scoring includes a solo vocal quartet. This monumental work is demanding for everyone, performers and recording engineers alike.
10.50
Ahead of next week's Take Five, Radio 3's five-day focus on the musical worlds of young people, Katy Hamilton picks some recent releases featuring youthful performers.
11.25
Andrew chooses an outstanding new release as his Recording of the Week.
Record Review
9.00am

'Russian Masquerade' – Prokofiev: Visions fugitives (arr. Rudolf Barshai); Scriabin: Preludes, Op. 11 (arr. Jouni Kaipainen); Arensky: Variations on a Theme by Tchaikovsky, Op. 35a; Tchaikovsky: Elegy for string orchestra
Ostrobothnian Chamber Orchestra
Sakari Oramo (conductor)
BIS-2365 SACD (Hybrid SACD)
https://bis.se/conductors/oramo-sakari/russian-masquerade

Mozart: Piano Concertos Nos. 20 (Cadenza by Gulda) & 21 (Cadenza by Beethoven)+ Don Giovanni Overture
Jean-Efflam Bavouzet (piano)
Manchester Camerata  (orchestra)
Gabor Takacs-Nagy (conductor)
Chandos CHAN 20083
https://www.chandos.net/products/catalogue/CHAN%2020083

Finzi: By Footpah and Stile; Five Bagatelles & other chamber works
Marcus Farnsworth (baritone)
Finzi Quartet
Resonus Classics RES10109
https://www.resonusclassics.com/finzi-quartet-by-footpath-and-stile

'Chaconnes, Divertimento & Rhapsodies' feat. works by Bach, Stravinsky, Vitali, Bartók, Vladigerov & Castelnuovo-Tedesco
Joo Yeon Sir (violin)
Irina Andrievsky (piano)
Rubicon RCD1030
http://rubiconclassics.com/release/chaconnes-divertimento-rhapsodies/

9.30am – Building a Library – Elin Manahan Thomas on Janacek's Glagolitic Mass
Composer: Leos Janacek
Reviewer: Elin Manahan Thomas
Recommended Recording:

Libuse Domaninska (soprano)
Vera Soukupova (contralto)
Beno Blachut (tenor)
Eduard Haken (bass)
Jaroslav Vodrazka
Czech Philharmonic
Prague Philharmonic Chorus
Karel Ancerl (conductor)
Supraphon SU36672
Other Recommended Recordings:
Hibla Gerzmava (soprano)
Veronika Hajnová (mezzo soprano)
Stuart Neill (tenor)
Jan Martinik (bass)
Ales Bárta (organ)
Czech Philharmonic
Czech Philharmonic Chorus
Jiri Behlolavek (conductor)
Decca 4834080

Tina Kiberg (soprano)
Randi Stene (contralto)
Peter Svensson (tenor)
Ulrik Cold (bass)
Per Salo (orga)
Danish National Radio Symphony Orchestra
Danish National Radio Symphony Choir
Charles Mackerras (conductor)
Chandos CHAN9310

Eva Drizgova (soprano)
Hana Stolfova (contralto)
Vladimir Dolezal (tenor)
Jiri Sulzenko (bass)
Martin Jakubicek (organ)
Czech Symphony Orchestra of Brno
Czech Philharmonic Choir
Leos Svarovsky (conductor)
Arco Diva UP0011

10.20am – New Releases

'Mendelssohn in Birmingham Vol. 5' – Mendelssohn: Overtures incl. Hebrides, Athalie, Roy Blas etc.
City of Birmingham Symphony Orchestra
Edward Gardner (conductor)
Chandos CHSA 5235 (hybrid SACD)
https://www.chandos.net/products/catalogue/CHSA%205235

'Si J'ai Aimé' – Songs and miniatures by Saint-Saëns, Berlioz, Massenet, Dubois, Berlioz, Vierne etc.
Sandrine Piau (soprano)
Julien Chauvin (violin & direction)
Le Concert de la Loge
Alpha 445
https://outhere-music.com/en/albums/si-j-ai-aime-alpha445

'Regina Bastarda: The Virtuoso Viola da gamba in Italy c.1600' – Works by Bassani, Palestrina, Ortiz, Virgiliano, Sandrin, Bonizzi, Lasso, Willaert etc.
Paolo Pandolfo (viola bastarda)
La Pedrina (vocal ensemble)
Thomas Boysen (theorbo)
Chiara Granata (arpa doppia)
Amélie Chemin (Lira da gamba)
Francesco Saverio Pedrini (harpsichord & organ)
Glossa GCD922519
http://www.glossamusic.com/glossa/reference.aspx?id=489

Stanford: Mass 'Via Victrix 1914-1918' & At the Abbey Gate, Op. 177
Kiandra Howarth (soprano)
Jess Dandy (contralto)
Ruairi Bowen (tenor)
Gareth Brynmore John (baritone)
BBC National Orchestra and Chorus of Wales
Adrian Partington (conductor)
Lyrita SRCD.382
https://www.wyastone.co.uk/charles-villiers-stanford-mass-via-victrix.html

10.45 am – New Releases – Katy Hamilton on Young Artists new recordings

'Une rencontre' – Schumann: 5 Stücke im Volkston, Op. 102 & Fantasiestücke, Op. 73; Murail: A Rereading of Kinderszenen (After R. Schumann) etc.
Marie Ythier (cello)
Samuel Bricault (flute)
Marie Vermeulin (piano)
Metier MSV28590
https://athenerecords.com/recording/une-rencontre-an-encounter-schumann-murail/

'Singin' Rhythm' – Works for percussion by Espel, Sammut, Pereira, Dinicu, Cruixent, Abe & Vassileva
Vivi Vassileva (percussion)
Maruan Sakas (piano)
Maxime Pidoux (drums)
Daniel Martinez (percussion)
Lucas Campara Diniz (guitar)
Thomas Ganzenmuller (double bass)
Alpha 463
https://outhere-music.com/en/albums/singin-rhythm-alpha463

'Opus 1' – Dandrieu: Op. 1 sonatas; Corelli: Sonatas Op. 4 No. 1 & Op. 2 Nos. 8 & 12
Le Consort (ensemble)
Alpha 542

'In Circles' – MacMillan: Saxophone Concerto; Vaughan Williams: Six Studies in English Folksong & more works for saxophone by Pessard, Sculthorpe, Falla, Macmillan, Grainger, Brahms, Barton, Edwards
Amy Dickson (saxophone)
William Barton (didgeridoo)
Daniel de Borah (piano)
Adelaide Symphony Orchestra
Nichoals Carter (conductor)
Sony 19075944692
http://smarturl.it/AmyDickson_InCircles

Liszt: Complete Piano Music Vol. 52 featuring transcriptions from operas by Auber & Verdi
Wai Yin Wong (piano)
Naxos 8573714
https://naxosdirect.co.uk/items/franz-liszt-complete-piano-music-vol.-52-transcriptions-from-operas-by-auber-and-verdi-492975


11.20am – Record of the Week

Strauss: Vier Lieder Op. 27 & Vier Letzte Lieder + other works for soprano by Wagner & Strauss
Lise Davidsen (soprano)
Philharmonia Orchestra
Esa-Pekka Salonen (conductor)
Decca 483 4883
https://www.deccaclassics.com/gb/cat/4834883