Main content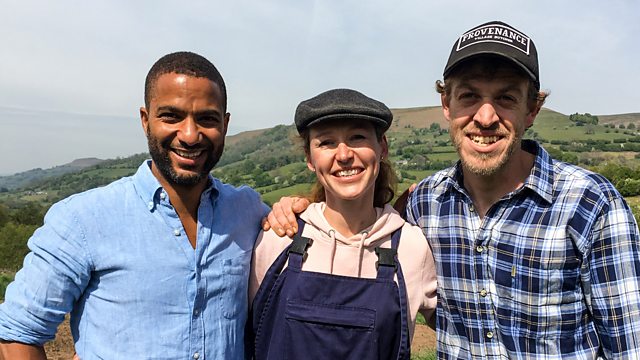 South Wales
Matt Baker learns about a scheme to create new structures from the fabric of the land, while Tom Heap asks whether our countryside has become a tax haven for the super-rich.
This week the team are in south Wales. Matt Baker is on the Gower Peninsula to learn about a project that's not only creating new structures from the fabric of the land but also building a future for the people on it. Ellie Harrison is in Monmouthshire, where it's already shearing time. But this isn't a sheep farm – there's a new flock on the block: alpacas! Sean gets a taste of the landscape on a pig farm in the Black Mountains, Tom Heap asks whether our countryside has become a tax haven for the super-rich, and Adam Henson and Charlotte Smith meet the second of our Farming Hero finalists for 2019.
Down to Earth
Matt visits the Down to Earth project, a social enterprise that helps hard-to-reach local young people, asylum seekers and refugees to combat the symptoms of educational and social exclusion.  
Matt meets co-founder and director Mark McKenna to learn how the charity engages these groups in sustainable building projects to promote well-being and self- confidence.
Matt then gets stuck in with a group of asylum-seekers erecting a new section of cleft-fencing before finding out firsthand from refugee Rahim El Harabach how being part of such a project has enriched his life.
Amazing Alpacas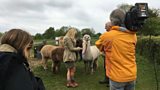 Ellie visits Amazing Alpacas in South East Wales where she has a 'cwtch' or cuddle with Bras,the alpaca. 
The farm is run by Peter and Glenda Stoneman and Peter tells Ellie how alpacas are bred which includes something called a 'spit off'. 
Then Ellie sees an alpaca being sheared up close.
Once the fleece is off, Glenda shows Ellie how they process their alpaca fleeces and she explains what the differences are between alpaca fibre and sheep's wool.
Rural Land Ownership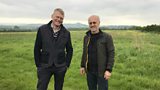 Tom investigates just who owns the UK countryside today - and whether a new generation of land barons are more interested in tax breaks than managing the land.He travels to West Berkshire to meet campaigner Guy Shrubsole, who has been trying to work out exactly how much land is in private hands.Tom also meets Roger Saul, the businessman who was behind the fashion brand Mulberry.He now grows organic spelt on his estate in Somerset and is working hard to invest in the future of the land.
Porky Passion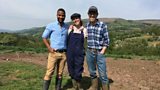 Sean meets pig farmers Lauren Smith and Kyle Holford, who gave up city life five years ago to move to the Black Mountains. 
The couple have turned their farm into a piggy paradise with woods for the pigs to forage in and plenty of open space for them to root around. 
Sean spends the morning on the farm with Kyle before then being put through his paces by Lauren in the butchery making sausages.
Farming Hero Award finalists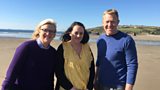 Adam and Charlotte visit the second of the three finalists in this year's Countryfile Farming Hero awards.
It's part of the BBC's Food and Farming awards and celebrates those who live and work in the countryside - and give something back to their rural communities.
This week they travel to west Wales to meet teacher and farmer's daughter Emma Picton-Jones, who has turned the tragedy of her husband's death into new hope for others.
Emma now runs the DPJ Foundation which promotes mental health awareness among farmers by offering fast-track emergency counselling to people in crisis and a 24-hour phone and text helpline. 
If you need support with mental health, help and support is available
Wax Flowers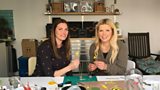 Ellie meets scientific artist Annette Townsend, who makes anatomically-accurate wax models of plants and flowers. 
Annette learnt her craft working at the National Museum Cardiff for 20 years as a conservator.
Ellie meets Annette at the Howardian nature reserve where the artist likes to go for inspiration.
The pair then visit the Museum to look at historical models and examples of Annette's work before heading back to her studio to find out just how much patience and skill is required to make an accurate celandine flower out of wax. 
Tree-Climbing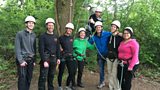 Matt returns to the Down to Earth project where he meets Lois Woodward, an outdoor activities instructor. 
As well as running sustainable building projects, Down to Earth also offers fun and challenging activities and Matt joins a group of young adults in a spot of tree-climbing. 
He finds out how the use of play as therapy helps people set goals, overcome fears and builds self-esteem.
Credits
| Role | Contributor |
| --- | --- |
| Presenter | Matt Baker |
| Presenter | Ellie Harrison |
| Presenter | Sean Fletcher |
| Presenter | Tom Heap |
| Presenter | Adam Henson |
| Executive Producer | William Lyons |
| Series Producer | Joanna Brame |