Main content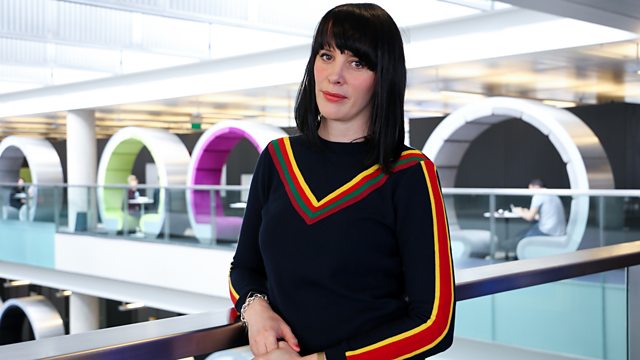 Opera Matinee: Rossini's Adina
Elizabeth Alker introduces a performance from Italy of Rossini's one-act comic opera, Adina.
Elizabeth Alker introduces a new co-production with Wexford Festival Opera of Rossini's one-act comic opera 'Adina', recorded in August 2018 at the Rossini Opera Festival which is held each year in Pesaro, Italy, where Rossini was born.
Rossini Adina, comic opera in one act
Librettist: Gherardo Bevilacqua-Aldobrandini
Cast:
Adina......Lisette Oropesa (soprano)
Califo......Vito Priante (baritone)
Selimo....Levy Sekgapane (tenor)
Ali.............Matteo Macchioni (tenor)
Mustafa....Davide Giangregorio (bass-baritone)
Teatro della Fortuna M. Agostini Chorus
Gioachino Rossini Symphony Orchestra
Diego Matheuz (conductor)
Last on
Music Played
Gioachino Rossini

Adina - opera in one act

Performer: Lisette Oropesa. Orchestra: Gioachino Rossini Symphony Orchestra.

Pyotr Ilyich Tchaikovsky

Violin Concerto in D major

Performer: Jennifer Pike. Orchestra: BBC Philharmonic.

Grażyna Bacewicz

Polish caprice

Performer: Jennifer Pike.

Antonín Dvořák

Slavonic Dances Op 46

Orchestra: BBC Philharmonic. Conductor: Vassily Sinaisky.

Gabriel Fauré

Masques et bergamasques

Orchestra: BBC Philharmonic. Conductor: Yan Pascal Tortelier.
SYNOPSIS
Adina, an operatic farsa in one act to a libretto by Gherardo Bevilacqua-Aldobrandini, was first performed at Teatro de San Carlos, Lisbona, on 22nd June 1826.
Scene One
In Baghdad, in the Caliph's seraglio.
In the seraglio gardens. 
It is the day that has been set aside to celebrate the wedding of the middle-aged Caliph to young Adina; everyone is rejoicing about the event. The young Arab Selimo, who is in love with Adina, has not heard anything about the wedding; he has learned that the girl is a prisoner in the Caliph's seraglio, and is looking forward to being able to see her again soon. The two young people, who have been in love since their adolescent years, were actually on the point of getting married when they were tragically separated: brigands severely wounded Selimo and carried off Adina.
In his attempts to contact Adina Selimo is helped by Mustafà, the gardener of the seraglio, who is both overjoyed by the gold of his bribe and terrified of being found out. The Caliph himself comes on, joyously welcomed by all, and makes a public announcement of his wedding, to the despair of Selimo, who believes that his own fiancée has betrayed him. The Caliph makes the last arrangements necessary for the wedding celebrations, and reveals to his trusted friend Alì the reason for his passion for Adina: the young slave girl, in fact, reminds him of another girl, Zora, with whom he fell desperately in love when he was a young man. His planned marriage with Zora was, however, frustrated by destiny, since the Caliph, occupied in fighting a battle near Medina, was taken prisoner by the enemy, and, once he was set free, could never trace his beloved again. When Adina was delivered as a slave to the Caliph it was just this extraordinary resemblance to Zora that aroused his passion again, even though he showed the deepest respect for the girl's innocence. The affection and compassion shown by the Caliph gradually overcame the girl's despair at finding herself in slavery, and her natural timidity, and he was rewarded by her agreeing to marry him. Adina herself now comes on, carrying a basket of strawberries that she has just been gathering, and she ponders on her real feelings; in fact, she can hardly help thinking about the companion of her youth, whom she believes to be dead.
Acclaimed by everyone, and about to become a Sovereign, she has feelings of sincere affection and eternal gratitude for the Caliph, but she cannot love him. Now, however, Mustafà approaches his mistress and once he has succeeded in getting her on one side, he reveals that Selimo is still alive and that he has found his way into the seraglio. Reunited with her lover, Adina is both greatly disturbed and full of joy; his reproaches are unjust; Adina, who had thought him dead and who was herself a prisoner, is, in fact, ready to escape from the seraglio and run away with him. Selimo asks Mustafà to look after all the arrangements for their escape.
Scene Two 
Room in the seraglio. 
Meeting the Caliph again, Adina is deeply disturbed; she asks him, in consideration for her sorrow, to grant her another night to think things over before they get married. The Caliph is equally disturbed, because he cannot imagine the reason behind this delay and guesses that his promised bride has in some inexplicable way changed her mind about him. It is Alì, who comes on in vain to beg the Caliph to hurry up with the ceremony, who opens the Caliph's eyes to the truth: in fact, he suspects some trick, having learned that Adina has been having a long and animated confabulation with an unknown slave in the garden, and that an unknown fisherman is hiding in his boat near the seraglio. The Caliph, torn by conflicting feelings of sorrow, jealously and anger, orders that all exits from the seraglio be closely watched.  
Scene Three
A lonely spot near the seraglio, by the branch of a river.
It is night now, and Selimo is anxiously awaiting the arrival of his runaway love. The pale-faced Mustafà arrives, followed by Adina, who, in spite of her gratitude to the Caliph, has chosen to follow the dictates of her heart. And so she is reunited to Selimo, and the lovers, trusting to the aid of the dusky night, move towards the river. However, a cannon shot tells them that the beach is guarded by soldiers, and that their flight has been discovered; the Caliph himself comes in to discover the fugitives in the act; his anger is further increased by Selimo's courage and Adina's pleas; the night of hope has been transformed for all of them into a night of horror.
Scene Four 
[Room in the seraglio.] 
Alì ruminates on the fickleness of the female heart that has spurred Adina to give up a throne for love of a stranger. Although the Caliph does not want to see her, Adina manages to escape the vigilance of her guards and comes to kneel at her Sovereign's feet, begging for forgiveness, and furthermore for mercy for the man she has loved from her earliest years; furiously jealous, the Caliph orders, instead, that the execution of his rival be hurried on. Distraught, Adina faints, and falling to the ground, loses a necklace that she had been wearing; moved by her suffering, the Caliph is also curious about the necklace, which he is quick to recognize as a gift that he himself had given, many years before, to his beloved Zora, and which bears a portrait of the Sovereign as a young man. And so it is no coincidence that Adina reminded the Caliph so much of his old flame; as a result of the necklace Adina is recognized as the fruit of that fiery youthful passion; and the Caliph himself hurries off to personally halt the execution of Selimo. Looked after by the courtiers, Adina regains her senses, but becomes desperate when she thinks of the premature death of her beloved. But now she is greeted by her fiancé and her father, who come running in; yet another proof of her parentage is forthcoming when she mentions, for the first time, her mother's name: Zora. And so the sorrows of the past are now just a memory for the girl, whose rosy future is blessed by the crowning of her love and by the comforting paternal figure of the Caliph.
Broadcast