Main content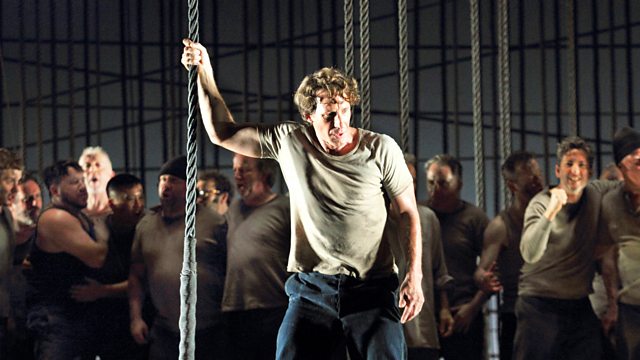 Billy Budd by Benjamin Britten
Ivor Bolton conducts Britten's Billy Budd at the ROH, Covent Garden. Starring Jacques Imbrailo as Billy Budd, Brindley Sherratt as John Claggart and Toby Spence as Captain Vere.
Benjamin Britten's opera Billy Budd from the Royal Opera House in London starring Jacques Imbrailo as the handsome sailor, Billy Budd; Brindley Sherratt as his black-hearted nemesis, John Claggart; and Toby Spence as the morally compromised Captain Vere. Ivor Bolton Conducts this new production by Deborah Warner.
Britten wrote the opera to a libretto by the English novelist E. M. Forster and Eric Crozier, based on the short novel Billy Budd by Herman Melville and it was first performed at Covent Garden in 1951. After the ground-breaking success of Peter Grimes and a foray into chamber opera, Billy Budd represents a major development in Britten's operatic work. The story takes place on board a man-of-war ship at a time when the threat of mutiny was an ever-present worry. The plot is an archetypical parable of good (Billy) pitted against evil (Claggart) with Vere as the man who has to decide between them after Billy is provoked into murdering Claggart. This tightly woven fable all takes place on board the claustrophobic, all-male HMS Indomitable. And this sense of tension is brilliantly conjured up in Britten's symphonically dense score which masterfully contrasts dramatic scenes with lighter moments.
Presented by Kate Molleson with guest Heather Weibe.
2000 Interval
2020 Act 2
Billy Budd.....Jacques Imbrailo (Baritone)
Captain Edward Vere.....Toby Spence (Tenor)
John Claggart.....Brindley Sherratt (Bass)
Mr Flint.....David Soar (Bass)
Mr Redburn.....Thomas Oliemans (Tenor)
Lieutenant Ratcliffe.....Peter Kellner (Main Artist)
Dansker.....Clive Bayley (Bass)
Bosun.....Alan Ewing (Bass)
Donald.....Duncan Rock (Baritone)
Maintop.....Konu Kim (Tenor)
Novice.....Sam Furness (Tenor)
Novice's Friend.....Dominic Sedgwick (Baritone)
Squeak.....Alasdair Elliott (Tenor)
Red Whiskers.....Christopher Gillett (Tenor)
Royal Opera House Chorus
Royal Opera House Orchestra
Ivor Bolton (Director)
For full synopsis visit the programme page
Synopsis
Britten's Billy Budd takes place on board the battleship HMS Indomitable.
Prologue
Captain Vere, long since retired from the British Navy, muses on past experience and ambiguities of good and evil.
Act I
Scene 1
On deck, the crew are at work. Three men are press-ganged from a passing merchant ship, the Rights o'Man, and are interviewed by officers including John Claggart, Master-at-Arms, responsible for discipline on ship. Only the last of these newcomers, the open-hearted Billy Budd, is thought to be satisfactory, despite his stammer. Billy is overjoyed to be assigned to the post of foretopman, but his impassioned farewell to his old ship and comrades on the Rights o'Man is misinterpreted as an indication of subversive tendencies.
Claggart, a bitter and frustrated man, begins to monitor Billy's behaviour via his spy Squeak, a ship's corporal. A Novice returns from a savage flogging and is comforted by his friend. The more experienced Donald and Dansker warn Billy not to trust Claggart, whose special interest in Billy is evident. The sailors express their devotion to the Indomitable's Captain 'Starry' Vere.
Scene 2
In Captain Vere's cabin, officers express their distaste for the ideas of the French Revolution which are held responsible for recent mutinies in the Navy. Billy is mentioned as a possible source of trouble, but Vere insists he is simply high-spirited. The sailors can be heard singing shanties in the berth-deck below.
Scene 3
In the berth-deck, Billy attacks Squeak when he finds him rummaging among his belongings. Claggart intervenes, pretends to blame Squeak and expresses admiration of Billy. In monologue, Claggart expresses a desire to destroy Billy on account of his 'handsomeness and goodness'. Claggart now instructs the cowed and terrified Novice to bribe Billy with money to join a fictitious mutiny. Billy furiously rejects the Novice's advances. Dansker again warns Billy to beware of Claggart's machinations, but Billy persists in thinking that Claggart likes him
Act II
Scene 1
Some days later, Claggart tells Vere that there is danger of mutiny on board, but at that moment an enemy ship is sighted. The Indomitable prepares to engage in battle, but mists descend and the action is abandoned. Claggart again approaches Vere with false evidence against Billy Budd. Vere is disbelieving but orders both men to his cabin.
Scene 2
Billy happily thinks he has been summoned in order to be promoted, and Vere is again impressed by the boy's good nature. But Billy is appalled when Claggart appears and accuses him of inciting mutiny. Seized by his stammer, Billy strikes Claggart in rage and kills him. Knowing that the penalty for striking a superior officer is death, Vere summons his officers for a drumhead court martial. Despite Vere's private conviction that Billy is in the deepest spiritual sense innocent, the officers are obliged by law to condemn Billy to be hanged from the yardarm. Vere feels helpless.
Scene 3
Billy awaits death and is comforted by Dansker, who tells him that the ship is ready to mutiny in his defence. Billy wants no part of this: he has accepted his fate.
Scene 4
The ship's company assembles, forced to witness the execution. With a final cry of 'Starry Vere, God bless you!', Billy is hanged. A wordless revolt breaks out briefly among the crew, but the officers repress it firmly.
Epilogue
The elderly Vere reflects on what happened and is haunted by the idea that as sole witness, he could have saved Billy. Finally, however, he feels that Billy blessed him and showed him a guiding moral light.
Rupert Christiansen