Main content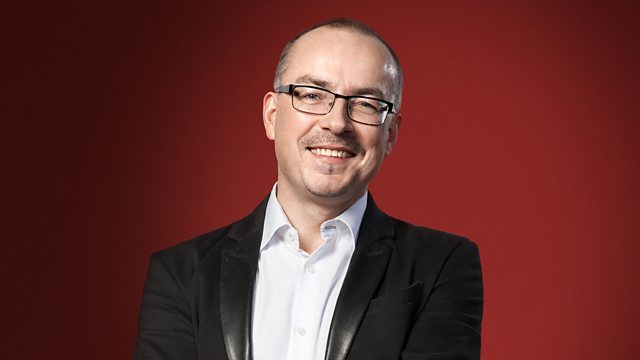 Andrew McGregor with Oliver Condy and Natasha Loges
New recordings with Andrew McGregor, Building a Library on Mendelssohn's Italian Symphony from Oliver Condy, and new song discs reviewed by Natasha Loges.
with Andrew McGregor.
09.30
Building a Library: Oliver Condy listens to and compares recordings of Mendelssohn's Italian Symphony
Mendelssohn sketched his Symphony No. 4 in A major, commonly known as the "Italian", on his tour of Europe from 1829 to 1831. From Rome he wrote to his sister Fanny: "The Italian symphony is making great progress. It will be the jolliest piece I have ever done, especially the last movement. I have not found anything for the slow movement yet, and I think that I will save that for Naples." The symphony was finished in 1833, but despite its success, Mendelssohn remained dissatisfied with it. It was not published until 1851; which is why it is numbered as his "Symphony No. 4", even though it was in fact the third he composed.
10.50
Andrew McGregor talks to Natasha Loges about new song recordings: recent discs of German Lieder and French melodies.
11.25
Andrew chooses an outstanding new release as his Disc of the Week.
Record Review
9.00am

Dvořák: String Quartet Nos. 5 & No. 12, "American" - Suk: Meditation
Albion Quartet
Signum Classics SIGCD555
https://signumrecords.com/product/dvorak-quartets-nos-5-12-american/SIGCD555/


The Paris Album: The trio sonata in France before 1700
Campra, Clérambault, Brossard, Jacquet de la Guerre, Couperin
Ensemble Diderot
Johannes Pramsohler (director)
Audax Records ADX 13717
https://www.audax-records.fr/adx13717


Brahms: Violin Concerto, Op. 77 & Double Concerto, Op. 102
Tianwa Yang (violin)
Gabriel Schwabe (cello)
Deutsches Symphonie-Orchester Berlin
Antoni Wit (conductor)
Naxos 8.573772
https://www.naxos.com/catalogue/item.asp?item_code=8.573772


Hieronymus Praetorius: Motets in 8, 10, 12, 16 & 20 Parts
Alamire
His Majestys Sagbutts & Cornetts
Stephen Farr (organ)
David Skinner (director)
Inventa Records INV001 (2 CDs)
https://www.resonusclassics.com/alamire-david-skinner/hieronymus-praetorius-motets-in-8-10-12-16-20-parts-alamire-hmsc-farr-skinner


9.30am – Building a Library – Oliver Condy on Mendelssohn 'Italian' Symphony No. 4
Composer: Mendelssohn
Reviewer: Oliver Condy
Recommended Recording:

City of Birmingham Symphony Orchestra
Edward Gardner (conductor)
Chandos Records CHSA5132
Other Recommended Recordings:
Chamber Orchestra of Europe
Yannick Nezet-Seguin (conductor)
Deutsche Grammophon 479 7337 (Hybrid SACD)


Bergen Philharmonic Orchestra
Andrew Litton (conductor)
BIS SACD1584 (Hybrid SACD)
10.20am – New Releases

Enrique Granados - Goyescas
Nancy Fabiola Herrera (soprano)
Lidia Vinyes Curtis (mezzo-soprano)
Gustavo Peña (tenor)
José Antonio López (baritone)
BBC Symphony Orchestra
BBC Singers
Josep Pons (conductor)
Harmonia Mundi HMM902609
http://www.harmoniamundi.com/#!/albums/2519


Love and Death
Bach, Schumann, Wagner, Liszt, Granados and Prokofiev
Martin James Bartlett (piano)
Warner Classics 0190295463205
http://www.warnerclassics.com/release/5609181,0190295463205/martin-james-bartlett-love-and-death


Bach – Goldberg Variations
Trio Zimmermann
BIS SACD2347 (Hybrid SACD)
https://bis.se/orchestras-ensembles/trio-zimmermann/bach-goldberg-variations 


The Orchestral Music of Jonathan Dove
Lawrence Zazzo (countertenor)
BBC Philharmonic
Timothy Redmond (conductor)
Orchid Classics ORC100097
http://www.orchidclassics.com/releases/orc100097-the-orchestral-music-of-jonathan-dove/


10.45 am – New Releases – Natasha Loges on song recitals

Sirènes
Liszt, Berlioz, Wagner
Stéphanie d'Oustrac - Mezzo-soprano
Pascal Jourdan - Piano
Harmonia Mundi HMM902621
http://www.harmoniamundi.com/#!/albums/2502


Heimweh (Schubert Lieder)
Anna Lucia Richter (soprano)
Gerold Huber (piano)
Matthias Schorn (clarinet)
Pentatone  PTC 5186722 
https://www.pentatonemusic.com/heimweh-schubert-lieder-anna-lucia-richter-huber-schorn


Dichterliebe, Op.48 (Schumann) and other songs by Robert and Clara Schumann
Julian Prégardien (tenor)
Sandrine Piau (soprano)
Eric le Sage (piano)
Alpha Classics ALPHA457
https://outhere-music.com/fr/albums/schumann-dichterliebe-alpha457

'Reason in Madness'
Brahms, Schumann, Richard Strauss, Koechlin, Debussy, Duparc, Wolf, Schubert, Saint-Saëns, Chausson, Poulenc
Carolyn Sampson (soprano)
Joseph Middleton (piano)
BIS SACD2353 (Hybrid SACD)
https://bis.se/performers/sampson-carolyn/carolyn-sampson-reason-in-madness


'Une jeunesse à Paris': Mélodies, chansons et airs d'opérettes
Poulenc, Hervé, Kosma, Delettre, Hahn, Debussy, Serpette, Offenbach, Dihau, Messager, Weill, Lecocq
Marie Perbost - Soprano
Joséphine Ambroselli - Piano
Paco Garcia - Ténor
Solistes des Frivolités Parisiennes
Harmonia Mundi HMM916112
http://www.harmoniamundi.com/#!/albums/2500


11.20am – Record of the Week

Symphony No. 7 'Sinfonia Antarctica' & Symphony No. 9 - Vaughan Williams
Rowan Pierce (soprano)
Timothy West (Narrator)
Ladies of the Royal Liverpool Philharmonic Choir
Royal Liverpool Philharmonic Orchestra
Andrew Manze (conductor)
Onyx Classics ONYX4190
Record Review
9.00am 

Dvořák: String Quartet Nos. 5 & No. 12, "American" - Suk: Meditation
Albion Quartet
Signum Classics SIGCD555
https://signumrecords.com/product/dvorak-quartets-nos-5-12-american/SIGCD555/


The Paris Album: The trio sonata in France before 1700
Campra, Clérambault, Brossard, Jacquet de la Guerre, Couperin
Ensemble Diderot
Johannes Pramsohler (director)
Audax Records ADX 13717
https://www.audax-records.fr/adx13717


Brahms: Violin Concerto, Op. 77 & Double Concerto, Op. 102
Tianwa Yang (violin)
Gabriel Schwabe (cello)
Deutsches Symphonie-Orchester Berlin
Antoni Wit (conductor)
Naxos 8.573772
https://www.naxos.com/catalogue/item.asp?item_code=8.573772


Hieronymus Praetorius: Motets in 8, 10, 12, 16 & 20 Parts
Alamire
His Majestys Sagbutts & Cornetts
Stephen Farr (organ)
David Skinner (director)
Inventa Records INV001 (2 CDs)
https://www.resonusclassics.com/alamire-david-skinner/hieronymus-praetorius-motets-in-8-10-12-16-20-parts-alamire-hmsc-farr-skinner


9.30am – Building a Library – Oliver Condy on Mendelssohn 'Italian' Symphony No. 4
Composer: Mendelssohn
Reviewer: Oliver Condy
10.20am – New Releases

Enrique Granados - Goyescas
Nancy Fabiola Herrera (soprano)
Lidia Vinyes Curtis (mezzo-soprano)
Gustavo Peña (tenor)
José Antonio López (baritone)
BBC Symphony Orchestra
BBC Singers
Josep Pons (conductor)
Harmonia Mundi HMM902609
http://www.harmoniamundi.com/#!/albums/2519


Love and Death
Bach, Schumann, Wagner, Liszt, Granados and Prokofiev
Martin James Bartlett (piano)
Warner Classics 0190295463205
http://www.warnerclassics.com/release/5609181,0190295463205/martin-james-bartlett-love-and-death 


Bach – Goldberg Variations
Trio Zimmermann
BIS SACD2347 (Hybrid SACD)
https://bis.se/orchestras-ensembles/trio-zimmermann/bach-goldberg-variations 


The Orchestral Music of Jonathan Dove
Lawrence Zazzo (countertenor)
BBC Philharmonic
Timothy Redmond (conductor)
Orchid Classics ORC100097
http://www.orchidclassics.com/releases/orc100097-the-orchestral-music-of-jonathan-dove/


10.45 am – New Releases – Natasha Loges on song recitals

Sirènes
Liszt, Berlioz, Wagner
Stéphanie d'Oustrac - Mezzo-soprano
Pascal Jourdan - Piano
Harmonia Mundi HMM902621
http://www.harmoniamundi.com/#!/albums/2502


Heimweh (Schubert Lieder)
Anna Lucia Richter (soprano)
Gerold Huber (piano)
Matthias Schorn (clarinet)
Pentatone  PTC 5186722 
https://www.pentatonemusic.com/heimweh-schubert-lieder-anna-lucia-richter-huber-schorn


Dichterliebe, Op.48 (Schumann) and other songs by Robert and Clara Schumann
Julian Prégardien (tenor)
Sandrine Piau (soprano)
Eric le Sage (piano)
Alpha Classics ALPHA457
https://outhere-music.com/fr/albums/schumann-dichterliebe-alpha457

'Reason in Madness'
Brahms, Schumann, Richard Strauss, Koechlin, Debussy, Duparc, Wolf, Schubert, Saint-Saëns, Chausson, Poulenc
Carolyn Sampson (soprano)
Joseph Middleton (piano)
BIS SACD2353 (Hybrid SACD)
https://bis.se/performers/sampson-carolyn/carolyn-sampson-reason-in-madness


'Une jeunesse à Paris': Mélodies, chansons et airs d'opérettes
Poulenc, Hervé, Kosma, Delettre, Hahn, Debussy, Serpette, Offenbach, Dihau, Messager, Weill, Lecocq
Marie Perbost - Soprano
Joséphine Ambroselli - Piano
Paco Garcia - Ténor
Solistes des Frivolités Parisiennes
Harmonia Mundi HMM916112
http://www.harmoniamundi.com/#!/albums/2500


11.20am – Record of the Week

Symphony No. 7 'Sinfonia Antarctica' & Symphony No. 9 - Vaughan Williams
Rowan Pierce (soprano)
Timothy West (Narrator)
Ladies of the Royal Liverpool Philharmonic Choir
Royal Liverpool Philharmonic Orchestra
Andrew Manze (conductor)
Onyx Classics ONYX4190