Main content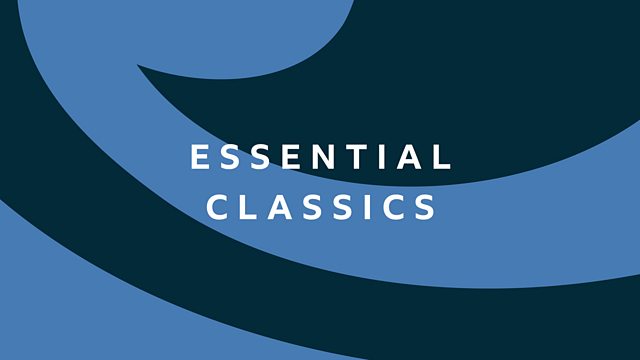 Essential Classics with Ian Skelly: Joplin's Elite Syncopations, Alistair McGowan, Victorian Live Streaming
Refresh your morning with a great selection of classical music, presented by Ian Skelly.
Ian Skelly with Essential Classics - the best in classical music.
0930 Your ideas for companion pieces on the Essential Classics playlist.
1010 Time Traveller – a quirky slice of history.
1050 Cultural inspirations from impressionist, writer and actor Alistair McGowan.
1130 Slow Moment - time to take a break for a moment's musical reflection.
Last on
Music Played
Nikolai Rimsky-Korsakov

The Maid of Pskov (Overture)

Orchestra: Seattle Symphony. Conductor: Gerard Schwarz.

Rimsky-Korsakov: Capriccio Espagnol: Seattle Symphony/Schwarz.
NAXOS.
009.

York Bowen

Three Serious Dances, Op 51 (No 2)

Performer: Stephen Hough.

Stephen Hough's English Piano Album.
Hyperion.
14.

George Frideric Handel

Behold, I tell you a mystery / The Trumpet shall sound (Messiah)

Singer: Christopher Purves. Performer: Robert Farley. Orchestra: The Sixteen. Conductor: Harry Christophers.

Felix Mendelssohn

"Trumpet" Overture Op.101 in C major

Orchestra: City of Birmingham Symphony Orchestra. Conductor: Edward Gardner.

Scott Joplin

Elite Syncopations

Performer: Joshua Rifkin.

Joplin: Piano Rags: Joshua Rifkin.
Nonesuch.

Thomas Canning

Fantasy on a hymn tune by Justin Morgan

Orchestra: Indianapolis Symphony Orchestra. Conductor: Raymond Leppard.

American Dreams.
Decca.
5.

Jan Antonín Koželuh

Oboe Concerto in F major (3rd mvt)

Performer: Albrecht Mayer. Ensemble: Potsdam Chamber Academy.

Lost and Found.
Deutsche Grammophon.
12.

Johannes Ockeghem

Deo Gratias

Choir: Huelgas Ensemble. Conductor: Paul Van Nevel.

Utopia Triumphans.
Sony Classical.
004.

Malcolm Arnold

Four Scottish Dances

Performer: Hugh Bean. Orchestra: Philharmonia Orchestra. Conductor: Bryden Thomson.

Malcolm Arnold: Dances: Philharmonia, Thomson.
Chandos.
9.

Scott Joplin

Elite Syncopations

Performer: Joshua Rifkin.

Joplin: Piano Rags: Joshua Rifkin.
Nonesuch.

Amanda Röntgen-Maier

Violin sonata in B minor (3rd movt)

Performer: Cecilia Zilliacus. Performer: Bengt Forsberg.

Amanda Maier, Volume 2; Violin sonata, 9 Pieces for violin and piano, 4 Songs.
db Productions.
3.

Sergei Mikhailovich Lyapunov

Symphony no.1 in B minor Op.12 (3rd mvt)

Orchestra: Russian Philharmonic Orchestra. Conductor: Dmitry Yablonsky.

Lyapunov: Violin Concerto: Symphony No.1.
Naxos.
4.

William Bolcom

The Graceful Ghost (3 Ghost Rags)

Ensemble: Aeolus Quartet.

Louis Moreau Gottschalk

Columbia, Op 34

Performer: Philip Martin.

Gottschalk Piano Music - Philip Martin.
Hyperion.
11.

Antonio Vivaldi

Concerto in A minor RV.356, Op.3`6

Performer: Avi Avital. Performer: Venice Baroque Orchestra.

Jean Sibelius

6 Impromptus, Op. 5: No. 6 Commodo

Performer: Henri Sigfridsson.

Sibelius, Grieg & Scriabine: Edition Klavier-Festival Ruhr, Vol. 34.
CAvi-music.
106.

Joseph Haydn

Symphony No 7 in C major, 'Le midi'

Director: Trevor Pinnock. Orchestra: The English Concert.

Giacomo Puccini

Tre sbirri... Te Deum (Tosca)

Singer: Bryn Terfel. Singer: Balcarras Crafoord. Choir: Radiokören. Orchestra: Swedish Radio Symphony Orchestra. Conductor: Paul Daniel.

Bryn Terfel: Bad Boys; Swedish Radio Symphony Orchestra.
Deutsche Grammophon.
2.

Franz Schubert

Auf dem Wasser zu singen, D 774 arr Hope

Performer: Daniel Hope. Performer: Sebastian Knauer.

The Romantic Violinist, A celebration of Joseph Joachim: Daniel Hope.
Deutsche Grammophon.
10.

Arvo Pärt

Festina lente

Orchestra: Bournemouth Sinfonietta. Conductor: Richard Studt.

The Very Best of Arvo Part.
Warner Classics.
110.

Heitor Villa‐Lobos

Sexteto Mistico

Ensemble: Lontano. Conductor: Odaline de la Martinez.

Villa-Lobos - Chamber & Choral Music.
Lorelt.
001.

John Dowland

Mrs Winter's Jump

Performer: Jakob Lindberg.

Alexander Glazunov

Mazurka-Oberek in D major

Performer: Itzhak Perlman. Ensemble: Abbey Road Ensemble. Conductor: Lawrence Foster.
Broadcast

The Classical Companion Collection