Main content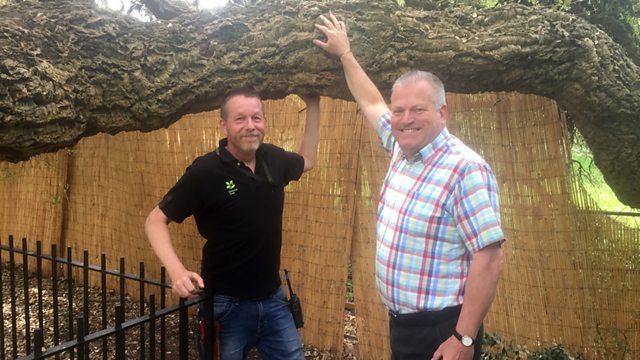 Huntingdonshire
Kathy Clugston and the gardening experts are in Huntingdonshire.
Kathy Clugston and the gardening experts are in Huntingdonshire. Christine Walkden, Anne Swithenbank and Bob Flowerdew are on hand to answer questions from green-fingered enthusiasts.
This week the panel discuss the fundamentals to feeding plants, how to make a level garden, and give recommendations on replacing Escallonia hedges.
They also discuss their favourite trees, which unusual seed they have germinated, and how to produce the best fruit on a Gooseberry tree.
Matt Biggs visits Osterley Park in West London. He chats to Head Gardener Andy Eddy where there is a 250 year old Cork Tree which is one of the 'Great Trees of London'.
Produced by: Laurence Bassett
Assistant Producer: Jemima Rathbone
A Somethin' Else production for BBC Radio 4
Fact Sheet
Q – Can you tell me why my hazelnut tree (Corylus) does not produce any nuts?
Bob – It may be too dry.
Anne – The only time a hazel is not inclined to flower is when someone is pruning it and the wood has not had a chance to mature efficiently.
Q – We have recently developed a lawn that has a lot of sudden dips – any advice on making it level?
Bob – Import soil
Q – We would like to grow a Willow hedge to separate our neighbours garden and ourselves. Any tips to grow willow hedge and contain the roots or any other recommendations for hedges to grow up to 5 foot (152 cm) and not too invasive?
Christine – Unless you put a substantial physical barrier in, the willow will get through it. If you want something 5 foot (152cm) then look at the Dogwoods (Cornus) such as Cornus Alba Sibirica 'Westonbirt' (Red-barked dogwood), or Cornus sericea 'Flaviramea' (Golden-twig dogwood)
Bob – Buddleja Globosa (Orange Ball Tree). Or a row of Blackcurrant bushes close together.  Or 5-foot-high (152cm) woven hurdles and grow through it attractive Ivy such as Goldheart  (Hedera Helix Goldheart)
Q – I am a novice gardener and I am trying to get to grips with what and when to feed with my new plants. Are there any fundamentals to feeding?
Christine –Dr. David Hessayon 'Be Your Own Gardening Expert' has a terrific amount of information.
Bob – The 3 important things that make plants grow are: air, light, and water. It is almost impossible to kill plant in the ground from over-watering.
Anne – But it is possible to kill them by over-feeding. Don't overfeed it, it has to be ready to feed. So follow the instructions carefully and never feed a dry plant, you need to wet it first.
Q – For the last 3 years I have been training Gooseberry bushes up a fence in espaliers.  The books say I should be using cordons instead – why would this be better for gooseberries and what do I do to get healthy plants with good fruit?
Bob – I don't think it will make much difference, but a Cordon is going to get to a certain height and below knee-level it won't produce any fruit. So, if you want the biggest gooseberry bushes the espalier form will produce lots of fruit.
Give them loads of well-rotted manure.
Anne – If they produce lots of fruit them thin them down to produce larger juicier fruits. And keep the birds off.
Q – Escallonia (Redclaws) hedges do not do well in the clay soil in this area. What do you suggest to replace an Escallonia hedge with that would keep the colony of sparrows happy?
Christine – Viburnum Opulus 'Roseum' (Red Guelder rose), Alder (Alnus Glutinosa), Willow (Salix) and Dogwoods (Cornus Sanguinea)  - don't prune the dogwoods let them grow as a natural tree.
Bob – Holly (Aquifoliacaeae)
Q – I am renovating all my flowerbeds and borders – what do the panel suggest as a mulch to keep moisture in heavy rock-hard soil to improve its texture, reduce work, and prevent weeds growing.
Christine – As much well-rotted compost as you can get a hold of and only apply it in winter after substantial rain. Don't apply it onto dry soil.
Bob – Once you have got rid of all the weeds and levelled it, put down a whole load of cardboard and newspaper and then put down compost on top as it stops the weeds coming up and it will rot down and keep the 2 layers separate.
Q – What is the most unusual seed you have germinated, and did it succeed?
Bob – Pineapple.
Anne – Monkey puzzle (Araucaria Araucana) seeds and Avocados
Christine – Anchusa Cespitosa and in the end I soaked the seed in Gibberellic acid solution and that worked. 
Panel's favourite trees:
Anne – The Stone pine (Pinus Pinea), Taxodium Distichum var. impricarium 'Nutans' (Pond Cypress), or the Large oak (Quercus Rober)
Bob – Ketts Oak
Floral Tribute in a large pot withstanding winter frosts correspondent:
Anne – Church Yard Yew (Taxus Baccata) with Mouse plant (Arisarum Proboscideum) underneath
Christine – The Sacred Bamboo (Nandina Domestica)
Bob – Cactus
Top tips for growing plants for next season:
Anne – Ammi Majus (Queen Anne's Lace) and Hydrangea heads