Main content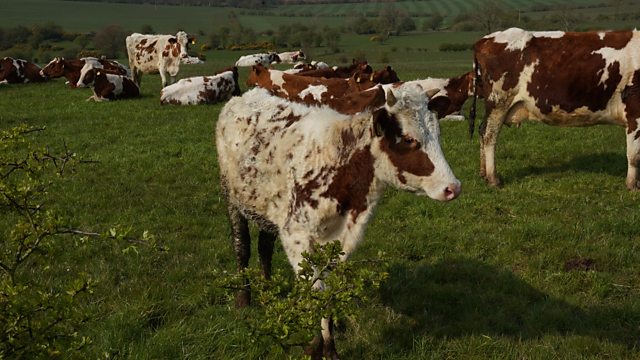 The 2019 Future Food Award finalists
BBC Food and Farming Awards judges Donald Sloane and William Kendall visit the three finalists in the Farming Today Future Food category for 2019.
Lucy Taylor travels from Ayrshire to Milton Keynes and on to a London orchard, accompanying BBC Food and Farming Awards judges Donald Sloane and William Kendall as they visit three innovative businesses, each of them a finalist in the Farming Today Future Food category for 2019.
This award is about innovation - people who are breaking new ground and will ultimately help shape the future of what we eat and drink, and how it's produced.
The judges visit Mossgiel Milk in Ayrshire, the brainchild of dairy farmer Bryce Cunningham. He took over the farm - somewhat reluctantly - when his father and grandfather passed away just a few years ago and since then has transformed the farming practices and the milk business as well. The farm is now certified organic, and has eliminated single-use plastics from its sales - having crowd-funded to raise enough money to buy reusable glass bottles. Mossgiel Milk is now delivered to doorsteps and cafes across central Scotland, and Bryce believes his slow pasteurisation method ensures the milk retains its natural, delicious flavour.
Next up is Hubbub, an environmental charity that's committed to reducing food waste. The judges visit Hubbub's community fridge site in Milton Keynes - one of 54 across the UK - where surplus food is redistributed to the community. But as the organisation's creative partner Stine Wilhelmsen is keen to point out, this model is about far more than reducing waste food. It also provides a hub for local communities, bringing people together and helping them bond over food, cooking workshops, family events and a belief in supporting positive environmental change.
The final stop is an apple orchard in Redbridge, north east London, which has been restored with the help and guidance of The Orchard Project, a 10-year-old organisation that started in London and has now spread to other cities across the UK. The group helps communities to plan and look after orchards in towns and cities, aiming to improve local knowledge and skills, support wildlife in the areas, and make connections between local people in these urban environments. The group also uses surplus apples from their orchards across the country, to make their own cider.
Once the judges have made their decision, the winner will be announced at the 2019 BBC Food and Farming Awards in Bristol on June 12th.