Main content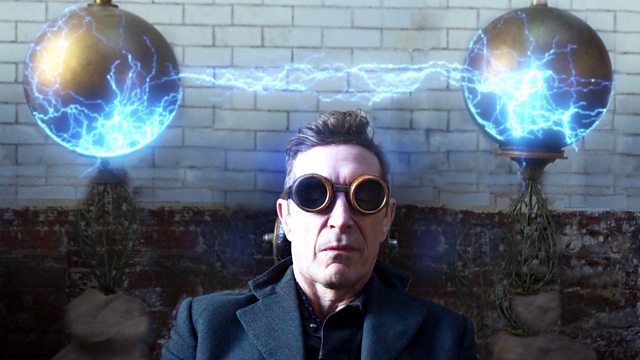 Decadence and Degeneration
Actor Paul McGann discovers how fears of moral and imperial decline terrified 1890s Britain - informing the daring plays of Oscar Wilde and the fantastical stories of HG Wells.
The 1890s was the decade when science, entertainment, art and morality collided - and the Victorians had to make sense of it all. Actor Paul McGann discovers how the works of HG Wells, Aubrey Beardsley and Oscar Wilde were shaped by fears of moral, social and racial degeneration.
Paul, seated in Wells's time machine, sees how the author's prophecies of a future in which humanity has decayed and degenerated highlighted the fears of the British Empire. Paul finds out how these anxieties were informed by new scientific theories based on Charles Darwin's theory of evolution. Paul learns how Darwin's cousin Francis Galton sought to improve the genetic stock of the nation, through a project he coined as 'eugenics'.
Another of the decade's prominent scientific thinkers – Austrian physician Max Nordau – declared that it was art and culture, and their practitioners – the aesthetes and decadents – that were causing Britain's moral degeneration, singling out Oscar Wilde as the chief corrupting influence. Paul explains how Wilde sought to subvert traditional Victorian values. Tucked away in one of Wilde's haunts - the famous Cheshire Cheese Pub on Fleet Street - Paul hears from Stephen Calloway about how Aubrey Beardsley – the most decadent artist of the period – scandalised society, in much the same way as Wilde, through his erotic drawings. Wilde and Beardsley were not alone in being parodied by Punch Magazine. Historian Angelique Richardson shows Paul caricatures of a new figure who had begun to worry the sensibilities of Victorian Britain. Known collectively as The New Woman, this was a group of female writers, who in more than 100 novels, portrayed a radical new idea of femininity that challenged the conventions of marriage and motherhood. However, as Paul discovers through reading a short story called Eugenia by novelist Sarah Grand, some advocated the idea of eugenics through their writing.
For eugenicists, if one means of keeping a 'degenerate' working class in check was incarceration, then that either meant prison or, increasingly by the 1890s, the asylum. Some lost their freedom due to 'hereditary influence', others to so-called sexual transgression. Paul explains how the 'vice' of masturbation was seen as sapping the vitality of the nation. The idea of sexual transgression was to intrude into the Victorian consciousness as never before when, in 1895, Oscar Wilde was found guilty of gross indecency and sentenced to two years in jail.
While Oscar Wilde had made a very public show of defiance, Paul uncovers another leading – and gay - writer of the period, John Addington Symonds, who together with the prominent physician Havelock Ellis, sought to produce a scientific survey of homosexuality. At the London Library, Symonds expert Amber Regis shows Symonds's rare handwritten memoirs to Paul, which served as a source for the groundbreaking 1897 work, Sexual Inversion. Paul explains how questions of sex and gender also lie at the heart of a very different book, published in the same year - Bram Stoker's Dracula. Paul explains how Stoker had his finger – or teeth – on the pulse of the 1890s, infusing his novel with many of the decade's chief preoccupations and growing fears of racial prejudice and immigration.
Paul also meets Natty Mark Samuels (founder of the Oxford African School) reciting a speech by a young West Indian called Celestine Edwards, who took a brave stand against imperial rule and its racist underpinnings. Edwards became the first black editor in Britain, and his pioneering work would be continued by a fellow West Indian, Henry Sylvester Williams, who in 1897 formed the African Association. Outside the former Westminster Town Hall, Paul describes how, in 1900, Williams set up the first Pan-African Conference to promote and protect the interests of all subjects claiming African descent.
Clips

Music Played
Timings (where shown) are from the start of the programme in hours and minutes
00:32

John "Rabbit" Bundrick

Feather
Credit
| Role | Contributor |
| --- | --- |
| Presenter | Paul McGann |