Main content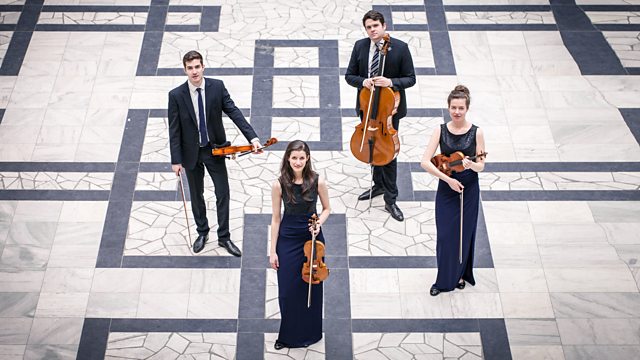 Late works by Bach, Beethoven and Max Reger
The Aris Quartet plays late works by Bach and Beethoven before Annelien Van Wauwe joins them for Max Reger's Clarinet Quintet, completed a few days before his death.
The Aris Quartet and clarinettist Annelien Van Wauwe play late works by Bach, Beethoven and Max Reger at Turner Sims, Southampton.
These current and recent Radio 3 New Generation Artists join forces at the University of Southampton's intimate concert hall for a programme which explores works which seem to sum up the composers' life-work. In the Art of Fugue, Bach explores the fugal possibilities of a single musical phrase whilst Beethoven develops a musical world which touches the spiritual. As Schumann remarked: "It seems to stand...on the extreme boundary of all that has hitherto been attained by human art and imagination." And the programme ends with Max Reger's masterful but seldom heard Clarinet Quintet, completed just a few days before his death.
Presented by Andrew McGregor
Bach Contrapuncti 1 and 2 from The Art of Fugue, BWV 1080
Beethoven Quartet No 14 in C sharp minor, Op 131
Aris Quartet
at 8.10pm
Interval Music: the Agnus Dei from Beethoven's Missa solemnis which seems to presage some of the musical and spiritual ideas behind his Opus 131 Quartet
c 8.25pm
Reger Clarinet Quintet in A major, Op 146
Aris Quartet with Annelien Van Wauwe (clarinet)
Recorded at Turner Sims, Southampton on 14 May 2019.
Featured in...
We broadcast more live and specially-recorded concerts and opera than any other station.