Main content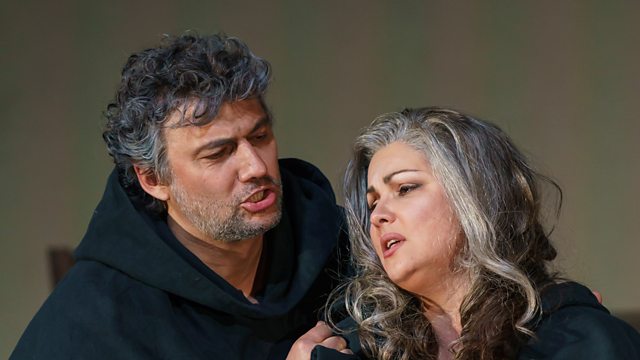 Verdi's La forza del destino
Antonio Pappano conducts Verdi's La forza del destino at the Royal Opera House, Covent Garden.
Antonio Pappano conducts La forza del destino at the Royal Opera House, Covent Garden. The star-studded cast includes Anna Netrebko as Leonora, Jonas Kaufman as Don Alvaro, and Ludovic Tézier as Don Carlo di Vargas.
Verdi and his librettist and friend Francesco Maria Piave based La forza del destino (The Force of Destiny) on Ángel de Saavedra's highly dramatic play Don Alvaro, o la fuerza del sino. The story tells how the intended elopement of Leonora and Don Alvaro goes wrong when Alvaro accidentally kills Leonora's father. Both lovers escape, but only to lead separate lives as wanderers, with the father's dying curse ringing in their ears and Leonora's brother in vengeful pursuit. When the three are finally reunited, the conclusion can only be a dramatic one.
Verdi's brilliant score covers a wide range of settings and emotions, from tense confrontations to rowdy song-and-scenes in a tavern and an army camp. It also boasts some of the composer's very best tunes.
Martin Handley presents and during the interval chats to Flora Willson.
Leonora.....Anna Netrebko (soprano)
Don Alvaro.....Jonas Kaufmann (tenor)
Don Carlo di Vargas.....Ludovic Tézier (baritone)
Padre Guardiano.....Ferruccio Furlanetto (bass)
Fra Melitone.....Alessandro Corbelli (tenor)
Preziosilla.....Veronica Simeoni (soprano)
Marquis of Calatrava.....Robert Lloyd (bass)
Curra.....Roberta Alexander (soprano)
Alcalde.....Michael Mofidian (bass-baritone)
Maestro Trabuco.....Carlo Bosi (tenor)
Antonio Pappano conducts the Royal Opera Orchestra and Chorus
For a full synopsis visit the programme page.
Synopsis
The Marquis of Calatrava lost his youngest son at an early age, a loss followed soon afterwards by that of his wife, a woman he loved above all others. Two children remain: his elder son Carlo and his daughter Leonora, who as a child lived in a world of her own. In this world her love of her father was no less intense than her love of the Virgin Mary, whom she regarded as her protector. But as she grew up, she was drawn to a world in which she was less protected. She has got to know Don Alvaro, the son of a Spanish grandee and an Inca princess. Alvaro was born in prison and as a man of mixed race soon learnt what it is like to be rejected and persecuted. The Marquis tries to prevent the burgeoning love between the mixedrace Alvaro and his daughter and makes sure that his home is well guarded.
Act I
Near Seville at night
Don Alvaro has decided to abduct Leonora from her father's house. Arrangements for her flight have been made with the help of Curra, one of her servants, and the latter's son, both of whom are keen to join her in her escape. Everything goes according to plan: the Marquis retires for the night and Don Alvaro finally appears. Alvaro has not only planned their whole escape but has agreed to Leonora's demand that they be married by a priest before dawn. Her honour means everything to him. And yet Leonora hesitates. She loves her father and wants to postpone their flight. Ultimately, however, her desire for Alvaro triumphs over her feelings as a daughter. Just as the couple are about to leave, they are surprised by Leonora's father, who insults Alvaro by referring to his mixed-race background. It is only with difficulty that Alvaro is able to control himself. He assures the Marquis that Leonora's honour is inviolate and declares his willingness to face the legal consequences of his planned abduction. In token of his readiness, he throws down his pistol, but the weapon accidentally discharges, fatally wounding the Marquis. With his dying breath, the Marquis curses his daughter. Alvaro and Leonora flee.
Act II
Scene 1
A year later – rustic celebrations in the vicinity of Córdoba
The circumstances surrounding their disastrous attempt to elope have forced Alvaro and Leonora to flee in different directions. Leonora has lost all trace of Alvaro and is now wandering through Spain in an attempt to evade her brother Carlo, who has sworn to exact bloody vengeance. The whole of Spain is in turmoil. Italy is at war with Germany, and Spain is expected to support the Italians. For the present the dangers of war still seem remote, but whenever people meet to sing and dance, there is still a sense of living on the edge. Are they just mocking the situation or are they genuinely seduced by this madness when Preziosilla, a smuggler with a penchant for political songs, exclaims 'War is beautiful, long live war'? She high-spiritedly promises to accompany the volunteers to the battle front in Italy. Leonora has stumbled into a world for which she was never prepared. Among the revellers is her brother, who has concealed his true identity and is travelling around as a student. When she sees him, she is seized by panic and prays to God to preserve her from her brother's revenge. Carlo entertains the company with a sombre ballad about the death of the Marquis, and the refugee lovers. It appears from this that Alvaro has returned home to Latin America.
Scene 2
Shortly afterwards – the monastery close to the church of Our Lady of the Angels Leonora has heard about an anchorite's cell close to a monastery where a woman who had been unhappy in love had eked out her pitiful life many years earlier. It is here that she herself now hopes to find refuge. She tells Padre Guardiano (the Father Superior) that her name is Leonora di Vargas. In no uncertain terms he draws her attention to the consequences of her actions but finally yields to her entreaty that she be allowed to stay. From now on she will never again have contact with any living soul. Leonora feels reconciled with Heaven and believes that she will be able to forget the terrifying images of her father cursing her with his dying breath, yet when Padre Guardiano invites the monks to curse anyone who approaches Leonora's cell, she is again plagued by anxious dreams. But then her features are transfigured and she appears to the monks as a martyr – as 'Our Lady of the Angels'.
rza del destino, Act I
Act III
Scene 1
Years later – a military camp in Italy
Don Alvaro has not in fact returned to his native America but has enlisted as a volunteer in the hope of dying on the battlefield. Fate has decreed otherwise. He has risen through the ranks and, now a captain, is honoured as a war hero, albeit under a false name and with a new identity: Don Federigo Herreros. He sees his whole life as a failure and cannot forget Leonora or the fatal events surrounding their separation. Like his army comrades, he tries to distract himself by consorting with other women. He believes that Leonora is dead and blames himself for the death of the woman he still loves. Leonora's brother, Don Carlo, has likewise become caught up in the turmoil of war. He, too, has assumed a false name in order to escape from the shame and disgrace of his family's past. And he, too, is hailed as a valiant soldier, for all that he is now addicted to gambling and alcohol. While visiting a gambling den, he is almost stabbed to death, but a stranger comes to his aid: it is Don Alvaro. The two men feel a shared bond and swear to fight alongside one another, little suspecting who they actually are. But fate has long since linked their lives.
Don Alvaro is seriously wounded in an attack, but Carlo manages to rescue him. Alvaro needs an operation. Before he goes under the surgeon's knife, he gives his friend a case containing documents which Carlo is to burn in the event of his death. Carlo seeks to comfort Alvaro by promising him the Order of Calatrava as a reward for his bravery, but Alvaro reacts violently to the name. While waiting for the operation to be completed, Carlo begins to brood on  Alvaro's reaction and wonders if Alvaro could be his sister's accursed lover. He keeps his word and does not open the letters that have been entrusted to him, but instead he finds a portrait of his sister. When the surgeon announces that Alvaro will live, Carlo is beside himself with diabolical glee: as soon as Alvaro is recovered, he – Carlo – will avenge his father and kill Alvaro.
Scene 2
Another three months later
Alvaro has regained his strength and Carlo prepares to carry out his promise, revealing his true identity and challenging the surprised Alvaro to a duel. Alvaro discovers that Leonora may still be alive. Still the dreamer, he tries to discourage Carlo from his thoughts of revenge and expresses the hope that all three of them can start a new life. But Carlo is implacable: not only Alvaro but Leonora too shall die at his hands. The two men throw themselves at each other and it is only thanks to their comrades' intervention that they are not killed. Appalled, Alvaro resolves to turn his back on the war and on a life of murder. He will seek asylum in a monastery. Meanwhile, the soldiers are entertained by Preziosilla, who has kept her word and come with them to the front. An itinerant pedlar by the name of Trabuco has likewise fetched up in Italy, as has the surly Fra Melitone from Our Lady of the Angels, who is now working as a pastor and hoping that he may receive alms. It is hard to know who is actually a soldier in this Carnival atmosphere and who is serious about war. But the next attack is certain.
Act IV
Scene 1
Spain, many years later – the monastery of Our Lady of the Angels
The war has long been over. It has left a trail of devastation. Poverty and famine are rife. Every day the monks hand out food to the poor. Everyone has returned home: Preziosilla, Trabuco and Fra Melitone. Of the three, Fra Melitone fares best as his task is to ladle out soup. But there are always people who learn nothing from life, and so, far from being grateful, Melitone remains as bad-tempered as ever. When a stranger rings the monastery bell, he responds with typical ill humour. The new arrival is Don Carlo di Vargas who, after searching for him for many years, has finally found Don Alvaro. The latter has taken the name of Father Raffaele and is living in the monastery near which Leonora settled as an anchorite many years earlier. Don Carlo has come in search of only one thing: revenge for the wrongs that were done to him and to his family. Once again Alvaro allows himself to be provoked when Carlo calls him a 'mulatto'. The two men rush away to fight a duel outside the monastery walls.
Scene 2
Leonora's cell
The two men fight their duel right outside Leonora's cell. Don Carlo is fatally wounded. In his despair, Alvaro insists that the dying man be given the last rites. Leonora begs the stranger to leave but then recognizes Alvaro and her brother. Instead of making his last confession, Carlo lashes out at Leonora, who has longed only for death after  prayers and fasting have failed to bring her peace of mind. Finally reconciled with God, with whom she intercedes at the very moment of her death, she promises Alvaro forgiveness and redemption. Christof Loy
*Photo gallery with Yusif Eyvasov in the role as Don Alvaro. Radio 3 broadcast with Jonas Kaufmann in the role.