Main content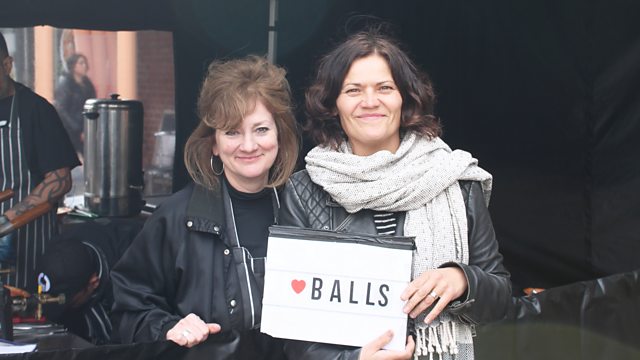 An Education: Life lessons through food
Food and Farming Awards finalists show how learning about food and cooking can deliver much more than just practical skills...
Genevieve Taylor sets out to meet a few of this year's BBC Food and Farming Awards finalists, and hear how learning about food has changed their lives for the better.
The first stop is Liberty Kitchen - a finalist in the Best Street Food or Takeaway category. This social enterprise operates at Pentonville Prison, where inmates produce a diverse range of 'street balls', including classic Italian meatballs, macaroni cheese balls and veggies balls; these are then sold at London street food markets.
Genevieve visits the bustling prison kitchen with founder Janet Boston, before checking out the Liberty Kitchen stall at Leather Lane market in Clerkenwell - and hears overwhelming praise from current and ex-inmates involved in the scheme, who say it's giving them hope of employment post-prison.
Next up, Genevieve checks in with Food and Farming Awards judges for the Cook of the Year category: Jeanette Orrey, co-founder of the educational initiative Food For Life, and Paula McIntyre, a cook, food writer and lecturer.
They've been to the Moray region of Scotland, to visit finalist Logie Primary: a rural school with just 28 pupils. Although it's small, this primary school's making a mark with a food-focused social enterprise that's teaching pupils food and kitchen skills, and at the same time bringing together the local community. The school's older pupils launched the Cup of Joy Community Cafe two years ago, using vegetables grown in their school allotment and eggs from the school chickens; today, it's not only teaching them valuable nutrition and life skills but providing a hub for this rural community.
Our final stop is London, where the judges for this years' Pat Llewellyn New Talent Award - Ben Adler, whose late wife Pat inspired the award; and Barney Desmazery, food editor at large for BBC Good Food magazine - have been to Ealing to join the team behind Fat Macy's supper club: a dining experience with a difference… The kitchen and front-of-house team are all homeless people currently living in hostels.
The founder Meg Doherty launched the project three years ago, as a way to give people in temporary accommodation an opportunity to learn new skills, while earning enough money to get them back into the housing system.
Presented by Genevieve Taylor; produced by Lucy Taylor.
Last on
Broadcasts