Main content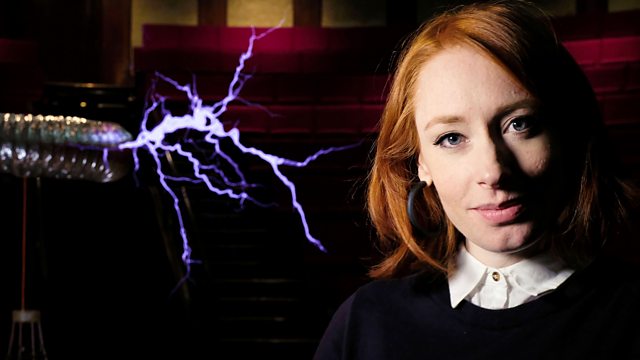 Dr Hannah Fry explores how science and technology transformed Britain in the 1890s, giving rise to the modern world - and many present-day anxieties.
Victorian Sensations transports us to the last years of Queen Victoria's reign to explore a moment of thrilling discovery and change that continues to resonate today.
In the first of three films focusing on the technology, art and culture of the 1890s, mathematician Dr Hannah Fry explores how the latest innovations, including x-rays, safety bicycles and proto-aeroplanes, transformed society and promised a cleaner, brighter and more egalitarian future.
Whereas Victorian progress in the 19th century had been powered by steam and gas, the end of the 1800s marked the beginning of a new 'Electric Age'. Hannah discovers how electrical energy dominated the zeitgeist, with medical quacks marketing battery-powered miracle cures, and America's new electric chair inspiring stage magicians to electrify their illusions. The future had arrived, courtesy of underground trains and trams (as well as electric cars), and in the 1890s the first houses built specifically with electricity in mind were constructed.
Like our own time, there was concern about where this technology would lead and who was in control. HG Wells warned of bio-terrorism, while the skies were increasingly seen as a future battleground, fuelling the race to develop powered flight.
Hannah outlines the excitement around the coming Electric Age. Electricity was a signifier of modernity, and Hannah discovers how electric light not only redefined the way we saw ourselves but changed what we expected from our homes. The new enthusiasm for all things electric was also something exploited by canny entrepreneurs. In the 1890s, many believed that electricity was life itself and that nervous energy could be recharged like a battery.
In 1896, out of nowhere, the x-ray arrived in Britain. Hannah delves into the story of what Victorians considered to be a superhuman power. This cutting-edge technology was a smash hit with the public, who found the ghoulish ability to peer under flesh endlessly entertaining. In the medical profession, x-rays caused a revolution and, as well as changing our views of our bodies, the x-ray revealed new fears in society about personal privacy and control over technology - concerns that sound very familiar today.
Electricity ruled the imagination, but it was a simple mechanical device that brought the greatest challenge to the social order: the safety bicycle. It offered freedom on a scale unimagined before and, for women of the time in particular, a new independence, changes to their clothes to make cycling easier and the opportunity for a chance encounter with a member of the opposite sex. But there was also a darker side, with fears of how technology might be turned against us becoming a constant element in contemporary 1890s fiction.
One technological landmark that the Victorians knew was coming, and that they (rightly) anticipated would one day unleash fire and bombs on British cities, was the flying machine. A thing of fantasy yet also, due to the ingenuity of the age's engineers, something that might become a reality at any moment. Leading the way for British hopes of achieving powered flight was Percy Pilcher. Hannah looks at how, after several successful flights, Pilcher designed a triplane with an engine he intended to fly, when disaster struck.
More episodes
Previous
You are at the first episode
Clips

Music Played
Timings (where shown) are from the start of the programme in hours and minutes
00:07

Anna Calvi

Suddenly

00:23

Nick Cave

&

Warren Ellis

Martha's Dream

00:24

LUMP

Rolling Thunder

00:42

Half Cousin

Fluorescent Jacket
Credit
| Role | Contributor |
| --- | --- |
| Presenter | Hannah Fry |
Featured in...
A collection of programmes exploring the life and times of Queen Victoria