Main content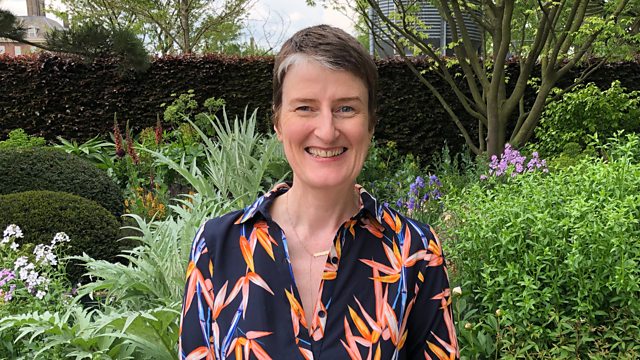 RHS Chelsea Flower Show: Correspondence Edition
Kathy Clugston is at Chelsea Flower Show for a correspondence edition of the show.
Kathy Clugston is at Chelsea Flower Show for a correspondence edition of the show. Matthew Wilson, Pippa Greenwood, and Anne Swithinbank are on hand to answer questions from the GQT inbox, postbag and social media.
The panellists recommend alpines to grow between patio stones, advise on moving and replacing a pond, and consider what to think about when buying a new greenhouse. They also discuss suitable indoor plants for an office, and suggest ways to get a lemon tree to bear fruit.
In between the questions, the panellists bump into some familiar faces at the flower show, stopping to chat to Chris Beardshaw about his show garden, and Daniel and Joanne Jackson about their cacti and succulent stand.
Produced by Darby Dorras
Assistant Producer: Rosie Merotra
A Somethin' Else production for BBC Radio 4
Fact Sheet for Chelsea Flower Show
Q – Suggestions for low growing alpines to grow in spaces in a stone patio.
Pippa – Thrifts (Armerias) or houseleeks (Sempervivum).
Matthew – Erigeron karvinskianus; Linum ­(flax).
Q – What plants or grasses can I grow for year-round greenery on a drain cover with raised edges (8cm deep, 50 x 80cm / 3 inches deep, 19 x 31 inches), and what planting medium should I use to avoid plants drowning in winter, or drying out in the summer?
Anne – Grow across it. Hardy geraniums – 'Rozanne' or 'Azure Rush'.
Pippa – Drill holes to allow some drainage, add thin layer of gravel, then something like ground cover thyme.
Q – 20-year-old pond, 1m x 70cm (3ft x 2.2ft) with broken liner; what is the best method to save the current life in the pond, and some suggestions for plants in the new, larger and (hopefully) more biodiverse pond.
Anne – Dig sub pond/get different container and lift it out.
Matthew – I'd try to get new pond 1m (3.2ft) deep to maintain good water quality; keep current plants but need covering plants and some that will act as a ladder for insects.
Feature – Chris Beardshaw
Tope pots
Leptinella – Platt's black
Q – Advice for choosing a new greenhouse; 12ft x 8ft (3m x 2.4m) required mostly for growing plants, like tomatoes and geraniums, and for sitting in.
Anne – Think about how you want to arrange the earth beds. Raised base – good for growing tomatoes and cucumbers (extra warmth). Don't forget to think about ventilation .
Q – I have 2 citrus plants in terracotta pots – 1 kumquat and one lemon. Both were in fruit when I received them 10 years. They are wintered in a cold conservatory then moved to a patio in summer. They have never fruited since – they are fed with citrus fertiliser and have recently been re-potted with John Innes and citrus compost and only watered with rainwater. How can I get them to bear fruit?
Anne – They are wintered in an unheated conservatory. While citrus can survive in cold temperatures, it stops them completely from growing and sometimes it takes them so long from to get out of the cycle. Try moving it into a cool room in the house.
Pippa – Make sure it still has plenty of light.
Q – I am looking for plants suitable for an office. There is virtually no naturally light in one room although the temperature is fairly even.  There are also 4 small rooms with broad windowsills on south facing which get very hot during the day.
Matthew – Cast Iron plant (Aspidistra Elatior) and Mother-in-laws tongue – (Sansevieria Trifasciata) in troughs rather than single pots which can be incredibly effective.
Pippa – Cheese plants (Monstera Deliciosa) and the Maranta. Add some LED lights and they will help plants grow as they will mimic sunlight.
Anne – Grouping plants together helps them all grow.
Q – Ideas of what to plant in our quirky pot which is 40cm (15.7 inches) high and a little lower at the armpit and doesn't hold too much soil.
Matthew – The bronze carynx (the plant that looks dead) or the Hair grass plant.
Pippa – A Stipa (Needle grasses) would be gorgeous.
Anne – Hakonechloa (Japanese Forest Grass).
Cacti Feature
Mother-in-laws Cushion (Echinocactus Grusonii)
Echinocactus Brevispina
Frizzle Sizzle (Albuca Spiralis)
Video Feature
The Devils ivy (Epipremnum Aureum)– a shade tolerant houseplant.