Main content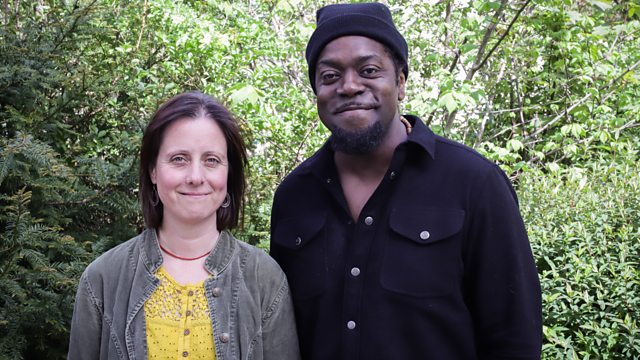 Rachel Musson
Rachel Musson in concert with her nine-piece band project "I Went This Way" at Cheltenham Jazz Festival 2019, featuring BBC Young Jazz Musician of the Year Xhosa Cole.
PLAYLIST
DISC
Artist              Soweto Kinch
Title                The Healing
Composer     Kinch
Album            The Legend of Mike Smith
Label              Soweto Kinch Recordings
Number        SKP003 CD 2 Track 39
Duration       54"
Performers: Soweto Kinch, as, rhodes, prog; Shabaka Hutchings, ts; Karl
Rasheed-Abel, b; Graham Godfrey, d. . 2015           
Clip – Rachel Musson – I Went This Way (R Musson) – 57"
Rachel Musson recorded at the Parabola Arts Centre, as part of Cheltenham Jazz Festival
I Went This Way – 52'35"
All composed by Rachel Musson
Personnel: Rachel Musson, saxes; Xhosa Cole, tenor sax; Lee Griffiths, alto sax; Sarah Farmer, violin; Richard Scott, electronics; Hannah Marshall, cello; Chris Mapp, double bass; Mark Sanders, drums; Debbie Sanders, vocals/spoken word.
Emma Smith caught up with pianist Tom Cawley to discuss his debut solo album "Catenaccio"
MUSIC
DISC
Artist              Tom Cawley
Title                Left Peg
Composer     Tom Cawley
Album            Catenaccio
Label              Ubuntu Music
Number        UBU0024
Duration       1'00"
Performers: Fini Bearman, voc; Gareth Lockrane, flutes; Chris Higginbottom, drums; Tobin Mullarkey, bass; Tom Cawley, keyboards. 2019
DISC
Artist              Tom Cawley
Title                Jabulani
Composer     Tom Cawley
Album            Catenaccio
Label              Ubuntu Music
Number        UBU0024
Duration       2'49"
Performers: Fini Bearman, voc; Gareth Lockrane, flutes; Chris Higginbottom, drums; Tobin Mullarkey, bass; Tom Cawley, keyboards. 2019     
DISC
Artist              Tom Cawley
Title                The Ungainlies
Composer     Tom Cawley
Album            Catenaccio
Label              Ubuntu Music
Number        UBU0024
Duration       4'34"
Performers: Fini Bearman, voc; Gareth Lockrane, flutes; Chris Higginbottom, drums; Tobin Mullarkey, bass; Tom Cawley, keyboards. 2019     
Al Ryan with some of the latest tracks uploaded to BBC Introducing
MUSIC
Twospeak – Egloskerry – 3'35"
Ramnastax – Bill Carr – 4'31"
Arkocean – Elevator Takeoff – 4'52"
DISC
Artist              Soweto Kinch
Title                The Healing
Composer     Kinch
Album            The Legend of Mike Smith
Label              Soweto Kinch Recordings
Number        SKP003 CD 2 Track 39
Duration       40"
Performers: Soweto Kinch, as, rhodes, prog; Shabaka Hutchings, ts; Karl
Rasheed-Abel, b; Graham Godfrey, d. . 2015