Main content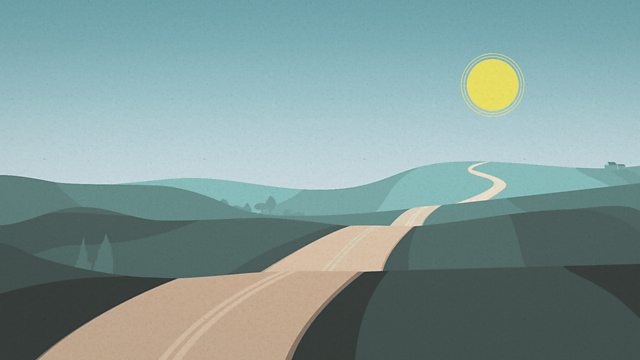 Nomads
Emma Paetz and Nicholas Farrell read from Cervantes, Louise Doughty and Abd al Qadir. The music includes Sibelius, Gavin Bryars, Takemitsu and Tinariwen.
Emma Paetz and Nicholas Farrell read from Cervantes, Louise Doughty, to Abd al Qadir as today's journey of words and music moves from the desert to tramping along English country roads.
Our past is nomadic. Our ancestors roamed around, moving according to the seasons and the availability of food. The historian Yuval Noah Harari suggests that our subsequent adoption of settled, agricultural lives represented a massive blow to human well-being, bringing with it unstinting labour and disease. Does this go some way to explaining the distrust and unease with which the settled have tended to regard nomads? Is there an atavistic envy at its root? That desire to wander still burns within many of us. We may be tethered to a particular part of the world by our work, our homes, our families, but we are restless, forever planning journeys to somewhere distant, somewhere new.
This programme explores the relationship between the nomad and that settled world. Nomads not just in the sense of traditionally itinerant people (including Bedouin, some Native American tribes and Roma – referred to as 'gypsies' by some of the writers here), but also those who are homeless or refugees. In short, those who have no fixed abode. So we hear field recordings both of Tuareg singers with a traditional Danse de tazengharaht, and an unnamed homeless man singing a hymn in Gavin Bryars' Jesus' Blood Never Failed Me Yet. The chorus of Hebrew slaves from Verdi's Nabucco echoes the painful longing for a lost homeland experienced by refugees through the ages, while songs by Sibelius and Schubert show the figure of the wanderer in nature, gripped by both a sense of freedom and existential melancholia.
Readings:
Bakhu Al-Mariyah - My longing for a tent
Abd al Qadir - The Life of the Nomad
T.E. Lawrence - The Seven Pillars of Wisdom
Henry Wadsworth Longfellow - To the Driving Cloud
Louise Doughty - Fires in the Dark
Miguel de Cervantes - La Gitanilla
Matthew Arnold - The Scholar Gypsy
Thomas Hardy - A Trampwoman's Tragedy
Dominic Hand – Borderlines
Martha Sprackland - Refugees [juvenilia]
J.M. Coetzee - Waiting for the Barbarians
John Masefield - Sea Fever
Producer: Torquil MacLeod
Music Played
Timings (where shown) are from the start of the programme in hours and minutes
Bakhu Al-Mariyah

My longing for a tent, read by Emma Paetz

Abd al Qadir

The Life of the Nomad, read by Nicholas Farrell

T.E. Lawrence

The Seven Pillars of Wisdom, read by Nicholas Farrell

Henry Wadsworth Longfellow

To the Driving Cloud, read by Emma Paetz

Louise Doughty

Fires in the Dark, read by Nicholas Farrell

Miguel de Cervantes

La Gitanilla, read by Emma Paetz

Matthew Arnold

The Scholar Gypsy, read by Nicholas Farrell

Thomas Hardy

A Trampwoman's Tragedy, read by Emma Paetz

Dominic Hand

Borderlines, read by Nicholas Farrell

Martha Sprackland

Refugees [juvenilia], read by Emma Paetz

J.M. Coetzee

Waiting for the Barbarians, read by Nicholas Farrell

John Masefield

Sea Fever, read by Emma Paetz