Main content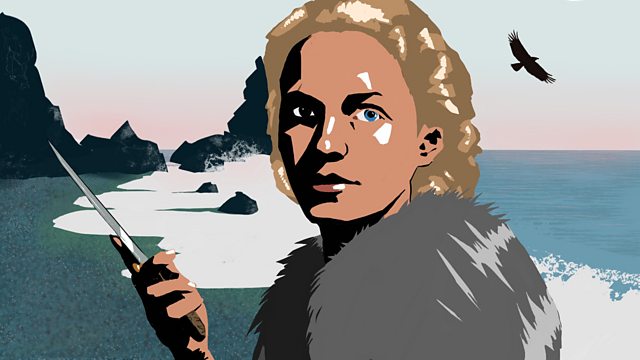 Episode 1: Sigrid
Sigrid is burdened by the knowledge that she killed the man who raised her. Now she is in England to be married. But what will happen if her secret is revealed?
By Lucy Catherine.
Set in the 11th century, the series follows Gudrun in the New World, and her estranged daughter Sigrid in England. Both mother and daughter have reasons to seek forgiveness as they forge a path through lands of unearthly beauty and uncompromising harshness.
Sigrid has arrived in England to marry a man she has never met. She must keep her darkest secrets well-hidden if she is to survive in this strange land of Saxons and Danes.
Sigrid ..... Hollie Burgess
The Virgin ..... Marilyn Nnadebe
Silvia ..... Susan Jameson
Sailor (Sc2) / Sailors ..... Chris Harper, Joseph Ayre
Gorm ..... David Hounslow
Canute ..... Aaron Gelkoff
Gunnar .... Chris Pavlo
Notes:
The series is inspired by the famous Icelanders' saga known as The Laxdoela Saga. Written in the 13th century, it tells of people in the Breiðafjörður area of Iceland from the late 9th century to the early 11th century. The Laxdæla saga remains popular and appreciated for its poetic beauty and pathetic sentiment. Since the saga has often been regarded as an unusually feminine saga, it has been speculated that it was composed by a woman.
Kate Phillips reprises the role of Gudrun. Previous roles include Jane Seymour in Wolf Hall, Linda in Peaky Blinders and Lise in War & Peace, all on BBC1.
Lucy Catherine has written extensively for BBC Radio Drama, including Friday Plays, Classic Serial adaptations and Woman's Hour series. Her 95' adaptation of THE MASTER AND MARGARITA by Mikhail Bulgakov was broadcast in early 2015 and won the BBC 'Best Audio Drama (Adapted); her 2 x 60' adaptation of Mary Shelley's FRANKENSTEIN was broadcast in December 2012 as well as her half hour 'Gothic Horror' original LOOTED. Original 10 x 14' Woman's Hour drama series HALFWAY HERE and 2 x 45' Afternoon Drama in the series 'Riot Girls', SUSAN AND EMMA were broadcast in 2016. Other recent commissions for Radio 4 include BOY and GOING SOLO, adapted from Roald Dahl's autobiography; LIGHTS, CAMERA, KIDNAP! based on a true story about Kim Jong Il.
More episodes
Previous
You are at the first episode