Main content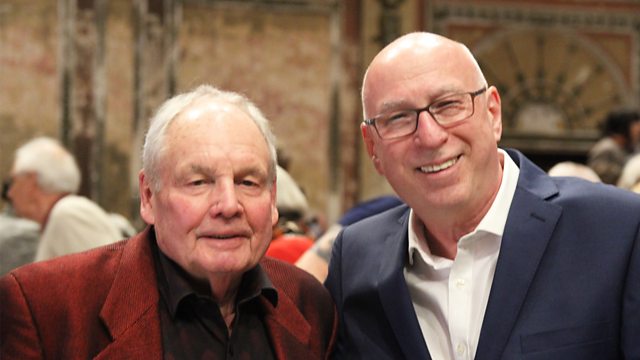 Tony Hatch's 80th Birthday
Ken Bruce presents a special concert to wish a very happy 80th birthday to one of the country's greatest songwriters – Tony Hatch.
Join Ken Bruce as we wish a very happy 80th birthday to one of the country's greatest songwriters – Tony Hatch.
The BBC Concert Orchestra and Capital Voices conducted by Richard Balcombe are joined by special guests Claire Sweeney, Jenna Russell, Michael Dore and Oliver Tompsett, to pay tribute to the man whose music-making career spans an incredible 70 years and whose songs provided a soundtrack of the sixties.
Close by the portals of the BBC's Broadcasting Houses stands All Souls, Langham Place and it was here that the young Tony Hatch first made his treble voice heard as head chorister. Tony left school when he was just 15 and started his career as a tea boy in London's Tin Pan Alley – Denmark Street. He'd brew the tea and do the filing, but he was sometimes asked to play piano for visiting artists. He once played at an audition for the "BBC's Talent Selection Group" for a new band called "The Lower Third". A member of the audition panel wrote "I don't think they'll get better with more rehearsals" - but their lead singer did; his name was David Bowie. Tony produced a number of early tracks by Bowie for Pye records before Bowie left Pye for Philips and released "Space Oddity". Tony meanwhile went on to become one of our top producers and songwriters.
He's worked with the likes of Chubby Checker, Pat Boone, The Searchers, Adam Faith, Sasha Distel, Matt Monro, Bruce Forsyth, Frank Sinatra and of course, Petula Clark. For Petula he wrote "Downtown" and then with the song-writing partnership of Jackie Trent there came "Don't Sleep in the Subway", "Colour My World", "I Couldn't Live Without Your Love"; "The Other Man's Grass Is Always Greener", "Where Are You Now?" and "Who Am I?". For Scott Walker he wrote "Joanna" and for Morecambe and Wise - "Positive Thinking".
Tony's compositions are not confined to radio. Switch on the box and you are likely to hear a Tony Hatch signature tune. He is responsible for some of our best loved television themes including "Crossroads", "Emmerdale", "Sportnight", "Mr and Mrs" and "Neighbours".
Tony's 80th birthday falls on 30th June. In this evening's concert recorded at the Alexandra Palace Theatre – a venue steeped in television history - we'll hear a selection of Tony's favourite themes, songs and archive clips from his long career.
Concert recorded at Ally Pally - 16th April 2019.
Last on
Music Played
BBC Concert Orchestra

High Adventure (Friday Night Is Music Night Sig Tune)

BBC Concert Orchestra

That's Entertainment

Claire Sweeney

,

Capital Voices

&

BBC Concert Orchestra

Down Town

Josh MacRae

Messing ABout On The River

Hello Children Everywhere: Volume 3.
EMI.
CDS 7 95569 2.
11.

Michael Dore

&

BBC Concert Orchestra

Joanna

Jenna Russell

&

BBC Concert Orchestra

I Couldn't Live Without Your Love

The Searchers

Sugar And Spice

Call Me: The Songs Of Tony Hatch CD1.
Castle Music.
CMDD 536.
3.

David Bowie

Good Morning Girl

Early On (1964-1966).
Rhino Records.
R2 70526.
15.

Oliver Tompsett

&

BBC Concert Orchestra

I Love The Little Things

Oliver Tompsett

&

BBC Concert Orchestra

If You Ever Leave Me

Claire Sweeney

&

BBC Concert Orchestra

The Other Man's Grasss

Jenna Russell

&

BBC Concert Orchestra

Don't Sleep In The Subway

Capital Voices

&

BBC Concert Orchestra

Tony Hatch TV Medley

Claire Sweeney

&

BBC Concert Orchestra

Where Are You Now My Love

Jenna Russell

&

BBC Concert Orchestra

If Only (The Card)

Jenna Russell

,

Oliver Tompsett

&

BBC Concert Orchestra

Opposite Your Smile (The Card)

BBC Concert Orchestra

Beautiful In The Rain

Michael Dore

&

BBC Concert Orchestra

Who Am I?

Benny Hill

Harvest Of Love

You Are Awful.. But We Like You!: Showbiz Comedy Titbits Of The '60s And '70s.
Pye.
5.

Eric Morecambe

&

Ernie Wise

Positive Thinking

Classic Morecambe And Wise Songs And Sketches.
EMI.
528 6022.
15.

Oliver Tompsett

&

BBC Concert Orchestra

Forget Him

Claire Sweeney

&

BBC Concert Orchestra

Colour My World

Michael Dore

&

BBC Concert Orchestra

Call Me

Frank Sinatra

Downtown

Strangers In The Night.
Warner.
8.

Claire Sweeney

,

Jenna Russell

,

Oliver Tompsett

,

Michael Dore

,

Capital Voices

&

BBC Concert Orchestra

Down Town

BBC Concert Orchestra

High Adventure (Friday Night Is Music Night Sig Tune)

BBC Concert Orchestra

That's Entertainment (Friday Night is Music Night)

Claire Sweeney

,

Capital Voices

&

BBC Concert Orchestra

Down Town (Friday Night is Music Night)

Josh MacRae

Messing About On The River

Michael Dore

&

BBC Concert Orchestra

Joanna (Friday Night is Music Night)

Jenna Russell

&

BBC Concert Orchestra

I Couldn't Live Without Your Love (Friday Night is Music Night)

The Searchers

Sugar and Spice

David Bowie

Good Morning Girl

Oliver Tompsett

&

BBC Concert Orchestra

I Love The Little Things (Friday Night is Music Night)

Oliver Tompsett

&

BBC Concert Orchestra

If You Ever Leave Me (Friday Night is Music Night)

Petula Clark

Downtown

The Ivor Novello Winners.
EMI.

Claire Sweeney

&

BBC Concert Orchestra

The Other Man's Grass (Friday Night is Music Night)

Jenna Russell

&

BBC Concert Orchestra

Don't Sleep In The Subway (Friday Night is Music Night)

Capital Voices

&

BBC Concert Orchestra

Tony Hatch TV Medley (Friday Night is Music Night)

Claire Sweeney

&

BBC Concert Orchestra

Where Are You Now My Love (Friday Night is Music Night)

Jenna Russell

&

BBC Concert Orchestra

If Only (The Card) (Friday Night is Music Night)

Jenna Russell

,

Oliver Tompsett

&

BBC Concert Orchestra

Opposite Your Smile (The Card) (Friday Night is Music Night)

BBC Concert Orchestra

Beautiful In The Rain (Friday Night is Music Night)

Michael Dore

&

BBC Concert Orchestra

Who Am I? (Friday Night is Music Night)

Eric Morecambe

&

Ernie Wise

Positive Thinking

Oliver Tompsett

&

BBC Concert Orchestra

Forget Him (Friday Night is Music Night)

Claire Sweeney

&

BBC Concert Orchestra

Colour My World (Friday Night is Music Night)

Michael Dore

&

BBC Concert Orchestra

Call Me (Friday Night is Music Night)

Claire Sweeney

,

Jenna Russell

,

Oliver Tompsett

,

Michael Dore

,

Capital Voices

&

BBC Concert Orchestra

Down Town (Friday Night is Music Night)

BBC Concert Orchestra

Happy Birthday To You (Friday Night is Music Night)

BBC Concert Orchestra

High Adventure (Friday Night Is Music Night Sig Tune)
Broadcasts