Main content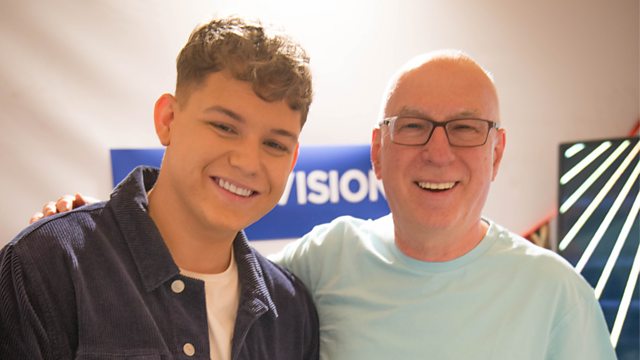 Live in Tel Aviv, Israel for Eurovision 2019
Ken is live in Tel Aviv, Israel for the Eurovision Song Contest 2019. He's chatting to Michael Rice - the UK's entry to this year's competition.
Ken broadcasts live from Tel Aviv, Israel ahead of the sixty-fourth Eurovision Song Contest. He's chatting to Michael Rice - the UK's entry to this year's competition. Plus Ken also looks ahead to some of the songs tipped to score the big points in the final with broadcaster, journalist and self-confessed Eurovision super fan Paddy O'Connell. Måns Zelmerlöw, who won the contest in 2015 for Sweden, drops in to see Ken and talk about taking part in the interval for this year's Grand Final. Måns is performing as part of a section the organisers are calling 'Switch Song' in which Conchita Wurst will sing Måns Zelmerlöw's Heroes, Måns will sing Eleni Foureira's Fuego, Eleni will sing Verka Serduchka's Dancing Lasha Tumbai and Verka will sing Netta's Toy.
Michael Rice grew up in Hartlepool and in 2018 he won the BBC's singing competition All Together Now, and in the final got 94 of the 100 judges, including Geri Halliwell, up on their feet to win the show. He spent most of his £50,000 prize money opening his own dessert business in Hartlepool and also took his family on holiday. His favourite winners of the Eurovision Song Contest recently have been Måns Zelmerlöw and Salvador Sobral. The UK song entry 'Bigger Than Us' which Michael will be singing was written by Jonas Thander, Anna-Klara Folin, John Lundvik and Laurell Barker.
41 countries are taking part in the Eurovision Song Contest in 2019, with Bulgaria absent for the first time since 2015 and Ukraine also pulling out. The contest will take place in Israel for the third time; they have previously hosted the event in 1979 and 1999. They declined to host the competition in 1980 after winning for a second time in a row. In 2018, Netta won the final with her song 'Toy' in Lisbon, Portugal.
Ken also has another round of the PopMaster music quiz and if you want to contact the show, just email - ken.bruce@bbc.co.uk