Main content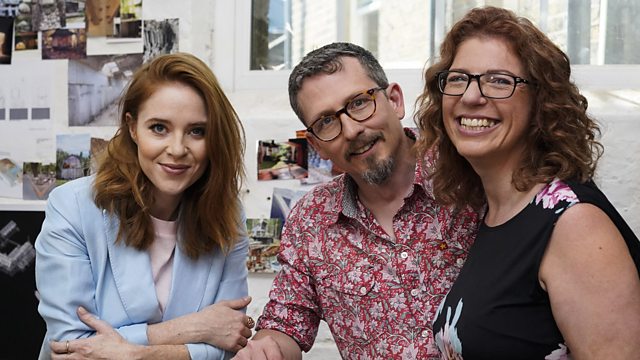 Episode 5
Two architects compete using virtual reality to win a commission to remodel a home in Wiltshire. Will the finished build live up to the hopes of the family who live there?
Imagine stepping inside your home, but suddenly it has transformed beyond your wildest dreams, without ever opening a can of paint or lifting a single brick. Angela Scanlon presents a property makeover series like no other. Cutting-edge virtual reality and visual effects enable people to see what the future of their home could look like, before building it in reality.
Never have plans come to life like this - people can instantly explore a stunning transformation of their bedroom, walk around an incredible double-height kitchen or see how adding a gigantic picture window will turn a dingy lounge into a showstopping sitting room. In each episode, a family is presented with two radically different designs by two extraordinary architects, before deciding which to commission.
In 2015 Becky and Cris moved from a small cottage to a four-bed 1960s house in Wiltshire, hoping it would provide desperately needed space for their growing children. A family of keen musicians, they also hoped a large reception room would give them the opportunity to play their instruments together. But three years later the house is awkward and unhomely with dark and uninviting rooms. A poor layout means the four of them live quite separately, and those dreamed of musical get-togethers never happen.
Becky and Cris have tried to solve the problems with the house but can't find a design that works for them and their budget of £45,000. Desperate to bring the family together, they have handed over control to two competing architects, Laura Jane Clark and Robert Jamison. Laura, who specialises in creatively reimagining residential architecture, goes head to head with Robert, who has a reputation for unconventional and maverick ideas.
Each architect interprets the brief in wildly different ways and pitches them to Becky and Cris using virtual reality. Laura has come up with clever way to draw light into dark areas of the house, as well as connecting up the living space, whereas Robert has totally redesigned the ground floor in an unexpected and unorthodox way. Becky and Cris are delighted by both, but how will they make the near impossible decision of which one to go with?
As the episode nears its end the final, most important reveal is yet to come - it is time to see what has been built in real life. Angela and the chosen architect arrive at Becky and Cris's once dark and divided home to the most breath-taking transformation. The real-world reveal manages to rival anything seen in virtual reality whilst achieving the ultimate goal of uniting the family with this life-changing renovation.
Music Played
Timings (where shown) are from the start of the programme in hours and minutes
Credits
| Role | Contributor |
| --- | --- |
| Presenter | Angela Scanlon |
| Expert | Laura Clark |
| Expert | Robert Jamison |
| Series Producer | Sarah Knight |
| Series Producer | Zoe Page |
| Executive Producer | Kitty Walshe |
| Executive Producer | Joff Wilson |
| Director | Ollie Scarth-Saunders |
| Director | Tom Weston |
| Production Company | Remarkable Television |