Main content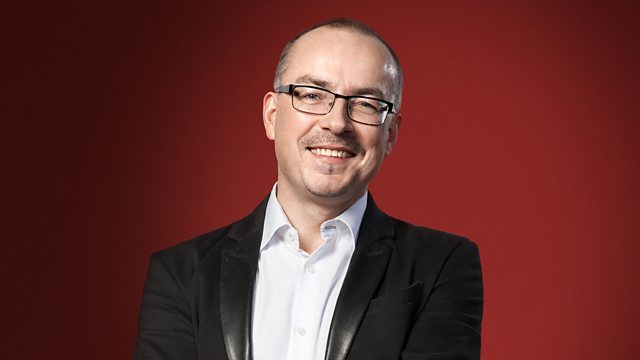 Andrew McGregor with Tom McKinney and Jeremy Summerly
The best new classical releases, plus in Building a Library Tom McKinney compares recordings of Poulenc's Concerto for two pianos, and Jeremy Summerly reviews new choral recordings
with Andrew McGregor.
09.30
Building a Library: Tom McKinney picks a favourite from among the available recordings of Poulenc's Concerto for two pianos.
Francis Poulenc, darling of the most fashionable French aristocratic salons, described himself as 'wildly eclectic', an epithet that exactly fits his 1932 Concerto for two pianos. With its combination of influences including Stravinsky, Balinese gamelan and music-hall, the Concerto's moods range from zany slapstick in the outer two movements to, in the middle Larghetto, a heartfelt homage to Mozart, the composer Poulenc preferred above all others.
10.50
Jeremy Summerly reviews a wide-ranging selection of new choral recordings.
11.25
Andrew chooses an outstanding new release as his Disc of the Week.
Record Review
9.00am

Saint-Saëns: Piano Concertos Nos. 3-5
Alexandre Kantorow (piano)
Tapiola Sinfonietta
Jean-Jacques Kantorow (conductor)
BIS 2300 (SACD Hybrid)
https://bis.se/performers/kantorow-alexandre/saint-saens-piano-concertos-nos-3-5

Rachmaninov: Piano Trios Nos.1 & 2 + Grieg: Andante con moto & Suk: Elegie, Op.23
Trio Wanderer (piano tro)
Harmonia Mundi HMM 902338
http://www.harmoniamundi.com/#!/albums/2517

Masses for Double Choir by Kenneth Leighton & Frank Martin
The Choir of King's College, London
Joseph Fort (director)
James Orford (organ)
Delphian DCD 34211
http://delphianrecords.co.uk/product-group/frank-martin-kenneth-leighton-masses-for-double-choir/

'Il cembalo transalpino' – Keyboard music from the Fitzwilliam Collection by Sabbatini, Corelli, Arresti, Frescobaldi etc.
Sophie Yates (early 17th century harpsichord by G. B. Boni)
Chaconne CHAN 0819
https://www.chandos.net/products/catalogue/CHAN%200819

9.30am – Building a Library – Tom McKinney on Poulenc's Concerto for Two Pianos
Composer: Francis Poulenc
Reviewer: Tom McKinney
Recommended Recording:

Eric le Sage & Frank Braley (pianos)
Orchestre Philharmonique de Liege (orchestra)
Stephane Deneve (conductor)
Sony G010003457479A (download)
Other Recommended Recordings:
Sylviane Deferne & Pascal Rogé (pianos)
Philharmonia (orchestra)
Charles Dutoit (conductor)
Decca 4365462

Francis Poulenc & Jacques Février (pianos)
Paris Conservatoire Orchestra
Pierre Dervaux (conductor)
Erato 6955842
10.20am – New Releases

Bruckner: Symphonies Nos.6 & 9 + Wagner: Siegfried Idyll & Parsifal Prelude
Gewandhausorchester Leipzig
Andris Nelsons (conductor)
Deutsche Grammophon 483 6659 (2 CDs)
https://www.deutschegrammophon.com/en/cat/4836659?COMP_ID=GRIED&ADD_OTHER=1&ART_ID=JARNE

Saariaho: 'True Fire' for baritone and orchestra, 'Ciel d'hiver' for orchestra & 'Trans' for harp and orchestra
Gerald Finley (bass-baritone)
Xavier de Maistre (harp)
Finnish Radio Symphony Orchestra
Hannu Lintu (conductor)
Ondine ODE 1309-2
https://www.ondine.net/?lid=en&cid=2.2&oid=6266

Mozart: Piano Sonatas K280, K281, K310 & K333
Lars Vogt (piano)
Ondine ODE 1318-2
https://www.ondine.net/?lid=en&cid=2.2&oid=6265

10.20am – New Releases – Jeremy Summerly on Choral Releases

Zelenka: Missa omnium sanctorum
Carlotta Colombo (soprano)
Filippo Mineccia (alto)
Cyril Auvity (tenor)
Lukas Zeman (bass)
LaBarocca (ensemble)
Ruben Jais (conductor)
Glossa GCD 924103
http://www.glossamusic.com/glossa/reference.aspx?id=485

'Music for Saint Katherine of Alexandria' – Sacred choral music by Frye, Byttering, Dunstaple & Driffelde + Anonymous works
The Binchois Consort (choir)
Andrew Kirkman (director)
Hyperion CDA 68274
https://www.hyperion-records.co.uk/dc.asp?dc=D_CDA68274

Fauré: Requiem; Poulenc: Figure humaine; Debussy: Trois Chansons de Charles d'Orléans
Ensemble Aedes (choir)
Les Sièclea (ensemble)
Mathieu Romano (director)
Aparte Music AP 201
http://www.apartemusic.com/discography/faure-requiem-ensemble-ades-les-siecles/
'Reports' – Choral works by Perttu Haapanen
Helsinki Chamber Choir
Nils Schweckendiek (conductor)
BIS 2452
https://bis.se/performers/helsinki-chamber-choir/reports-choral-works-by-perttu-haapanen

Verdi: Messa da Requiem
Krassimira Stoyanova (soprano)
Marina Prudenskaja (mezzo-soprano)
Charles Castronovo (tenor)
Georg Zeppenfeld (bass)
Staatskapelle Dresden (orchestra)
Sachsischer Staatsopernchor Dresden (choir)
Christian Thielemann (conductor)
Hänssler PH 16075

11.20am – Record of the Week
Mieczysław Weinberg: Symphonies Nos.2 & 21 'Kaddish'
Gidon Kremer (violin)
Kremerata Baltica (orchestra)
City of Birmingham Symphony Orchestra
Mirga Gražinytė-Tyla (conductor)
Deutsche Grammophon 483 656
https://www.deutschegrammophon.com/en/cat/4836566