Main content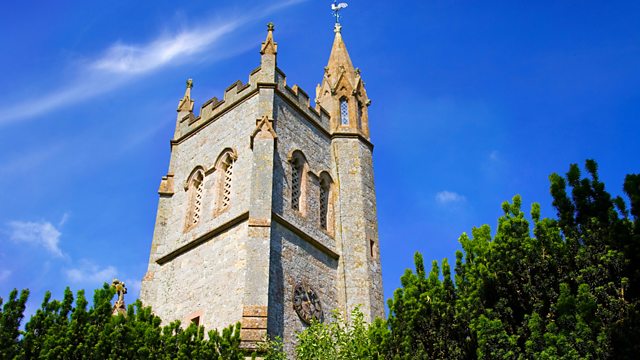 Sing a New Song
The Bishop of Gloucester preaches at a service for Eastertide live from the Chapel of Dean Close School in Cheltenham.
Celebrating Eastertide with singing is the topic explored by the Bishop of Gloucester, the Right Reverend Rachel Treweek who preaches at the Chapel of Dean Close School in Cheltenham. Music includes the hymns "Angel Voices Ever Singing" (Angel Voices) and "How shall I sing that Majesty" (Coe Fen). Vaughan Williams' "Benedictus" will feature the voice of one of this year's "BBC Radio 2 Young Choristers of the Year", Cassian Pichler-Roca. The choir, Tewkesbury Abbey Schola Cantorum of Dean Close Preparatory School, is directed by Simon Bell and the organist is James Lancelot. The service is led by the Reverend Canon Paul Williams, Vicar of Tewkesbury Abbey. The producer is Janet McLarty.
Script
CONTINUITY ANNOUNCER
The Bishop of Gloucester, the Right Reverend Rachel Treweek (pron. Tru-wik) preaches on Sunday Worship now, live from the chapel of Dean Close School in Cheltenham.  The service is introduced by the Reverend Canon Paul Williams and opens as the congregation, led by Tewkesbury Abbey Schola Cantorum, sings the hymn "Angel voices ever singing" 
Hymn: Angels voices ever singing   tune. Angel Voices   
PAUL WILLIAMS
Welcome to this Chapel in the centre of our school's campus and at the centre of its life.  In the life, death and resurrection of Jesus, God has done something new and the world will never be the same again: dark death has been defeated and radiant life is everywhere restored. 
 Our theme for this morning is 'Sing a new song'.  We gather with Easter still very much in our hearts and minds as we celebrate Christ's rising from the dead.  With songs on our lips, we will call the whole of creation to share in our joy.  For, as we ponder the depths of God's love, speech often fails us, and words alone can never bear the full weight of meaning.  So, God has given us the gift of music.  We break out into singing echoing the songs of heaven.   'With craftsman's art and music's measure' let us bring before God our awe and wonder, our joy and laughter, our thanks and praise, and our everlasting adoration as we repeat the endless song of praise:
Blessed be God, Father, Son and Holy Spirit.
All: Blessed be God for ever.       
Choir:  Preces and Responses: Rose      
JACK  (1st Reading: Exodus 14:21-15:1a)
Our first reading from the Book of Exodus sees the People of God freed from their oppressive slave masters.  They respond to God's mighty act at the parting of the Red sea by singing a song.
Then Moses stretched out his hand over the sea. The LORD drove the sea back by a strong east wind all night, and turned the sea into dry land; and the waters were divided. The Israelites went into the sea on dry ground, the waters forming a wall for them on their right and on their left. The Egyptians pursued, and went into the sea after them, all of Pharaoh's horses, chariots, and chariot drivers.  At the morning watch the LORD in the pillar of fire and cloud looked down upon the Egyptian army, and threw the Egyptian army into panic.  He clogged their chariot wheels so that they turned with difficulty. The Egyptians said, 'Let us flee from the Israelites, for the LORD is fighting for them against Egypt.'
Then the LORD said to Moses, 'Stretch out your hand over the sea, so that the water may come back upon the Egyptians, upon their chariots and chariot drivers.' So, Moses stretched out his hand over the sea, and at dawn the sea returned to its normal depth. As the Egyptians fled before it, the LORD tossed the Egyptians into the sea. The waters returned and covered the chariots and the chariot drivers, the entire army of Pharaoh that had followed them into the sea; not one of them remained. But the Israelites walked on dry ground through the sea, the waters forming a wall for them on their right and on their left.
Thus, the LORD saved Israel that day from the Egyptians; and Israel saw the Egyptians dead on the seashore. Israel saw the great work that the LORD did against the Egyptians. So, the people feared the LORD and believed in the LORD and in his servant Moses.
Then Moses and the Israelites sang this song to the LORD:  
Choir:  Exodus 15:1b-7 – canticle by A J Reid 
f 1. I will sing unto the Lord, for he hath / tri-umphed / gloriously:
the horse and his rider he has / thrown -- / into . the / sea.
 2. The Lord is my strength and song, *  and he has be- / come . my sal- / vation:
this is my God and I will praise him;  * 
my / father's . God, and / I will . ex- / alt him.
Dec 3. The Lord is a man of war, the / Lord . is his / name:
Pharaoh's chariots and his host has he / cast -- / into . the / sea.
Can 4. His chosen officers are sunk in the / Red -- / Sea:
the floods cover them;  *  they went / down in-to the / depths . like a / stone.
Full  ff 5. Thy right hand, O Lord, is become / glorious . in / power:
thy right hand, O / Lord, -- / shatters . the / enemy.
mp
cresc
cresc 6. Thou wilt bring in thy people and plant them on thine / own -- / mountain:
the place, O Lord, which thou hast made for thine abode;  *
the sanctuary, O / Lord, . which thine / hands . have es- / tablished.
F 7. The Lord will reign for ever and ever
Beth  (2nd Reading: Revelation 7: 9-end)
In St John's vision from the Book of Revelation heaven is opened, and we see heaven and earth gathered for worship.   Here singing is used to proclaim the greatness of God and the assurance of God's love to all who have passed through suffering.  
After this I looked, and there was a great multitude that no one could count, from every nation, from all tribes and peoples and languages, standing before the throne and before the Lamb, robed in white, with palm branches in their hands. They cried out in a loud voice, saying,
'Salvation belongs to our God who is seated on the throne, and to the Lamb!'
And all the angels stood around the throne and around the elders and the four living creatures, and they fell on their faces before the throne and worshipped God, singing,
'Amen! Blessing and glory and wisdom
and thanksgiving and honour
and power and might
be to our God for ever and ever! Amen.'
Then one of the elders addressed me, saying, 'Who are these, robed in white, and where have they come from?' I said to him, 'Sir, you are the one that knows.' Then he said to me, 'These are they who have come out of the great ordeal; they have washed their robes and made them white in the blood of the Lamb.
For this reason they are before the throne of God,
   and worship him day and night within his temple,
   and the one who is seated on the throne will shelter them.
They will hunger no more, and thirst no more;
   the sun will not strike them,
   nor any scorching heat;
for the Lamb at the centre of the throne will be their shepherd,
   and he will guide them to springs of the water of life,
and God will wipe away every tear from their eyes.'
This is the word of the Lord.
All: Thanks be to God.       
PAUL WILLIAMS
The New Testament song associated with Morning Prayer takes the words of a father recognising that his son, John the Baptist, will be the herald for Jesus, the promised Messiah who brings salvation and mercy, compassion and peace.  The words of the Benedictus from Luke Chapter 1 are set to the music of the 20th century English composer, Vaughan Williams. 
 
Choir: The Benedictus (no Gloria)     

PAUL WILLIAMS / Jack /Beth
In the name of Jesus, and by the power of the Spirit, let us pray to the Father.
Choir: Do justice, love mercy, walk humbly with your God.
Lord of life, in rising from the dead you bring new hope that reaches beyond this life. 
Fill your Church with this Good News that we may proclaim your salvation anew.
Bless Rachel our Bishop and all the leaders of the Church, and raise our voices to sing of your Kingdom.
Choir: Do justice, love mercy, walk humbly with your God.
Lord of life, you make all things new.
Grant us to ever worship you in Spirit and truth.
We thank you for the gift of music that carries our worship to heaven, may the songs of our lips ever sing of your praise.
Choir: Do justice, love mercy, walk humbly with your God.

Lord of life, you announce peace to your world
Breathe upon the nations a desire for harmony and concord.
Shatter the fears that affect our political life,
And pour out your blessing on all peace-makers and peace keepers.
Choir: Do justice, love mercy, walk humbly with your God.

Lord of life, your appearing changed lives and made witnesses from broken people.
Give hope to all who seek your transforming love.
Form us, and our communities in your grace and likeness,
That we may serve one another as you have served us.
Choir: Do justice, love mercy, walk humbly with your God.
Lord of life, you make the day dawn with promise.
Raise the spirits of all who are ill or bear heavy burdens.
Strengthen those who carry the Christ-light for them,
And bring us through times of trial to praise and glorify your name.
Choir: Do justice, love mercy, walk humbly with your God.
Lord of life, from the darkness of death, you were raised to life.
Shine this light on all who have died and those who grieve for them.
Bring us with the redeemed to share in your eternal kingdom;
That all may see your majesty and sing the songs of heaven.
Choir: Do justice, love mercy, walk humbly with your God.
PAUL WILLIAMS
As our Saviour has taught us, so we pray:
Our Father, who art in heaven,
Hallowed be thy name;
Thy kingdom come;
Thy will be done;
On earth as it is in heaven.
Give us this day our daily bread.
And forgive us our trespasses
As we forgive those who trespass against us.
And lead us not into temptation;
But deliver us from evil.
For thine is the kingdom,
The power and the glory,
For ever and ever. Amen.
Jack & Beth
Our School Prayer:
Almighty God, we thank you
For the gift of your Holy word.
May it be a lantern to our feet,
A light to our paths,
And a strength to our lives.
Take us and use us
To love and serve everyone
In the power of the Holy Spirit
And in the name of Your Son,
Jesus Christ our Lord.
Amen  
          
PAUL WILLIAMS
The Hymn book of the Older Testament is the Book of Psalms, and holds an honoured place in both Jewish and Christian worship.  Psalm 96 reminds God's people that they should be ready for something new and summon the earth to newness and joy.  Our anthem, A New Song, is set to music by the contemporary Scottish composer and lay Dominican, Sir James Macmillan.           
Anthem: A New Song       

PAUL WILLIAMS
John Mason's poetic words set to the rousing tune of Coe Fen by Ken Naylor accounts for the popularity of our next hymn: How shall I sing that Majesty.  It reminds us that our worship is supported by the whole company of heaven and that which the whole universe offers.
Hymn: How shall I sing that Majesty t. Coe Fen  
 
Sermon:  +Rachel 
As a bishop I frequently find myself in places of song – and it is good to be here today singing at Dean Close School - and delightful to hear Cassian - this  year's BBC Radio 2 Young Chorister of the Year.
In the past few weeks I've not only participated in singing in church and cathedral worship with people of all ages, but also with women in prison and patients in hospital. And all of it has been music of hope even in places of struggle.
In this hope-filled season of Eastertide there will have been much singing in Christian churches across the world, including places of suffering and struggle. For example, I think of Mozambique following the devastation caused by cyclones. In the past I have had the privilege of joining in worship with Christians there on numerous occasions and been uplifted by wonderful African harmony and vibrant song. I know that will have continued where possible.
.. There would have been joyous singing in those churches in Sri Lanka just minutes before the bombs went off. And then in recent days there will have been singing around gravesides – As in so many places, songs of grief and lament yet rooted in hope.
This year one of my most poignant moments of singing was also in a place of burial, as I sang with a small group of women in a cemetery in Srebrenica in Bosnia surrounded by the graves of men and boys murdered in an act of genocide in 1995. Yet even in a place of pain and lament we sang of hope and gave praise to God.
Earlier in our worship today we recalled Moses and the people of Israel hundreds of years before Jesus Christ came to earth. The people were escaping from struggle and slavery in Egypt and miraculously the sea became dry ground, but when those pursuing followed on the sea covered them. And so the Israelites, led by Moses, sang a new song of thanksgiving, recognising God as a God of rescue and new possibility. Hundreds of years later that was fully revealed in the events of the first Good Friday and Easter day:
Jesus Christ Son of God cruelly killed by being nailed to a cross, reveals his overwhelming love for the world not only in his dying but also in his rising from death. Pain and darkness and death and despair will not have the last word. There has been mysterious and generous rescue and new possibility.  
And in time when Jesus has left his followers to return to God the Father, and the Holy Spirit has come to dwell within them and between them, their new song grows ever louder as they begin to see more clearly that the God of rescue is making all things new.
Before I was ordained I was a speech and language therapist and I am acutely aware of many children and adults, created in God's image, who have no speech or voice. And our theme today of 'singing a new song' is not simply about lips and vocal chords and musical notes... This is about giving glory to God with our being – who we are. It is about hearts and souls encountering our living God through the work of the Holy Spirit, and living the hope of Jesus Christ amid the people and places of our daily lives. It is about our very being singing a new song and pointing to our God who is making all things new.
In our second reading today we heard that strange and beautiful imagery in the mysterious vision of John recorded in the Book of Revelation. The symbolism and imagery reveals God's promise of all being made new, and that one day there will be an end to suffering, brokenness and destruction. No more hunger, no more thirst, no more tears - And there is singing in the presence of God who is worshipped in unending song.
I frequently ask people the question 'what makes your soul sing?' And by that I mean what is it that gives you delight and makes you feel fully alive and fully yourself? It is often a question I ask to invite hope and what might be, as I encourage someone to go on becoming who they've been created to be, in relationship with God and other people and the world around.
As we live this season of Eastertide amid the world's beauty and brokenness - indeed amid political uncertainty and division in our own country – we are invited to take hold of hope as we each go on becoming.
Because of what has happened that first Easter and what will happen when one day all is made new, we can sing a new song in the here and now. And it doesn't matter if we have a beautiful voice or no voice - We are each invited to bring our stories and take hold of Jesus Christ's life-changing hope as we sing a new song.  Amen.
PAUL WILLIAMS
Our final hymn: There's a wideness in God's mercy
Hymn: There's a wideness in God's mercy t. Coverdale 

+Rachel -Blessing 
May God, who gives patience and encouragement
Give you a spirit of unity
To live in harmony as you follow Jesus Christ
So that with one voice
You may glorify the God and Father of our Lord Jesus Christ
And the blessing of God Almighty
The Father, the Son and the Holy Spirit,
Be among you and remain with you always.     
Organ voluntary