Main content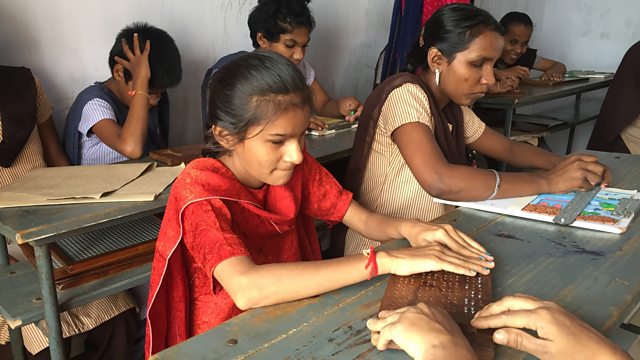 Why Do Sighted People Want To Tell Blind People's Stories?
A sighted author on writing a book about a woman regaining sight, a global project to tell the stories of blind women and one listener's story of accepting her blindness.
A sighted author on writing a book about a woman regaining sight.
A project to tell the stories of blind women around the world.
And one listener's view on accepting her blindness.
Presenter: Peter White
Producer: Lee Kumutat
Pictured: A blind girl learning braille in a school in India. Courtesy of the 'A Light in Darkness' project.
A Light in Darkness
This project "aims to show real examples of visual impaired women around the world turning a disability into an extraordinary skill through music, education, empowerment and medical care." You can find out more on their
website
.
In Touch Transcript: 14-05-19
Downloaded from www.bbc.co.uk/radio4
THE ATTACHED TRANSCRIPT WAS TYPED FROM A RECORDING AND NOT COPIED FROM AN ORIGINAL SCRIPT.  BECAUSE OF THE RISK OF MISHEARING AND THE DIFFICULTY IN SOME CASES OF IDENTIFYING INDIVIDUAL SPEAKERS, THE BBC CANNOT VOUCH FOR ITS COMPLETE ACCURACY.
IN TOUCH – Why do sighted people want to tell blind people's stories?
TX:  14.05.2019  2040-2100
PRESENTER:           PETER WHITE
PRODUCER:             LEE KUMUTAT
White
Good evening.  Tonight, it's all about getting it right from the first-time novelist writing about what it's like to be blind, when he can see perfectly well to the sighted journalist who focuses on blind women making a difference around the world.
But we start with what you could say is the lifeblood of In Touch, the stories of our listeners.  Recently we heard from three people discussing coming to terms with blindness, what did that mean and how would you know when you had.  Well, amongst the response it provoked was this from listener Catherine McAteer.  Catherine would like to have read this herself but due to a very busy schedule we weren't able to find a good time, it's read here by a member of the BBC drama team.
McAteer (read)
As a result of a rare eye condition I lost my sight a couple of months before my 25th birthday.  Over a few weeks I went from being an independent young woman to being an utterly dependent one – having to rely on family and friends to help me with my shopping, cooking, reading, getting around and much, much more.  In the weeks and months that followed my sight loss I felt devastated by the enormity of what I had lost, enraged that it had happened to me at all and terrified by the darkness that surrounded me.  I simply couldn't get my head around how I was going to live the rest of my life as a blind person.  Back then, the only image I had of blindness was that of an elderly neighbour being slowly guided past our house every afternoon by his daughter – an image that gave me no hope at all.
Thanks to the RNIB's Talking Book service I was able to read a number of books written by people who had themselves lost their sight.  In one of these books, I think it was written by David Scott Blackwall, I came across the following couple of sentences.  "I began by pretending I could cope with being blind.  Then, one day, I woke up and realised I could."  Those two short sentences not only gave me hope for the future but also gave me a way to begin coping with my sight loss.
So, like David, I pretended that I would, of course, be able to read and write Braille.  That I would, of course, be able to get around with the use of a long cane.  That I would, of course, be able to cook without sight.  In short, that I would, of course, regain my independence.  Then, one day, I woke up and realised I had.
With the help of my local social services I learned the necessary skills to look after myself again.  This enabled me to return to college, where I first trained as a counsellor and later as a psychotherapist.  And for the last 34 years I've been working in a variety of therapeutic settings.  And for the past 14 I've been the head of a multidisciplinary therapeutic service for young people. 
And have I accepted my blindness?  Like the contributors to the programme my answer is both yes and no.  To a large extent I have accepted it, so much so that I even forget that I'm blind for long periods at a time.  But there are still days where I find myself wishing with all my heart that I could see for just one minute, so that I could easily find that earring I dropped on the floor, enjoy the smile on my husband's face or take pleasure from seeing and not just smelling the beautiful flowers I was given.  So, for me, acceptance is not a static state, as I can still be hijacked from time to time by my grief at what I no longer have and once got such pleasure from.
White
The thoughts there of listener Catherine McAteer, read by Jessica Treen.
And Catherine's ultimately highly successful academic career only goes to show again what can be achieved with the right attitude and the right opportunities.  That's why we were very interested when we found a project which is seeking to highlight achievements by visually impaired women around the world, who are turning their disability into an opportunity.
Well, one of the team of journalists who are promoting their stories is Elena del Estal and I asked her what gave her the idea.
Estal
Me and my colleague, Victor Olazábal, we both lived in India for several years and while living there we always thought like how – I mean every time we saw a blind or visually impaired person we couldn't imagine like how it could be to be blind there in India.  So, we always wanted to make some stories and work on some stories about blind people and then we saw this grant from the European Journalism Centre, they were looking for stories that gives opportunities to women.  We start researching and then we found very interesting things that happen in several countries, so that's how we wanted to – yeah we wanted to highlight different stories from how different blind women and visually impaired people deal in their daily life.
White
And Elena, something I hadn't realised really, why are women more likely to be blind in many parts of the world?
Estal
Women, they get less access to healthcare systems than men.  I mean they have more chances to develop, from an illness that can be treatable, they have more chances to become blind from it than boys in the same family.  This is happening in many developing countries but then it's true, we'll have to say, that in some other developing countries they are making more efforts to get access to – to get women in the healthcare system.  So, this is something that is improving little by little.
White
Tell us about some of the stories that you're planning to cover.
Estal
We thought that the first opportunity what can make real change in blind girl or child is to have an access to education.  In India we cover a school for blind girls.  We witness and we cover how access to education, but not just for education but also having some vocational training that gives opportunities for having a job and for being independent, economically independent as well.  Then we went to Egypt in Cairo where we found orchestra, integrated by blind women and visually impaired women and yeah, they are professional musicians.  Then we went to Ethiopia and in Ethiopia we met Nafisa Baboo, she's a visually impaired woman, and she's working in inclusive education in developing countries.  That means that in the school disabled kids and non-disabled kids they learn together.
White
So, just give us a sense of what we're about to hear of some of the recordings you've done.
Estal
We'll start with Nafisa Baboo, she's from Ethiopia and yeah, we can also listen to some teachers in the school in India and also the women who play instruments in Egypt.
Clips from stories
I think that school is like a microcosm of the society we want to create right, where people are appreciated for other abilities and also where everybody is seen to have a talent.
When a child became blind most of the people thinks it is a curse of world and they don't believe in medical treatment.  Many of our girls became blind because of a small cause, because of her careless parents she became blind.  And this was very bad.
I think your identity in often like this whole thing about who are we as human beings, like having a visual impairment isn't all I am about, I'm a person with aspirations, I'm a woman, I'm a mother now, I have interests.
Music
When I'm playing music really I feel that how much I'm stronger with my music because I feel that I am in another world, that I'm living in another world.
Music
Music means not only emotions, music means [indistinct words] creativity.
The people now they are persuaded 100% that there is no word disability in the dictionary of life.
Music
And I think that that is what we need to focus on, is to focus on the abilities and we have different abilities, everybody does.  And if we see people like that then we will really be able to improve the quality of education, the quality of life and of every person, right, because you change – you change the lens through which we see the world.
White
And as well as what we've just heard, I think there's an example where blind people's particular skills are being used in diagnosis of illness?
Estal
And then we went to Colombia where there is a programme in several health centres where visually impaired women, they help doctors to detect breast cancer.  So, these women they have a higher sensitivity in their sense of touch, they can detect smaller tissue alterations than doctors.  So, that improves also their early detection of breast cancer and this is a great opportunity, not just for visually impaired women that they can do this job better than a sighted doctor but this is also creating opportunities for women all over the world because cancer is a global health problem.
White
And who do you think it's important hears these stories?
Estal
So, I think it is really important that visually impaired people, they listen to these stories to know that other people all over the world they suffer same disability and they are doing things.  But I think most of all, it's really important for people who has no disability to be aware that visually impaired people they can have – I mean it's not that different, our life.
White
That was Elena del Estal and her colleague Victor Olazábal, who sent us the audio.  And we plan to feature some of these stories on In Touch over the next few months.
Elena and Victor are dealing in facts but blindness continues to inspire a steady stream of fiction.  Now we are a pretty tough audience – blind people – ever on the lookout for over-sentimentality, inaccuracy.  So, it's a brave or foolish writer who embarks on such a project but Joe Heap is one such and his novel Rules of Seeing, takes an intriguing line.  Now plenty of authors have been attracted by the miracle cure but in the case of Joe's heroine, Nova, blind from birth and quite happy as she is, thank you very much, she's none too sure she wants the treatment when it's offered.  And when she does have the operation finds the whole business of seeing confusing, sometimes frightening and very hard work.  This is Nova trying to explain this to her friend Kate:
Clip from Rules of Seeing
"Because it's like all of these conversations are going on simultaneously – colour and depth, shape and texture, light and dark – and I'm trying to translate them all at once.
Rule of seeing number 78:  Watching someone while they talk is like hearing an echo – the image lags behind the world.  Sighted people do not experience this."
"Wow," Katie's lost for words.
"But hey, I think it'll get easier."
Nova chuckles, a habit of hers when she feels she's made someone uncomfortable.
"I'm coming up with all these rules in my head to help me remember it all.  The rules of seeing."
White
That's an excerpt of the book narrated by Cariad Lloyd.  Well, woven around this idea is a book that's also a thriller and a romance.  I asked author Joe Heap what had been his perceptions about blindness before writing it.
Heap
I thought that blind people, in general, either had guide dogs or wanted guide dogs.  I thought of them as existing in total darkness.
White
But why a story about getting sight back?
Heap
I read a newspaper article, I think it was in 2003, and it was written by a guy called Michael May and he was a fascinating guy, he was blinded at the age of three in an accident and at the age of 46 his doctor offered him the chance to have a new therapy using stem cell transplants to potentially regain some of his vision.
White
And I mean we heard in the clip there why Nova was finding it so difficult to adjust and your descriptions of that, which were very powerful, but how did you come up with them – did you get those from Mike?
Heap
Yes, some of them came from Mike and his descriptions of seeing landscapes for the first time.  I think the thing that I took from Mike, early on in the novel, is he describes speaking to someone for the first time since the operation and one of the things that fascinated me about his account was that seeing was not a miracle transformation, as much as the science might be miraculous, it was difficult for him and if anything it was confusing and detracted from his experience of the world as he already had it.
White
Because there aren't many other people you could compare it with are there really?
Heap
Not currently.  I think the interesting thing is that throughout history there have been these moments where a new procedure has been developed and suddenly lots of people, who have grown to adulthood as blind people, are suddenly given the chance to see.  And the first of those would have been the invention of the cataract removal in the 1700s.  It was only a few years before that operation was developed that John Locke, the philosopher, posited that a blind person if given sight wouldn't be able to tell the difference between a sphere and a cone.  And lo and beyond, just a few years later, his pure thought experiment was put to the test and the case was called the Cheselden boy, he was, I think, 14 or 15, he'd lived all his life with cataracts and after the operation he was presented with a sphere and a cone and he couldn't tell just by looking at them which was the sphere and which the cone, he had to feel them and from that point forward he could understand that one was round and was pointy at one end.
White
You do make it clear in the book and it keeps cropping up that you've gone to a lot of lengths in order not to be disparaging about the way blind people do things and give the range.  Do you think, in doing that, you perhaps have fallen into the trap of creating almost superwoman with Nova because without giving any of the plot away she has to do various things – because this is a thriller – so she fights off attacks, she seems to be quite good at unarmed combat basically?
Heap
What I started to realise as I was writing the book was that I was trying to write a character that avoided all of the stereotypes about blind people, all of the kind of TV and film tropes about them.  And in doing so I was running the risk of falling into another one, which is the inspiring blind person.  And I appreciate that in trying to combat some of the common misconceptions about blind people that sighted people have I've written a character who is very competent and can do all sorts of things quite easily.  Now I hope that as the book goes on you see Nova's insecurities and the moments where she's unable to do things and that rounds her out.  But for me it became trying to find a balance between those two extremes.
White
Where you aware that you were taking a risk?  After all, if you write about any – well all kinds of attributes that people have but certainly disability people do tend to leap on them and say well you've got this wrong or that's a false implication.
Heap
Yeah, I was very aware of that and I hoped that my research would shield me but I think you have to be realistic and realise that as much as you research this kind of subject it's so complicated and the range of experience is so wide, you'll never get everything right.  And I was very lucky that some of the first readers of the book were the book club at the Royal National Institute for the Blind and they were very encouraging, they had obviously had reservations about a book which dealt with blindness written by a sighted author but they gave me lots of feedback.  And one of the things that they pointed out to me, which I – which hadn't come out in my research, was that there was a scene I had written where Kate invites Nova to touch her face in order to get a better sense of what she looks like and this is a scene that I have seen in TV, in film and I had just bought it hook line and sinker and I put it in the book without researching whether or not it was actually true.  And they came back to me and said – we're terribly sorry but this is from an Al Pacino movie and would it be alright if you changed it.  And that, for me, was wonderful because I would much rather change it before it was published than make that mistake in print.
White
Although there, you see, I know some people who do that, not many, but I know – so almost anything you do…
Heap
Exactly, it's – that's the thing isn't it, that there's such a range of experience and of course some people, particularly with their close relatives or children will do that.  It certainly isn't the way that I wrote it, which is pure Hollywood.
White
Joe Heap and Rules of Seeing came out in paperback earlier this month.
And that's it for tonight.  We welcome your views and reactions, as always.  You can call our dedicated phone line on 0161 836 1338 – 13 38 – where you can leave a message or a comment.  Or you can email intouch@bbc.co.uk.  For more information visit our website from where you can also download tonight's and previous editions of the programme.  From me, Peter White, producer Lee Kumutat and the team, goodbye.