Main content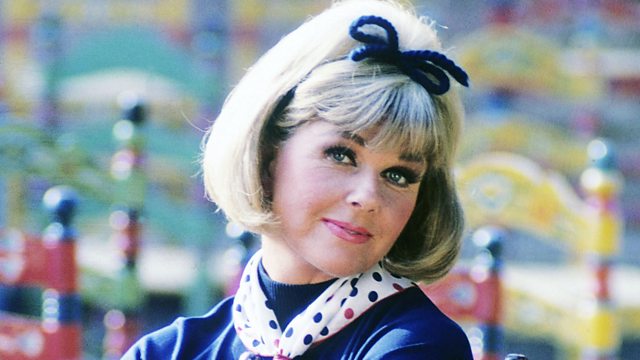 Doris Day, Brian Walden, Dorothy Rowe, Lorraine Warren
Julian Worricker on actress and singer Doris Day, broadcaster and interviewer Brian Walden, psychologist Dorothy Rowe and paranormal investigator Lorraine Warren.
Pictured: Doris Day
Julian Worricker on:
One of Hollywood's top box-office stars of the 50s and 60s, actress and singer Doris Day.
The Labour MP who became one of television's most exhaustive political interviewers, Brian Walden.
Dorothy Rowe, one of the earliest figures in psychology to build a bridge between clinical practice and the general public.
And the paranormal investigator, Lorraine Warren, whose best-known case focused on the house at the centre of the film, The Amityville Horror.
Interviewed guest: David Benedict
Interviewed guest: Matthew Parris
Interviewed guest: Tim Lott
Interviewed guest: Tony Spera
Producer: Neil George
Archive clips from: The Gloria Hunniford Show, Radio 2 10/02/1995; The Man Who Knew Too Much, directed by Alfred Hitchcock, Paramount Pictures/Filwite Productions 1956; A Point of View, Radio 4 18/03/2005; Weekend World, Radio 4 09/05/1982; Today, Radio 4 13/05/2019; The Walden Interview, BBC London Weekend Television 29/10/1989; Desert Island Discs, Radio 4 24/03/2002; The Successful Self by Dorothy Rowe read by Frances Jester, Radio 4 03/01/2007; The Amityville Horror, directed by Stuart Rosenberg, American International Pictures/Cinema 77/Professional Films 1979; The Conjuring, directed by James Wan, New Line Cinema/The Safran Company/Evergreen Media Group 2013.
Clips

Doris Day
Born 3 April 1922; died 13 May 2019, aged 97.
Last Word spoke to David Benedict, chief London critic of Variety.
Brian Walden
Born 8 July 1932; died 9 May 2019, aged 86.
Last Word spoke to writer and broadcaster Matthew Parris.
Dorothy Rowe
Born 17 December 1930; died 25 March 2019, aged 88.
Last Word spoke to writer Tim Lott.
Lorraine Warren
Born 31 January 1927; died 18 April 2019, aged 92.
Last Word spoke to her son in law Tony Spera.