Main content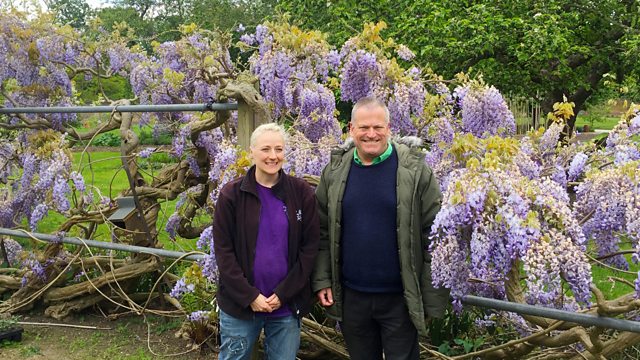 St Ives, Cambridgeshire
Kathy Clugston and the team are in St Ives, Cambridgeshire.
Kathy Clugston and the team pay a visit to St Ives in Cambridgeshire. Christine Walkden, Anne Swithinbank and Bob Flowerdew answer the questions.
This week the team give advice on how to control Lemon Balm, recommend tree species to grow in containers and talk about companion planting.
The panellists also discuss whether you can grow raspberries in pots, while a guest has brought in something Bob has been searching for.
Matt Biggs heads to Fulham Palace in West London to talk to Head Gardener Lucy Hart about the Palace Gardens' history and the impact of the botanical Bishop Compton.
Produced by Laurence Bassett
Assistant Producer: Jemima Rathbone
A Somethin' Else production for BBC Radio 4
Fact Sheet
Q – We want to plant 3 trees in tubs on the town quay. What would you recommend as species?
Bob – Trees that survive well in a container is a Christmas Tree. It survives drought and winter.
Anne – Birch (Betula) grow surprisingly well in pots especially as they have shallow roots.
Christine –Ginkgo biloba (Maidenhair tree) you can treat it in 2 ways. You can take it up as a normal tree. Or hammer it back to ground every year and it will produce 6 foot (1.8m) of growth each year with spectacular autumn colour.
Q – I love Lemon balm (Melissa Officinalis) but it has seeded itself everywhere. It is growing underneath the roots of my gooseberry bushes making it difficult to see and pick the fruits. How can I get rid of it?
Bob – It is fairly tough, but you could use a sharp spade to severe it just about half an inch down as the growth is nearly all at the surface. Or cut it back, stick in a large black flower pot on top with a brick on top (so no light gets in) as it would come up and eventually die. Then you can take away the flower pot.
Q – I have had a number of Aeonium (Tree houseleek) 'Zwartkop' for many years – but for the first time this year one has flowered. Will the stem the flowers are on die – or will the whole plant? What should I do?
Anne – Some Aeonium's are monocarpic which means when they flower the whole thing will rise up and die. The rosette that flowers will die off, but it should sprout some new shoots from below and so you can take cuttings of the shoots.
Christine – The problem is when they are big, they fall over. So, chop them in half and propagate them into stem sections by taking 3-inch (8cm) stem sections and pot them into single pots and then grow hundreds of them.
 Q – Do the panel consider companion planting when planning vegetable beds, and which companions work most successfully?
Anne – All of the legume family will fix nitrogen and will benefit plants around them. Having fruit bushes and herbs growing among the plants work. Herbs will confuse the pests will come in, and weeds can shade the ground and hold it against heavy rain and drought.
Q – Two-year-old Camellia in bad shape – flat on one side, but lush on the other – how can I make it even?
Anne – Position very important – not deep shade but not over-exposed sun, not in exposed windy position, and not facing east to avoid frost. Otherwise, after around 3 years, good to repot with new compost (ideally ericaceous).
Bob – Camellia's will take pruning.
Christine – Water in July, August, September when it's forming flower buds.
Q – Can the panel identify woody shrub, growing very slowly over last 20 years; about 120cm (47 inches) high, bright pink blossom in spring, this year small furry oval seedpods.
Christine – An almond – Prunus triloba, although to me it looks weedy.
Bob – Almond or peach flower – perhaps wild or a cross.
Plants mentioned in the feature:
-        Magnolia Virginiana (Sweetbay Magnolia)
-        Rhododendron Viscosum (Swamp Azalea)
-        Passiflora Caerulea (Bluecrown Passionflower)
-        Zingiber Officinale (Ginger)
-        Pelargonium Inquinans / Pelargonium Zonale (horse-shoe)