Main content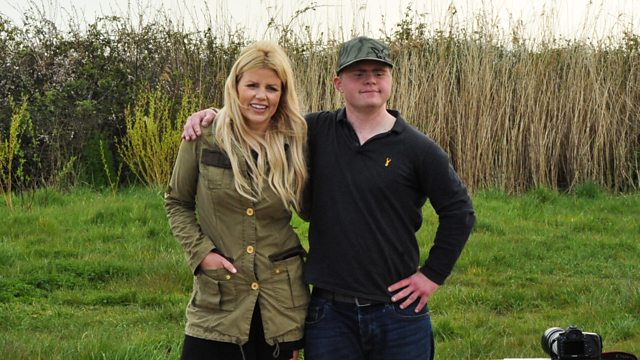 Living on the Edge
With sea levels rising and ferocious waves battering our coasts, Ellie Harrison finds out what it's like living on the edge of land and sea all year round.
It's the bank holiday weekend and millions of us will be flocking to the coast to enjoy the UK's beaches, clifftop walks and water activities.
But rising sea levels and the ferocity of the waves put our coastline, its communities and its wildlife under constant pressure, so Ellie Harrison sets off to find out what it's like 'living on the edge' of land and sea all year round.
She spends the day on the Steart peninsula on the north Somerset coast to see at first-hand the challenges coastal living can bring. The peninsula itself is home to the biggest new coastal wetland in Britain, marshes created to play a vital role in preventing flooding and fighting the impact of coastal erosion. Ellie finds out how farmland was transformed into a natural flood defence to buffer homes and businesses from rising sea levels, then meets the wetlands trust volunteers who now keep a watchful eye on the wildlife here, as well as the farmers who still manage to make a living from the land.
Internationally renowned wildlife photographer Oliver Hellowell is also on hand to show Ellie how to capture the best view of the marshes. And, down the coast, mud-horse fisherman Adrian Sellick shows how he is keeping a rare coastal business alive in the face of modern challenges.
The programme also looks back at some of Countryfile's favourite forays into coastal living.
Music Played
Timings (where shown) are from the start of the programme in hours and minutes
Steart Marshes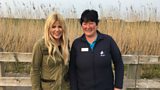 Ellie visits one of the UK's newest wetland reserves, found on the Steart Peninsula in Somerset.
Steart Marshes is an inter-tidal salt marsh created as both flood defence and habitat replacement for areas already lost to rising tides.
The Wildfowl and Wetland Trust's engagement officer and local resident Nicole Turnbull-Wigley takes Ellie on a tour to discover what's been created.
She discovers the challenges involved in turning arable farm land into a mecca for wildlife and a carbon-storing marshland.
Living on the Ledge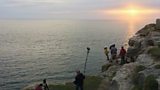 What better way to enjoy the warmer days of spring than with a camping trip, some bird-watching and a picnic.
But Anita is going to a whole different level on the Isle of Portland...roping up for a spot of cliff-camping - on a hanging cot suspended on the cliff face.
Climbing instructor Eddy Young says cliff-camping is the best way to see wildlife from a whole different perspective...while enjoying a spring sunset and some local fish and chips!
Salt Marsh Farming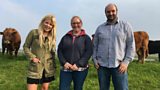 Fred and Lindsey Stone are beef farmers with a difference. 
Novice farmers a little more than eight years ago, the pair bravely took on the challenge of grazing their herd on the newly-created salt marsh here on Steart.
It was their aim to return to a low-impact style of farming. 
As learning curves go, it's a steep one and Ellie finds out how they stop their cattle getting stuck in the mud.
Sand Cattle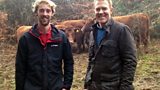 Adam's at Woolacombe in North Devon where the cattle graze on the sand dunes!  
There are real benefits from this grazing and farmer Wayne Copp works with the National Trust on the management of the livestock. 
Together, they're trialling a system called 'invisible fencing'. A cable that transmits a radio frequency is buried beneath the soil forming an invisible boundary. 
The cows wear a special collar and when they approach the cable an audio sound is activated.
 The cattle are trained to this sound and know this is as far as they should go. If they do proceed, to deter them they get a small electrical pulse through the collar.
Mud-horse Fisherman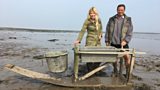 Just down the coast from Steart Marshes, you'll find a man determined to keep alive a way of life hundreds of years old: mud-horse fishing. 
The mud-horse is a trusty steed that helps Adrian Sellick, a sixth-generation fisherman, to glide across over a mile of mud to get to his nets.
There he collects an ever-diminishing haul of brown shrimp. He's the last of his kind but tradition and a clear love-of-the-job keep him going.
A Cuban artist in Wales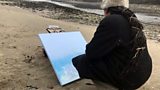 It's an early spring morning on the Pembrokeshire coast but winter still has a strong grip on the land. 
For Cuban artist, Raul Speek the seaside village of Solva has been his adoptive home since he came here 20 years ago. 
Struck by the stunning and sometimes chaotic coast line he worked it all into his art, though the golden beaches and rich colours of Cuba still retain some influence.
Wildlife Photographer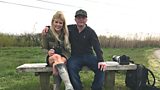 Oliver Hellowell is not your average photographer. 
He sees wildlife and landscapes in a way few others in his profession do. He also happens to have Down Syndrome. 
Intricacies and details many of us fail to notice are brought into sharp focus by Oliver's keen eye for looking at life from a different perspective.
Ellie's keen to pick up a few tips to capturing the beauty of the marshes...
Vertipools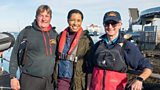 Margherita discovers a novel project to encourage marine wildlife around the island's coast.
That sealife is having a hard time finding rock pools to enjoy thanks to the artificial sea walls and coastal defences that see waves crashing against them rather than breaking gently on sandy shores.
But there is an answer: vertipools…vertical rock pools designed to sit on coastal defences and form vital habitats.
Research has shown that these artificial coastal shelves not only work but can be even more successful than natural rock pools at attracting marine life.
Credits
| Role | Contributor |
| --- | --- |
| Presenter | Ellie Harrison |
| Executive Producer | William Lyons |
| Series Producer | Joanna Brame |