Main content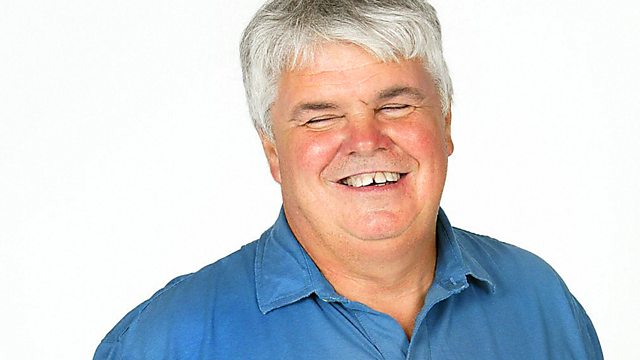 Tactile voting provision deemed 'unlawful'
A landmark High Court judgment says tactile voting devices are 'unlawful'. And a new way of getting around Gatwick Airport.
Presenter: Lee Kumutat
Producer: Tom Walker
In Touch Transcript: 07-05-19
Downloaded from www.bbc.co.uk/radio4
THE ATTACHED TRANSCRIPT WAS TYPED FROM A RECORDING AND NOT COPIED FROM AN ORIGINAL SCRIPT.  BECAUSE OF THE RISK OF MISHEARING AND THE DIFFICULTY IN SOME CASES OF IDENTIFYING INDIVIDUAL SPEAKERS, THE BBC CANNOT VOUCH FOR ITS COMPLETE ACCURACY.
IN TOUCH – Tactile Voting Provision deemed 'Unlawful'
TX:  07.05.2019  2040-2100
PRESENTER:           PETER WHITE
PRODUCER:             LEE KUMUTAT
White
Good evening.  We look, tonight, at moves which could make casting your vote and catching your plane independently possible for the first time if you're visually impaired.  And you have your say on the best way of training guide dogs.
But first, as the UK's two traditionally dominant political parties scratch their heads over last week's council election results it's to be hoped they're also pondering a damning decision handed down on the same day from the High Court.  It told the government that the arrangements allowing visually impaired people to cast their votes independently and in secrecy are unlawful and a parody of the electoral process.
The decision was the result of a judicial review, initiated by Rachael Andrews because of the problems she'd had casting her vote.  And we'll be talking to her in a moment.  But also with us is RNIB's senior legal advisor, Sam Fothergill.  And Sam, the timing of this is particular poignant in a way because I think you have examples of similar problems faced at these most recent elections.
Fothergill
Well yes, we've had a number of reports from people about the problems that they've faced in accessing the tactile voting device when they've gone to vote.  So, they've been told that the tactile voting guide wasn't available, they've been told that the large print ballot papers weren't available.  Which is really disappointing because we've done quite a lot of work with the Electoral Commission to try and make sure that electoral administrators were aware of the issues.
White
And just remind people exactly what this tactile voting guide is supposed to do.
Fothergill
So, the guide is a plastic stencil and it goes over the top of the ballot paper and it has boxes where you are supposed to mark your cross with numbers down the side.  And the main issue, in the court case, was about whether or not that was sufficient to enable you to vote independently and in secret because, of course, it doesn't have the names of the candidates on it, which is quite crucial.
White
And the only way you could do it would be to remember what is quite often a long list of people and the order in which they came.
Fothergill
Exactly.
White
And what else did the judge say?
Fothergill
So, the judge said that the tactile voting device was not sufficient to allow people to vote independently and in secret.  There was quite a lot of legal argument about what the meaning of voting actually was, with the government saying that it just consisted of marking a cross on your ballot paper and the device enabled you to do that.  Whereas obviously Rachael's legal team were arguing that voting was so much more than that and the judge agreed with them, the judge agreed that you needed to know the candidate that you were voting for.
White
Let's bring in Rachael.  Rachael Andrews, just remind us why you actually brought this judicial review.
Andrews
There is no way of having a secret vote, you have to have somebody next to you reading it out and then you try and mark accordingly.  And I often found, also, that because the tactile voting templates – I've had different designs, I've had their lift up flap box one and I've also had one that had some sort of saw tooth arrangement.  You can't tell, always, where you are, even marking it.  So, it's impossible to get a private independent vote, and that's why I brought the case.
White
And the case where you first got involved in this really was with the 2015 General Election, what happened there?
Andrews
That was unfortunately a failure by Broadland District Council to provide the tactile voting template in the first place.  I went to vote with my husband, who is also blind, and we had difficulty obtaining the tactile voting template.  They didn't seem to know what it was, they didn't realise it was in fact a legal obligation to provide it and so I was, again, unable to vote independently.
White
So, you got a kind of settlement with them but what made you take this extra step for a judicial review?
Andrews
I recognise that not everybody cares about a secret ballot but I do, that's my constitutional right and I feel that I, as a visually impaired person, should have that, just as much as a sighted person does.
White
So, really you felt, although you'd drawn attention to this, and actually you'd come on this programme, things were not changing?
Andrews
No, quite, I mean the government had said for years that they recognised that there was issues with the tactile voting template but they were just not doing anything about it, they just kicked it into the long grass and left it there.  So, I felt it was time that they really should do something, we really needed to have a change.
White
Now it goes without saying you're pleased with this decision but what actually do you want to see happen as a result of it?
Andrews
There are many different technological advances now that involve not a lot of money, I don't think, and would allow me and my husband and several of my friends and all visually impaired people to vote independently.  I don't feel it's my job to tell the government what they have to do, only that they have to do something.
White
Right.  Let me come back to Sam Fothergill.  A judgement like this makes headlines but what power does it actually have to change things?
Fothergill
This judgement has declared that the current arrangements are unlawful and RNIB will certainly be pressing them for a timetable for when they intend to produce alternative regulations and an alternative device.  And obviously we're very happy to work with the government as well to come up with what that device should look like.
White
And your role in this case, which was conducted by the law firm Leigh Day, your role was as giving evidence really because you've done quite a lot of research on this?
Fothergill
We did, we gave a witness statement but we've also been working with Leigh Day and Rachael for some time to look at the issues and to look at how the case should be run and what would be successful.  So, we've been involved for a number of years and we're absolutely delighted with the result.
White
The Cabinet Office told us that the tactile voting device has been in use since 2001, it's assisted many people with visual impairments to complete their ballot papers and they say, they're working with you – the RNIB – to identify improved ways of supporting people with sight loss to vote independently, including promoting improved training for polling station staff.
I mean how is that consultation process going because they seem to be linking you in with what they're doing?
Fothergill
We sit on the Access to Elections Working Party and it's true that we've been working with the government to improve the situation, to highlight the problems.  We had them in our offices a few months ago demonstrating the problems first hand, so that they could see them.  But our concern and we made this point very clearly in our evidence was that there was no timetable for making any changes to the device, it was being kicked into the long grass as far as we were concerned and we wanted something done about it and we will be able to use this judgement to push them to do that.
White
So, what alternative methods of voting are available and why haven't they been tried here?
Fothergill
Well I think that there are a number of different options.  So, in our evidence we highlighted some of the ways the issue is tackled in other countries, in other European countries, because there was a report from the European Disability Federation on the issues.  In Malta they have a recorder device available in the polling station that you can hear the candidates' names.  There's lots of countries that do offline electronic voting, so we're not talking about online electronic voting, just a simple accessible device to enable you to cast your vote.  I think there's a number of different options, I think RNIB would be very interested in looking at, if you can actually make changes to the tactile voting device itself to make it do the job.  I think there's just lots of options.
White
Rachael Andrews, Sam Fothergill, thank you both very much indeed.
And Sam does now have a new boss.  The RNIB has appointed Matt Stringer, who has long experience in retail, as its new CEO and we plan an extended interview with Matt when he's had time to get his coat off.
Meanwhile, do tell us how you voted in those elections and I mean literally how did the process work for you if you voted this time.
And there was no shortage of response to last week's report about the changing methods of the training of guide dogs by Guide Dogs UK.  Alan Dudley, who's owned a guide dog for nearly 50 years, thinks the focus on giving the dog food rewards:
Dudley (read)
Undermines any contribution that the guide dog owner may take to the relationship with the dog or the way in which it works.  It is surely the case that guide dog owners, who have known their dogs for many years, rather than 10 weeks or so, like guide dog mobility instructors, develop a greater knowledge of a maturing dog which the owner can then influence with their own behaviour and attitude.
White
Alan's also worried about public perception because of the:
Dudley (read)
Message conveyed to people listening to your programme that any instance of a guide dog appearing to be admonished may be seen to be mistreatment by the owner.  Whilst more recent dogs may have been trained using the association's change methods, there'll be many working who have not.
White
Meanwhile, someone calling themselves Rebel Cake wonders whether the positive reinforcement training is mostly a PR exercise and feels she's been left with no tools to tackle behavioural issues or distraction.  "As I understand this change is because of PR.  If this is the case, I feel disappointed that the safety, success and continued independent experience in partnerships of the past is no longer a priority."
And Donna Waring raised the question of consultation before the Standardised Training for Excellent Partnerships or STEP programme began to be rolled out because:
Waring (read)
I don't recall any of my many guide dog owner friends ever being asked about this.
White
And she also questions the heavy reliance by trainers on eye contact with the dogs, as:
Waring (read)
This is something that a visually impaired person cannot reinforce.  I feel it make dogs over-reliant on the eye contact and then when they meet their blind owner and don't get it, they struggle and look for it from members of the public instead, which could be dangerous.
White
But obstacles were on Bill Guest's mind:
Guest (read)
If the dogs trained by the two instructors interviewed are as good at avoiding obstacles as they were at not answering direct questions then I definitely want one of their dogs.
White
And Bill did include a smiley emoji.
Now I think even the most experienced blind traveller will admit that negotiating an airport is never less than daunting.  And even when the assistance that's offered turns out to be good there's still that period of uncertainty when you're waiting in a room, wondering who's going to guide you to the aircraft and when, will they show up in time to catch your flight and wouldn't it be good if you just knew you had time to pop to the loo or pick up that bottle of something nice to take with you? 
Well since last December, blind passengers travelling through Heathrow have had the option of using a free service called Aira to help them find their way.  Using the app on a smartphone one of the Aira agents can guide you through the airport viewing your surroundings through the phone's camera and giving instructions through headphones or the speaker.
Last week Gatwick Airport announced that it too will be offering this service.
Well we sent listener Kevin Satizabal to find out whether he could navigate through Gatwick on his own with Aira and only a Gatwick staff member to hold his recorder.
Aira Agent April
Hi Kevin, this is April at Aira, what would you like to do today?
Satizabal
Hi April.  I'm in Zone B in the North Terminal at Gatwick and I need to go to the security.
April
Okay going to the security.
Satizabal
Yeah.
April
Zone B.  Okay, so if you can do a scan?  Okay, so it looks like there's a rope to your left and then to your right some more stands and ropes.  I can see the B.  Looking around for a security – no.
Satizabal
Do you want to get the map up and then see if that will guide us?
April
Yes.  Okay.  Well I'm looking at this one map but I'm not sure where B is. 
Satizabal
What on the map?
April
Yeah. 
Satizabal
So, I'm on the second level, I think, of the North Terminal.
April
I apologise for the wait.
Satizabal
No problem.
April
There are escalators that are coming up ahead.  Just pause a moment, there's someone coming with a buggy.
Satizabal
Can I go?
April
Okay, yes, go ahead and continue.  There's a stand and rope on your left and then three metres take a left turn here.  Security…
Satizabal
Are we here?
April
…okay and continue [indistinct words] but…
Satizabal
So, it'll be straight ahead to – it'll be straight ahead to security?
April
Yes.
Satizabal
Okay, thank you very much.
White
Kevin Satizabal.
So, does this mean that down the track airports may no longer have to take on the responsibility of assisting blind passengers? 
Sara Marchant, Head of Accessibility at Gatwick, told Lee Kumutat what the thinking is behind this scheme.
Marchant
We will never relinquish our responsibility, it's our job to make the airport as accessible as it can be.  But we want to give people choice as well.  So, Aira is giving passengers the choice of either using the app or not.  It's a really simple system to use and we're actively looking for feedback, we don't know yet whether it will be the right thing for us or not but we'd really like to hear from people's experience.
Kumutat
So, can you just explain a little bit to our listeners what information you've already passed on to the agents – these are the Aira agents who will be taking the calls from people using the app in the airport?
Marchant
So, they get Gatwick training and they have access to the Gatwick maps.  And then once the user connects to them they can use the camera on their mobile phone to get a visual of the area that they're standing in, so they can actually see the signage that's around them, the passengers can choice it to use it for anything at that point – for wayfinding, having a menu read to them in a restaurant – it's entirely up to them what they use the system for.
Kumutat
But the Aira agents don't have any way of pinpointing exactly where somebody is apart from using the camera on the phone or the glasses, if that's what the passenger has?
Marchant
So, currently no, because it works from the GPS system, is my understanding, but Gatwick has 2,000 beacons dotted around our terminals and I'm hoping that at some point, as technology advances, we might be able to link Aira into the beacon system, which would then be able to absolutely pinpoint where the passenger is and just make the service a bit more accurate.
Kumutat
And these are Bluetooth beacons that beam out messages and give people information – is that right?
Marchant
Yes, they are.  As to where it's going, apart from it being an assistance tool for passengers to use, I'm also hoping that some of the reporting will give us some extremely useful information.  So, I don't want Aira to be used as a sticking plaster for an issue within our terminal.  If it turns out that we're getting a lot of calls that are all centred around a particular area that tells me that that area of the terminal needs additional work to make it more accessible.
Kumutat
That's really interesting, so you're looking at it as feedback almost for your own service?
Marchant
Yes, definitely, we just think it's something that we hope will help everybody – it will help the passenger with a better service and some of the early feedback that we have had is that it makes people feel empowered but also it helps us with our strategy moving forward around our processes and facilities to make them as good as they can be.
Kumutat
In this trial, are you actively encouraging blind people to try and navigate it on their own or are they expected to have somebody else there with them as sort of an insurance policy of sorts?
Marchant
So, we know that roughly 16 people a day pre-register with our special assistance service as being blind or partially sighted and the agents will be offering Aira to them as an optional free service.
Kumutat
So, this is the assistance, so when you call up for assistance, they'll be saying would you like to use this as well.
Marchant
Absolutely.  And then any registered users of Aira will get a message when they break the geo fence and enter the property.
Kumutat
Sixteen people is quite a lot isn't it, that's surprisingly high.
Marchant
Yeah, and those are just the ones that pre-notify, there'll be many more, I'm sure, who choose to self-mobilise through the airport.  And again, that's why we wanted to have this kind of facility available, just to give people that little bit of extra help if they choose to use it.
Kumutat
Are the airlines aware of this trial at all?
Marchant
They are and actually this trial is being facilitated by EasyJet in partnership with Gatwick and we're very pleased that they're so keen to be involved. 
Kumutat
Because one of the big bugbears of visually impaired people is having to wait till the end of the queue as people getting off an aircraft, so we're always told can you please wait until the end and stay in your seat which when you've had a really long flight drives you bonkers, it really does.  So, does this mean if I was able to say well actually, I've got some remote assistance here with this agent, I feel comfortable about getting off the plane and finding my own way, would the airlines be okay with that?
Marchant
I think that's a question for the individual airline and I'd encourage passengers to talk to the crew when they're on the aircraft.
White
Sara Marchant. 
And that's it for today, do feel free to use our dedicated phone line to leave us a recorded message with your views, the number is 0161 8361338 – 13 38 – or you can email intouch@bbc.co.uk or click on contact us on our website, from where you can also download tonight's programme and previous editions of In Touch.  From me, Peter White, producer Lee Kumutat and the team, goodbye.