Main content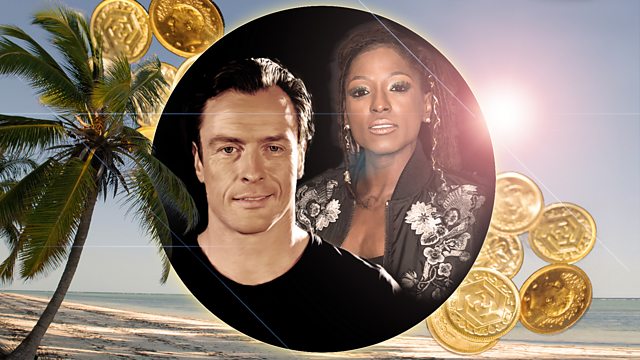 Live and Let Die
James Bond's deadly battle with voodoo psychopath Mr Big. From the jazz joints of Harlem to danger in Jamaica with 007's unexpected ally, the beautiful psychic, Solitaire.
Martin Jarvis directs his eighth James Bond for radio. It's 007's most exotic adventure - New York, Florida, Jamaica - with a stellar international cast, recorded on location in America. Dramatised by Archie Scottney and with Toby Stephens as Bond.
Bond tracks down monstrous Mr Big in Harlem. Big is importing priceless gold coins to finance Russian spy operations and captures Bond. Beautiful, mysterious Solitaire is also a prisoner.
Bond escapes. Solitaire follows. They pursue the source of the gold, first to Florida where Solitaire is captured by Mr Big's minions.
007 continues on to Jamaica. But can he survive the barracudas? Will he rescue Solitaire, recover the treasure and bring Mr Big to justice? Well, there's a fair chance. He is James Bond!
Cast:
James Bond…..Toby Stephens
Mr Big…..Kevin Daniels
Solitaire…..Rutina Wesley
'M' …..John Standing
Leiter…..Josh Stamberg
Tee-Hee…..Michael A. Shepperd
Whisperer/Blabber….. Lovensky Jean-Baptiste
Quarrel…..Ron Cephas Jones
Baldwin…..John Cothran
Strangways…..Jonathan Cake
'The Robber'…..James Morrison
Dexter…..JD Cullum
Halloran…..Jake Green
MC/Maitre d'…..Gilbert Glenn Brown
Connie/Operator…..Anna Louise Plowman
G-G/Waitress…..Janine Barris
Flannel/Conductor…..Larry Powell
Mrs Stuyvesant…..Anna Mathias
Voice of Ian Fleming…..Martin Jarvis
Other parts: Darren Richardson, Alan Shearman, André Sogliuzzo, Matthew Wolf
Written by Ian Fleming
Dramatised by Archie Scottney
Sound Design: Mark Holden
Specially composed music: Mark Holden and Julian Nicholson
Producer: Rosalind Ayres
Director: Martin Jarvis
A Jarvis and Ayres production for BBC Radio 4
Last on