Main content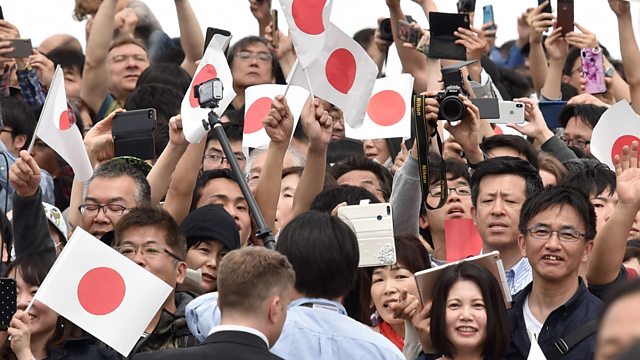 The beginning of a new era in Japan
Flag waving and tears as a new Japanese emperor takes the throne, and the Reiwa era begins. Kate Adie introduces this and other stories.
As Emperor Naruhito takes the throne in Japan, Rupert Wingfield-Hayes watches the crowds waving flags and wiping away tears. What will this new era hold for the country and its imperial family?
Kate Adie introduces this and other stories:
Katy Watson has the latest instalment in the drama that is gripping Brazil as rival factions vie for control under the presidency of Jair Bolsonaro.
Neil Kisserli reveals why protesters in Algeria are picking up the litter and taking pot plants with them as they demand change.
Zeinab Badawi returns to Sudan to meet the young architecture student leading the revolution.
And Dave Lee hears from tech workers in Silicon Valley who fear they've become the new bankers – seen as public figures to be reviled and blamed for the ills they have brought into society.
Producers: Joe Kent and Rosamund Jones.