Main content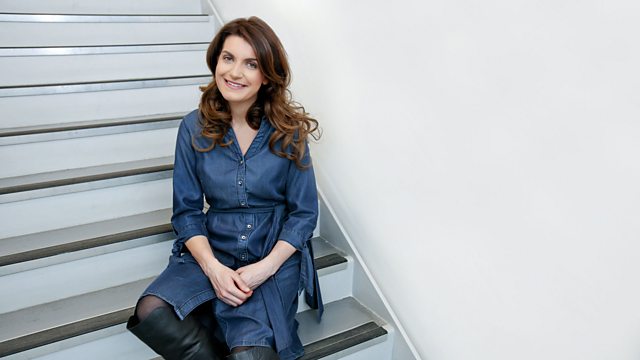 Opera matinee: Leopold Kozeluch's Gustav Vasa
The Helsinki Baroque Orchestra and Helsinki Chamber Choir, conducted by Aapo Hakkinen, perform Leopold Kozeluch's Gustav Vasa.
Opera from around the world, presented by Georgia Mann.
Leopold Koželuch: Gustav Vasa, opera in three acts
Mario Zeffiri, tenor, Gustav Vasa (Gustav Ericsson Wasa)
Cornelius Uhle, bass-baritone, Christian II of Denmark (Christiern II)
Niall Chorell, tenor, Søren Norby (Severin Norrby), naval officer in the fleet of Charles II
Martina Janková, soprano, Christina Gyllenstierna, widow of Sten Sture
Helena Juntunen, soprano, Cecilia of Eka (Cecilia Månsdotter Eka), Gustav's mother
Monica Groop, mezzo-soprano, Margareta Vasa (Margaretha Wasa), Gustav's sister
Tuuli Lindeberg, soprano, Guardian Angel of Sweden
Helsinki Chamber Choir
Helsinki Baroque Orchestra
Aapo Häkkinen, conductor
Koželuch's only surviving opera, Gustav Vasa, is resurrected two centuries after the composer's death! The Czech-born composer Leopold Koželuch was a significant competitor of Mozart, and among their contemporaries, even more acknowledged of the two.
Gustav Vasa explores the important event in the history of the Swedish nation: the battle between Sweden and Denmark at the beginning of the 16th century.
SYNOPSIS
Overture:
Søren Norby arrives at the Helsinki Music Centre. He walks from one hall to another and ends up in the dungeons of the Palace.
ACT I
Gustav Vasa's mother Cecilia and sister Margareta, whose husband Joakim Brahe was beheaded in the Stockholm Bloodbath, are being held as prisoners in the Stockholm Palace.
Sten Sture's widow Christina Gyllenstierna is also among the women and children that are held captive. Christina tells the other prisoners that the leader of the rebellious movement, Gustav Vasa, is right outside the city. The women pin their hopes on him.
Søren Norby enters the jail and tells the women that they will be taken before Christian II, the executor of the Stockholm Bloodbath.
The King of the Kalmar Union, Christian II of Denmark, known as the Tyrant, walks triumphantly in the halls of the Stockholm Palace.
After arriving at the Palace, he learns from Søren Norby, that Gustav Vasa and his Swedish troops are nearby. Norby urges Christian to remain calm. Christian blusters to destroy the enemy and to use Gustav's mother as a hostage.
The women are brought up before Christian. They are furious, blame Christian for murdering their husbands and tell him that they are also prepared to die themselves.
Christian decides to send Christina to persuade the Swedes to retreat immediately. If Gustav declines, Christian will send him his mother's head as a gift the following day. Cecilia, Gustav's mother, urges Christina to refuse and says she will rather die. However, Christina agrees to deliver Christian's message and she leaves the Palace with Norby.
The outlines of Gustav Vasa's rebellion camp are seen on the outskirts of the city.
ACT II
At sunset Gustav Vasa ponders the transience of life. Together with his soldiers he prays to the heretic protestant God to protect Sweden and to give them the strength to beat the enemy. Gustav orders a dawn attack.
Norby and Christina arrive. Gustav is taken by surprise, because he believes that Sven Sture's window is collaborating with the enemy. Christina tells Gustav that Christian will kill his mother if he doesn't retreat. Nevertheless, Christina urges Gustav to attack. Norby didn't expect the situation to turn out this way.
Gustav becomes distressed and hesitates; he doesn't know what to do. If he attacks, his mother will die, but if he retreats, he will lose the whole kingdom. Gustav asks his soldiers for advice, and they tell him that they are willing to sacrifice everything for Sweden. Gustav sends Norby back to tell Christian, that he is ready to fight to the death. He asks Christina to say goodbye to his mother on his behalf.
After being left alone Gustav curses Christian's cruelness and calls for heavenly forces to destroy him. Finally he falls asleep.
The Guardian Angel of Sweden emerges. She calls for loving spirits to give Gustav a blissful and restorative sleep.
The spirits sing and dance to Gustav, who is asleep. Victory emerges is his sleep, followed by Fame, that crowns Gustav with laurels. Fame is followed by Honour, that hands Gustav a crown and a sceptre. Finally Love arrives, guides Gustav to his mother, and together they meet Immortality carries a picture of Gustav Vasa high up in the air.
The Guardian Angel announces that Gustav Vasa will rule Sweden. The Angel asks Cecilia to give her son a palm as a sign of enforcing this task and saving the country.
ACT III
Cecilia lies alone in the prison. She prays for her son to have the strength to stay put in his decision. She is not afraid to die. She even thinks this will be a blessing to him.
Christina returns and tells about her visit in Gustav's camp. Gustav has decided to stick to his attack plan.
Cecilia praises her son. Norby arrives to take Christina to Christian. She is supposed to be taken on a ship, to a visible spot, to prevent the attack.
Christian has had a nightmare. The Furies have robbed him of his crown and sceptre. Victims of the Stockholm Bloodbath, Gustav's father Erik Johansson Vasa, Sten Sture and Joakim Brahe, appear one after another. After coming to his senses, Christian swears to have victory over Gustav.
Norby arrives. He recounts that the Swedes are at the gates of the Palace and tries to convince Christian to release Gustav's mother, to try to stop the attack. Christian has no intention of giving up his hostage. He wants to see Swedish blood. Norby and Christian fall out. Christian threatens Norby with violence. Norby thinks Christian should rather worry about violence imposed by the Swedes. Christian says he has reserved a dagger for both of them. Then trumpets call out for battle.
Attack! Gustav Vasa and his troops are at the walls of the castle. Occupation. Cecilia and Gustav meet. Christina and Margareta are safe. Norby joins the Swedish troops. Christian flees down into the depths of the Helsinki Music Centre and returns to Denmark.
Cecilia tells everyone, how Søren Norby arranged his escape and saved him. Everyone praises Gustav Vasa, the King of Sweden.