Main content
Spring Special
Matt Baker is at Morecambe Bay to meet caravan enthusiasts celebrating 100 years of caravanning history, while John Craven tries his hand at sheep shearing.
Matt meets caravan enthusiasts near Morecambe Bay as they celebrate 100 years of caravanning history. He also discovers how the rise of camping has allowed farms to diversify. Ellie steps aboard a 'floating apothecary' run by two trained herbalists who use plants from the forest to make natural remedies. Adam meets top chef Michael Wignall as they take a tour of his favourite suppliers in North Yorkshire, including a Himalayan salt chamber. John goes from fleece to fabric as he tries his hand at shearing with blade scissors and dying unspun wool using spring flowers. The whole process is sustainable, biodegradable and bringing cloth-making back to Bristol.
Anita is doing the donkey work in Northern Ireland as she takes part in a tradition stretching back centuries in which donkeys do all the ploughing and planting of traditional Irish crops. And while Steve is on a quest to spot some of the birds returning to the UK this spring, he meets a local artist who makes 3D paper sculptures inspired by nature.
Caravans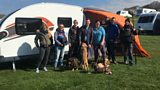 Spring's often the time for the UK's legion of 'staycationers' to get their caravans back out on the road - and Matt is exploring Morecambe Bay with caravan in tow.
He's helping to celebrate 100 years of caravanning and discovers that the pastime is experiencing a renaissance.
Matt takes his caravan to Archers Red Bank Farm, renowned for its Salt Marsh Lamb and also its popular campsite.  
It's run by three brothers who are passionate about farming but who say their business couldn't have prospered without welcoming campers and caravanners onto their land.
The Floating Apothecary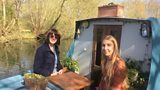 Ellie is exploring the science of spring. 
First, she meets Kim Walker who is studying for a PhD in the history of medicine and teaches Ellie about properties found in the plants of the forest; how elder leaves can prevent bruising, and stickyweed can help with skin conditions. 
Then Ellie hops aboard a narrowboat where Kim and Vicky Chown run the 'Floating Apothecary'. 
Vicky shows Ellie how to distil essential oil from lemon balm leaves, using a giant copper contraption.
Spring Food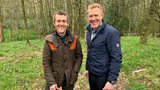 Adam meets up with one of the UK's top chefs to sample some of the best spring produce on the market. 
Multi-award-winning Michael Wignall is famed for his respect of food and for using local and seasonal produce. 
Michael shows Adam where he sources his meat and where he forages for all sorts of spring produce that mother nature offers at this time of year. 
In return, Adam teaches Michael how to fly fish at a local fishery where the chef sources his rainbow trout – but is he as talented with a rod as he is in a kitchen?
From Fleece to Fabric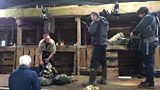 Spring has sprung at Fernhill Farm in the Mendips and it's time for the resident Shetlands to get a trim. 
Jen Hunter and Andy Wear, who run the farm, use the wool to work with other locals to create a local cloth. 
Andy shows John a special method of hand-shearing, with blade scissors. This method is great because it leaves the sheep with a protective layer of wool. Jen cleans the wool, and then it goes to Babs Behan who uses spring flowers and plants to dye the wool.  
John hears how the locally sourced and dyed wool is then spun, a few miles away in the first industrial loom to open in Bristol in 100 years.
Rewilding Photographer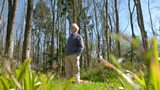 Stephen Dalton is a pioneering macro high speed photographer who captured the first images of insects in flight over 40 years ago. 
Now 82 years old, Stephen lives in rural Sussex with his wife, Liz. 
Here, he continues his passion for photography either in his studio or in his beloved woodland, which he has been managing and rewilding over the past 20 years.
Paper Birds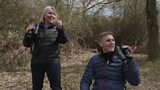 Steve heads to Pulborough Brooks RSPB Reserve in West Sussex on a quest to encounter some of the rare migrant birds that are just starting to arrive in the UK - such as swallows, chiffchaffs and black caps. 
Then, as he wanders through a woodland, he spots a bird unlike any he's seen before...it's made entirely of paper! 
Steve meets Lisa Lloyd, a paper-based artist who creates 3D paper sculptures inspired by nature. Lisa shows Steve how these marvellous creations are made...
Credits
| Role | Contributor |
| --- | --- |
| Presenter | Matt Baker |
| Presenter | Ellie Harrison |
| Presenter | John Craven |
| Presenter | Anita Rani |
| Presenter | Steve Brown |
| Presenter | Adam Henson |
| Executive Producer | William Lyons |
| Series Producer | Joanna Brame |